Review
When it comes to modern design mixed with practicality and usability Taylor Guitars are the Go-To guys. The Taylor 814CE is a beautiful instrument that couples amazing tonal qualities with the aesthetics that every musician desires. This instrument is built with the understanding that sound isn't everything, even though to a musician it is. Taylor has been a leading manufacturer of guitars for years now, mostly because of their innovative designs, amazing tones and their creative way of creating inconspicuous electronic controls into their guitars.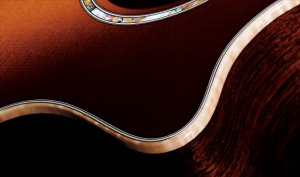 The sides and back of the guitar's body are made of Indian Rosewood, and the top is Sitka Spruce. The neck is tropical American Mahogany with an Ebony fingerboard. The bridge is also made of Ebony. Such a combination of quality woods produces an amazing all around sound.
The Grand Auditorium shape of the Taylor 814CE guitar gives the instrument has plenty of treble and briliance but also retains a very deep and defined low end. I have to say that this kind of sound offers lots of tonal possibilities – the guitar sounds equally good with finger picking and played with a pick. You can do both rhythm and lead work, and you can be certain that in each case the tone will be outstanding.
The amount of craftsmanship that goes into each one of these Taylor guitars is extraordinary, and the end product shows. The clean lines, simple bindings, pearl inlays are all more pleasing than the one before. The contrasting colors in the sunburst finish, and the attractive visual differences from the Mahogany, Sitka Spruce, Rosewood and Ebony give the instrument an allure that is very pleasing to its audience.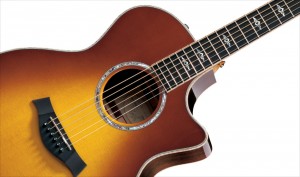 Taylor provides creativity, innovation, and a sound quality that is second to none in each of their hand crafted guitars. If you are a novice or a beginner there is definitely a guitar from Taylor that is built especially for you. The 814CE is an immaculate guitar that is extremely appealing to the eye, it is built from the finest tone woods, and can be played for generations to come. Swallowing the $4,058 retail price might be hard for a musician just looking to learn, but still highly advised. Professional musicians will appreciate the sound quality, the integrity of the instrument as well as the design and attractiveness of the guitar. Taylor has created a timeless instrument that will be pleasing players for years to come with this beautiful guitar.
If there's a product design you want to see on this site, please email: alex@designengine.com.