Chicago's largest rooftop, the IO Urban Roofscape, located inside of the Godfrey Hotel (127 W. Huron St., Chicago, 312-649-2000), has become a hit amongst Chicagoans, even in the cold.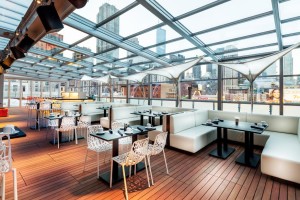 In the summer, rooftops are in abundance, but very few of them become a main attraction in the wintertime.
During the cold winter months, the Roofscape features a retractable rooftop and a two-story fire pit for guests to stay warm, while still enjoying the view of the Chicago skyline from the fourth floor. Guests can relax in comfortable lounge seating areas, cabana canopies, and two bars, where they can sample drinks and food crafted by Chef Riley Huddleston. He describes the food, which includes starters, burgers, "sams", salads, and entrees, as "clean versions of Chicago's local favorites."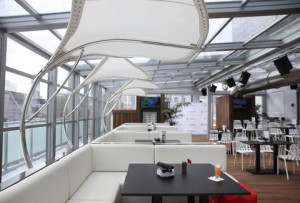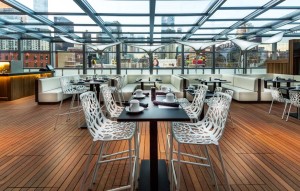 The IO will be celebrating its one-year anniversary on February 1, 2015. You can most certainly expect to meet a lot of Chicago locals, but you may even find yourself brushing elbows with celebrities, such as Waka Flocka Flame. The rapper, who was in town for an event at Studio Paris, was seen enjoying food and drinks with his entourage on the night of Saturday, January 24, 2015.  Yet, the IO Urban Roofscape isn't only for the night owls. They offer a great selection of breakfast and brunch items every day of the week, making it the perfect spot for business or pleasure- even during the freezing temps.
[divider]
Article written by Mila Medonaite for Design Engine, January 28, 2015