Design Courses for Engineers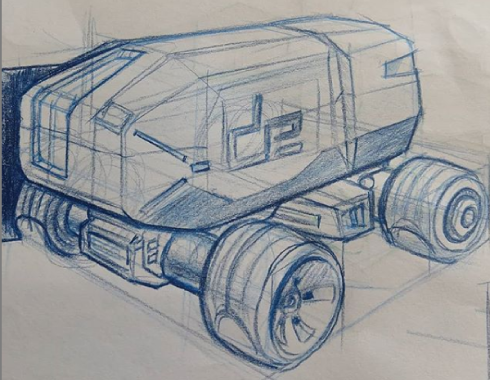 What can help you to be more effective as an Engineer?
Product Designers need to possess many skills to be the most effective. Not only must they be technically adept in 3D programs such as Creo or SOLIDWORKS, but they must also become better communicators.
Brainstorming and sketching is also a form of communication. In these design courses for engineers, you will learn that visual thinking is key in creativity and design. What is visual thinking? It is a way to organize your thoughts and improve your ability to think and communicate by using tools such as pen and paper, tablets, or CAD.
Though CAD is fundamental for engineering and creating products, it is more for detailed design rather than creativity. H. McKim explains the term "idea sketching" as a part of visual thinking. The generation of ideas is a critical element in the product development and design process. In the early stages, you don't want to waste time. However, you do want to increase the number of ideas. Using the process of elimination and scrutinization comes much later in the design process.
A sketch is a quick drawing made in an informal way with approximated dimensions and details. On the other hand, an engineering drawing is a detailed description of an engineering system of a design, with exact dimensions. Industrial designers are known to be creative individuals and possess sketching skills, engineers are often perceived otherwise. We sketch as a way to rapidly make provisional drawings, aiming to create an efficient sense of spatial and relational information.  Though sketching is a useful tool being applied to design for expressing creativity and visual thinking, Sketching doesn't have a substantial representation in engineering education.
According to the Engineering Design Graphics Division of the American Society for Engineering Education (ASEE), freehand sketch engineering objects is one of the most important graphical communication skills to be learned by engineering students.
Although sketching is not adequately included in engineering programs, this skill is present in engineering schools by the efforts of some educators. Teaching basic techniques in freehand sketching would help them generate quicker and more effective external visual presentations of ideas, and thus cultivate their creativity. Though it is argued by some that creativity is not necessarily cultivated, ideas are communicated more effectively. Either way, the ability to sketch is a good skill to possess.
This shows a need to be taken into consideration for future engineering educational programs, in order to give students the value of sketching, as well as foster its use, to train the future design engineer in sketching skills. We suggest those in engineering design expand their skill set, and if possible, participate in formal training for sketching and drawing in support of design projects.
Each of these design courses for engineers can be offered in a week-long format and/or combined. As with all of Design-Engine courses, classes can be customized specifically for your product line.