On February 21, 2019, PTC announced the release of the Creo Simulation Live solution. This new software combines the amazing capabilities of PTC and ANSYS in 3D design and simulation. Creo Simulation Live allows users to implement real-time simulation directly into their design environment. This would allow for designers to test their creations as they are making them and see how they respond in certain environments.

The vice president and general manager of ANSYS claims that "this capability will fundamentally change product design and allow engineers to innovate more and get to market faster – making product development much more agile."

Up until now, simulation and design have been two completely separate steps in the design process because of the lack of technology and process capabilities. However, with Creo Simulation Live, designers are no longer being held back by the capabilities of their design programs. Being able to test a product while also creating it allows for engineers to see how their choices impact their product and resolve any potential issues without having to send their product to be tested by another analyst.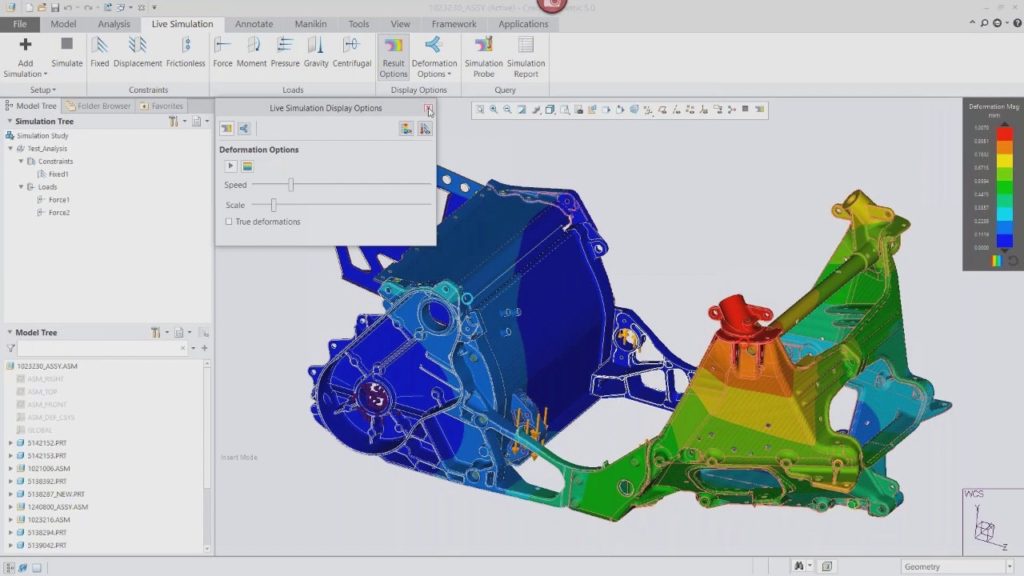 The use of this software would greatly reduce the amount of time it takes from start to beginning to produce a finished product. The ability to test a product while also designing it allows for designers to spend more time creating more advanced products in the same amount of time it currently would take them to design something less complex. The way that this program will work is that every time a change is made in the model, the consequences of that change will instantaneously appear in the modeling environment.
This fast and easy tool incorporates design guidance as a normal part of the workflow. Now you will be able to get to your best work in a fraction of the time. Brian Thompson, the senior vice president of the CAD segment at PTC, explains that the effortlessness of this program will allow and encourage more customers to implement simulation in the design process and "more simulations will result in higher quality parts that are much more likely to meet their requirements."

The features and benefits of Creo Simulation Live are as follows:

Real-time: Instantaneous simulation results for parts and assemblies directly in the modeling environment.
Interactive: Analysis updates dynamically as users edit or create features.
Confidence: powered by ANSYS technology.
Ease of use: Run your first simulation in minutes. No need for geometry preparation, meshing, or waiting for results.
Discover problems earlier in the design process when they are easier and less expensive to fix.
Produce products that more quickly meet functional requirements, and explore more design alternatives faster.
Reduce the wait times associated with traditional simulation tools. Save analyst time and cost for high-end analysis while eliminating bottlenecks.
Creo is allowing other companies to bridge the gap between the digital and physical world by capitalizing on new capabilities like cloud-based augmented reality (AR), Industrial Internet of Things (IIoT), simulation, topology optimization, computational fluid dynamics, and more!

In today's world everybody is trying to make everything faster and more efficient and Creo Simulation Live does exactly that. Creo Simulation Live will truly change the way in which engineers use CAD to design their products.

Creo Live Simulation will also be featured at LiveWorx on the Xtropolis show floor from June 10-13 in Boston, Massachusetts.
How is Creo Simulation Live going to help you on your next design project?! Let us know in the comments!