Imagine you are Tony Stark and you have access to a computer like J.A.R.V.I.S. that integrates your physical space with the computing task you are trying to complete. Enter the Apple Vision Pro. This spatial computing marvel (no pun intended) is not just a device; it's a gateway to a new era in design. Set to release in 2024, this product is the pinnacle of Apple's experience in designing user-intuitive products.
Introduced as Apple's first spatial computer, the Apple Vision Pro isn't just a step forward, Its sleek design combines cutting-edge technology like the R1 chip, with precision engineering. This technology will set a new standard for product designers, 3D modelers, and engineers. This device seamlessly blends digital content with the physical world. It's more than just a piece of advanced hardware, it's an immersive computing experience for everyday life, design, engineering, and education. This technology could enhance capabilities, offering a glimpse into a future where the boundaries between digital and physical continue to blur.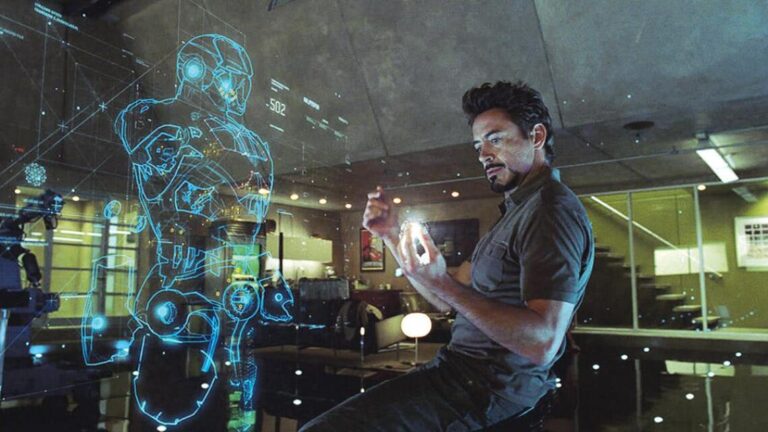 Tony Stark using J.A.R.V.I.S. from the Iron Man Movie series in the MCU
Utilizing the Apple Vision Pro's Potential
The Apple Vision Pro could be more than just a device for product designers and engineers. It could be a tool for innovation. The realm of possibilities that the spatial computing capabilities open up allows for the creation of immersive experiences and interactive interfaces. Whether you want to design a new product or optimize an existing one, the Apple Vision Pro's features can help you push the boundaries of what's possible. 
This product could stand at the forefront of revolutionizing 3D modeling and spatial design. Its unique capabilities allow for an immersive experience that blends digital content seamlessly with the physical world. This integration could enable designers and engineers to visualize and interact with their 3D models in a real space offering a more intuitive and natural design process. Visualize a world where product designers could use the Apple Vision Pro to project and interact with models of potential products, allowing for better communication with engineers and a deeper understanding of spatial relationships and design aesthetics before actual construction begins.
Collaboration and Integration
The Apple Vision Pro isn't just a standalone device; it seamlessly integrates with various software and platforms used by designers and engineers. With support from industry giants like Pixar, Nvidia, and Adobe, it has become a hub for standardized content development. This integration streamlines the design process, enabling better collaboration and faster iteration.

Moreover, the collaboration between Apple, Pixar, Nvidia, and Adobe in developing standardized content for 3D modeling, plays a crucial role in enhancing the usability and accessibility of the Vision Pro. This partnership has led to the creation of OpenUSD, a standardized framework that ensures compatibility and ease of use across various software platforms. Such standardization would streamline the workflow for professionals using different tools like Adobe, Maya, SolidWorks, Alias, or even Creo. It would also foster a more collaborative and integrated approach to 3D design
Shaping the Future of Design
The introduction of the Apple Vision Pro signifies a paradigm shift in design. It encourages a move towards spatial design, where the physical and digital worlds converge. As a product designer, 3D modeler, or engineer, adapting to this new era is not just an option; it's a necessity to stay competitive in the industry. 
The device's ability to provide a spatial canvas for experimentation and play encourages a shift from traditional 2D screens to more dynamic 3D environments. Engineers and product designers can leverage this technology to test and refine their designs in a virtual space that closely mimics real-world conditions. This advancement not only speeds up the design process but also significantly reduces the costs and resources associated with physical prototyping, heralding a new era in efficient and sustainable design practices.
Embracing this spatial computing revolution will not only enhance your creative potential but also position you at the forefront of the design industry. As we move forward into this new era of design, remember that the Apple Vision Pro is not just a device; it's a catalyst for innovation, a source of inspiration, and a tool that empowers you to turn your design visions into reality.
For more tools that will empower you, Design Engine offers a wide variety of training classes tailored to help you harness your design skills. By leveraging these classes, you can gain a deeper understanding of the design process and take your product design or engineering skills to the next level.