The extra-ordinary notebook that protects your ideas in extreme situations. Waterproof, Unbreakable, Recyclable.
Idae
This object was born by the combination of our professional background – we are an architectural and design studio – and our passion for extreme sports – skiing, sailing, hiking, biking or kite-surfing.
It's a notebook with very peculiar features, unbreakable, waterproof and recyclable where it is possible to write with any type of pen or pencil (please use a writing instrument that is resistant and extreme as Idae is, otherwise you will not be able to write in wet or extreme situations).
What is really unique about this product is that all you write will remain on Idae forever.
Idae does not fear anything, water, rain, mold, wind, hail or even your own washing machine if you don't check your pockets before doing laundry.
Idae and Sports
Our vision for Idae is to make it an object in the life of any sportsmen allowing them to take it along in all their adventures to make sure that their thoughts and their words will be immortal. Think about what you could do with Idae while practicing your sports, hobbies or works:
skiing
sailing
hiking
biking
kite-surfing
scuba diving
surfing
windsurfing
trekking
skating
fishing
water sports
land sports
and many else
designers
architects
engineers
coaches
outside works …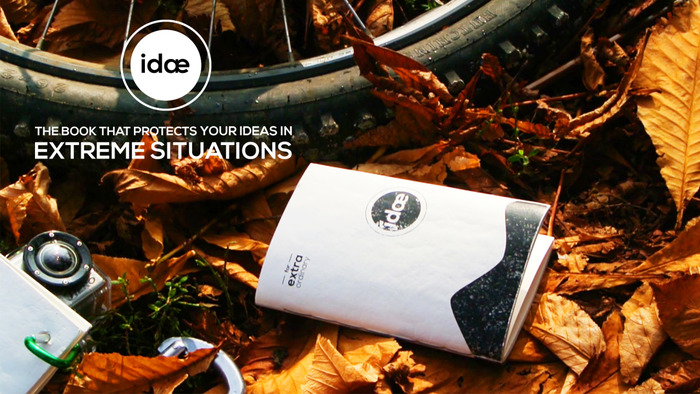 Biking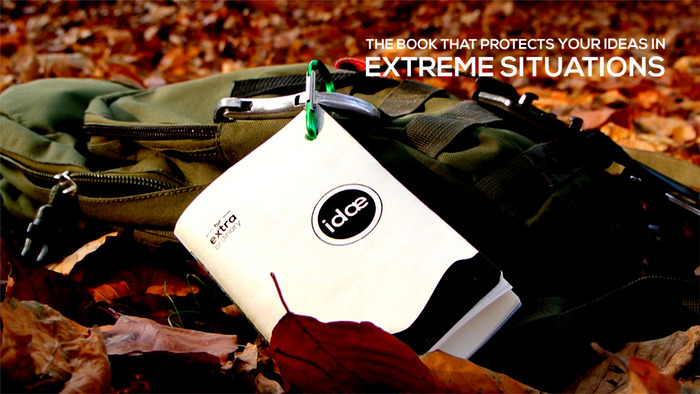 Trekking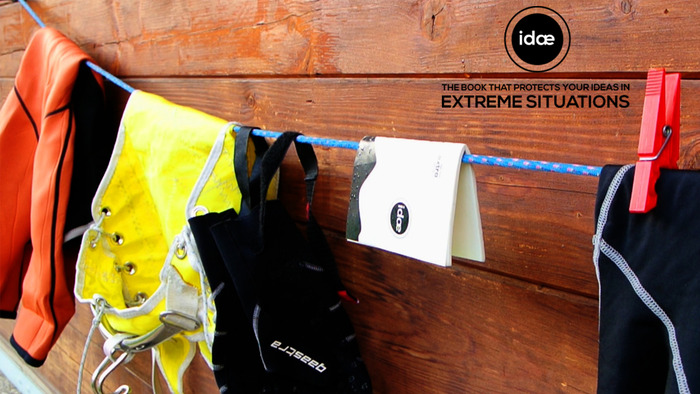 surfing and windsurfing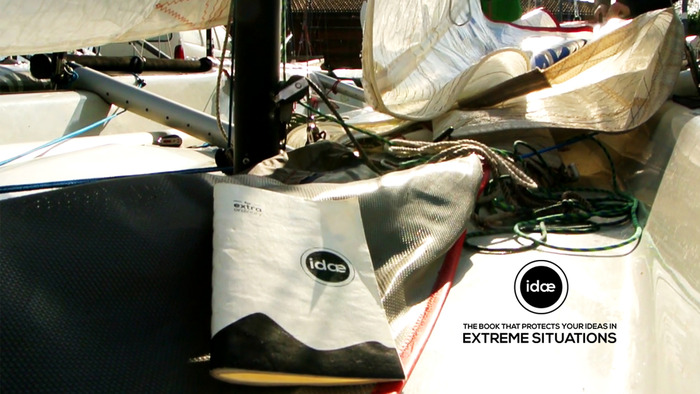 sailing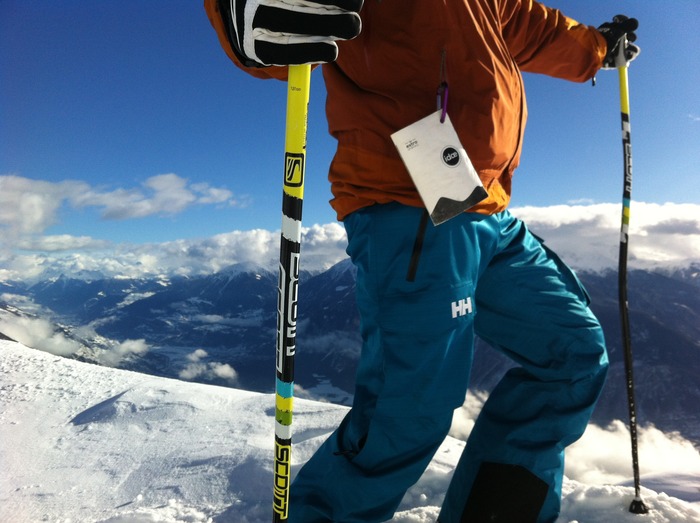 skiing
It works!
We tested Idae personally and we are now certain Idae is what we aimed for and even above our expectations.
What can I do with Idae and what I can't do?
Use Idae as a normal notebook but take care of it as it isn't!
Do everything you do with paper but image doing it in different condition.
The special paper used doesn't fear water or stress and it will not tear apart: the sketches are permanent; but it CAN be perforated or cut with scissors. Water or normal conditions of working doesn't erase your notes but special mix of conditions, heavy durable stress or chemicals can alter what you have written as normally happens on paper.
The best performance is obtained writing on Idae when it's dry, but, according with the limits of the writing instrument, you can write when Idae is wet or even submerged underwater.
The front cove deteriorates and fades with time, but it is normal, Idae will still protect you notes inside.
How is it made? Dimensions?
Idae is made with high performance material coming from the field of extreme sports and new technologies. The special paper is made by DuPont (leader in his field) and the stitching is made with Spectra wire used by sailors and fishermen: extremely strong and durable over time.
The cover is made with paper of 105 g/m². The 32 internal pages are made with paper of 75 g/m². The booklet dimensions are: closed 140×98 mm [5,51×3,85 in .̴ ], opened 140×196 mm [5,51×7,79 in .̴].
The prototype was made by us to control the result, but the final product will be made using a small industrial supply chain already identified. Idae is Made in Italy and it will be shipped from Italy where tracking number will not be provided.
Please note that the product will be delivered without any packaging to reduce waste and costs to you.
Even if we use best materials and suppliers the product Idae is not certified and it will be shipped to you as is; any suggestions or advice are more than welcome for the future of this product since we hope to start producing Idae with a manufacturing process if we will succeed.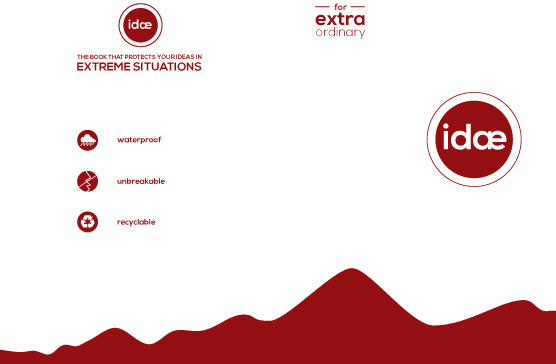 red wave cover only for kickstarter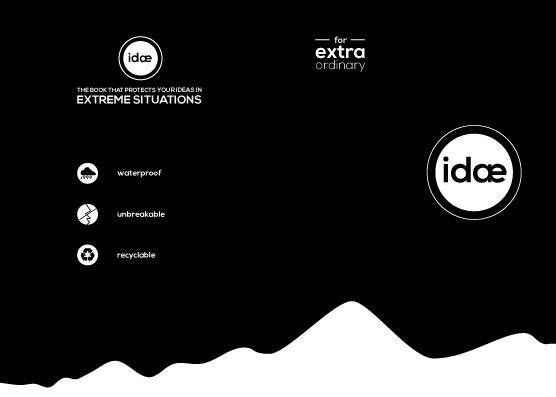 black wave cover
Recyclable?
Please follow this link to obtain all information about the life of this material from the web site of Waste Management, Inc. Please be careful to separate the wire.
Production process
The manufacturing process of Idae starts from the printing plan that will procure the special paper directly from the manufacturer. The paper sheets will be printed and stitched by the same factory and delivered to us. We will inspect every piece one by one to ensure that every Idae matches the expected quality level.
We tried to shorten the supply chain as much as possible to reduce problems, costs and pollution.
FAQ
Olimpics Game? so far just a dream …
Washing machine? something can delete …
The carabiner? it will be bought according to the number of orders received …
Fire? yes, it burns !