AR/VR, along with the Internet of Things (IoT)
Ar/VR and IoT has been talked about for a few years now as the next big thing. To help get it straight, Techcrunch explained it like this:
Virtual Reality (AR): places users inside the virtual world, immersing them.

Augmented Reality (VR):Overlays virtual objects on the user's real world, augmenting it.

Internet of Things (IoT):

The interconnection via the Internet of computing devices embedded in everyday objects, enabling them to send and receive data.
AR creates digital elements and the ability to experience virtual along with the "real" physical world. If you were one of the millions that played Pokemon Go with your smartphone, then you experienced augmented reality with this game. This game was a fun introduction to the AR phenomenon. However, AR/VR is not just for games it is now being used in the workplace. Companies such as KTM and ThyssenKrupp have adopted the technology to be used by their technicians to service KTM motorcycles, and to service elevators, in ThyssenKrupps case.
PTC ThingWorx Studio
This a platform for creators to develop IoT applications and augmented reality experiences that are meant to be use in the workplace. PTC, most well know for their Creo 3D design software, has heavily invested into IoT and AR technologies for enterprise use. Working with ThingWorx, a creator can design a useful AR experience on the computer, then use the halolens to be immersed in the visuals and experience the benefits of the technology. It will be understood better if you watch this video about how ThyssenKrupp has implemented this technology within their company to better maintain their elevators.
Thyssenkrupp Elevator are pioneers in the industry, using IoT to record data with goal of significantly reducing maintenance costs and ensuring their elevators stay operating perfectly. Working alongside Microsoft, the company was able to connect sensors and systems in the elevators to the Azure cloud. Thyssenkrupp calls this predictive maintenance solution MAX. Through this system they capture data such as motor temperature, shaft alignment, cab speed and door functioning. Furthermore, if you watched the video, you see how they implemented AR tech to aid the repair technicians with visual instructions through the use of the hololens and virtual components created in the ThingWorx Studio.
Austrian based motorcycle maker, KTM, are using the ThingWorx IoT platform and AR to more efficiently services the bikes. With digital tools taking a more prominent role, large services manuals are becoming a thing of the past. Technicians quickly see the parts they need to take of to reach specific components. In order to see the digital information overlaid the physical user must use devices such as AR headsets or tablets.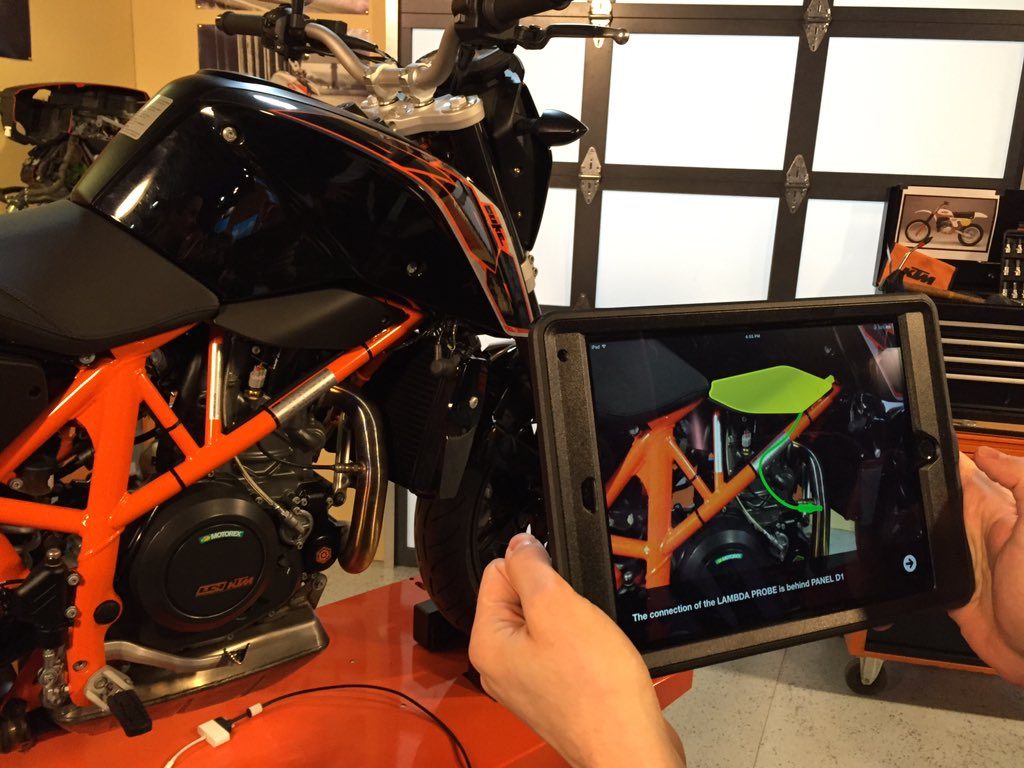 AR is a relatively new matter , and as the technology becomes increasingly adapted into the workplace, we're seeing the capabilities can go much beyond playing a game like in Pokemon Go. It will be interesting to see the companies that adapt it and how they end up using it.