An LA based firm called Hyperloop One expects to make the high speed transportation technology a reality and has tested it's new technology this month. The initial idea stems from an idea by Elon Musk who suggested and laid the groundwork for a system of high speed transport in a white paper in August of 2013 but also stressed that he himself was not able to pursue the commercialization of a hyperloop system because of his full plate with Tesla, Solar City and Space X.
The hyperloop would be able to transport people from LA to San Francisco in half an hour as opposed to the current 6 hour drive or 1 hour 20 minutes by air. The firm closed over 80 million in investment money this month, which included noted billionaire tech and innovation investor Vinod Khosla.
Hyperloop's technology involves the use low pressure vacuum tubes where cylinder shaped trains would travel at speeds of up to 700 miles per hour.  The firm has showed the capabilities of it's full sized electric motor in the Nevada desert this week with a relatively modest test demonstrating it's ability to accelerate to a speed of 100 mph in two seconds before being brought to a stop by a large mound of sand. Hyperloop One intends to have a more involved demonstration later this year. Vice president of engineering Josh Giegel described the electric propulsion system as being unique for not having any moving parts.Giegel refers to the electric motors as blades and these motors, placed on every 50 miles of track, will push along the pods using electromagnetic energy.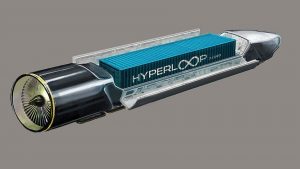 Current cost estimates for an LA to San Francisco route are in the the area of 6 billion dollars. Hyperloop One expects to first deploy a freight based system by 2019 followed by a people moving system in 2021.  
Another firm also in the race to actualize this new technology is called Hyperloop Transportation Technologies. They have also garnered attention recently and insist their approach will be both safer and less expensive. Using a technology developed at the Lawrence Livermore National Lab by Richard Post called passive magnetic levitation it uses a system of coils and magnets that are referred to as the Halbach array. This type of system has been  used in the late 20th century to move particle accelerators. This approach will not require the building of power stations along the track hence would save on construction costs. Hyperloop Transportation Technologies has used crowdsourcing for funding and has a partnership with Ansys who's 3D software it uses.   
In addition to the LA to San Francisco route, proposals for other routes are now being explored including LA to Denver, Chicago to Pittsburgh, Helsinki to Stockholm and a system in Switzerland. It remains to be seen which system will be first since both teams have a significant amount of engineering talent and funding and both are moving forward with the testing of their technologies.We expect further developments in this area very soon.
---
Article written by David Mazovick for Design Engine, May 28th, 2016.