This years breakthrough product which made it's way into the public consciousness and on to peoples holiday wish lists is the self-balancing two wheeled scooter popularly known as the hoverboard. The name hoverboard "however inaccurate" seems to have stuck and now these handless segways have become one of this years best selling products among teens and twenty somethings. Now commonly seen on city streets, sidewalks and on campuses the boards are sold at a wide range of price points from 200.00 for the cheaper knock offs to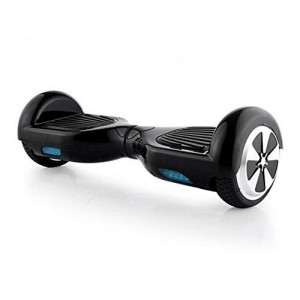 1500.00 at the high end. Very recently their perception has been tainted by some high profile fires including some viral videos of the actual boards on fire and this has been attributed to poor quality lithium ion batteries in some of the lower end boards.
Apparently some of the cheaper boards used lower quality mass produced cells in their lithium ion batteries which create a greater likelihood of starting on fire, especially when knocked around or under stress. Another issue that has been reported has been battery damage as a result of overcharging which can also cause battery malfunction and in some extreme cases fire. While some months ago I would have made the case for opting for the less expensive boards I would now say
one would be safer with the more known branded names and would encourage prospective buyers to do their research.
In Chicago where the Design Engine studio is located there are currently no restrictions on riding hoverboards, but some other larger cities inclusive of London and New York have banned them in public spaces. Most boards have a modest top speed of around 6 mph although a few of the higher end models top off at 12 mph. Range varies from 9 to 15 miles depending on make and model. Charge times can also vary from 1 to 3 hours and they typically have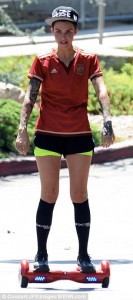 LED lights for safety during night riding. In the further interest of safety I would suggest riding them with a bike helmet. Seeing that they are electric, it would also be advisable to avoid riding them in rainstorms.
The fallout from the various fires and explosions has been considerable and as a result certain airlines, the U.S. Postal Service and perhaps most tragically of all the Consumer Electronics Show have barred them. Amazon fortunately has been more selective in it's ban attempting to target only those makes that have a record of going on fire. Despite all these trials and tribulations we feel the inaccurately named hoverboard can rightly be viewed as the breakthrough product of 2015 and expect it to weather the storm of recent bad publicity and we further hope that inferior products that may threaten peoples safety can soon be weeded out of the marketplace.
Now we can only hope that the real hoverboard as seen in the movie Back to the Future and a recent Lexis commercial will soon make it's debut.
---
Article written by Dave Mazovick for Design Engine, January 29th, 2016.