If you are an outdoors lover like me, you probably like to go camping , grill food, or sit outside at night with friends around a warm fire. Man has been doing these activities since he learned how to make a fire, and i'm sure once the initial excitement of this essential discovery wore off, people started getting really annoyed with smoke going in their faces and lungs, along with their eyes getting irritated watery . Well, a company called BioLite created a solution to this age old inconvenience.
BioLite is a company that describe themselves as having  "the mission of bringing energy everywhere with revolutionary products that transform the way we cook, charge, and light our lives off the grid. The founders connected over their shared interest in sustainable design and camping, while working at smart design in NYC. Thus, they started designing products that would decrease our dependence on fossil fuels and help those living off the grid.
The Biolite FirePit is a 20lb smokeless wood-burning product that allows you to cook your food or have a portable fireplace to sit beside. The sides of the FirePit are surrounded with mesh, allowing for an excellent view of the flames. You can choose to burn wood or charcoal. How can you decrease the smoke produced by a firepit or grill? Create a more efficient burn. How do you create a more efficient burn? You need to consistently get an optimal amount of air in the right places.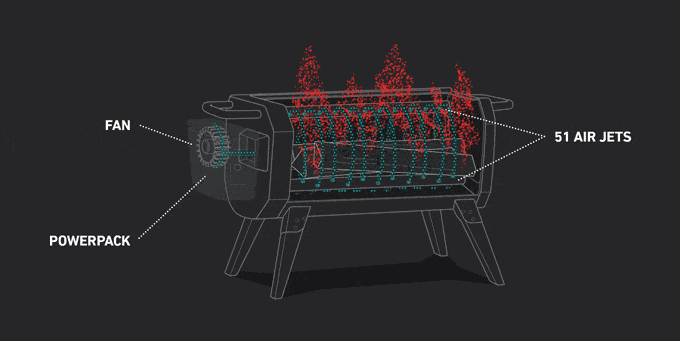 The way Biolite designed their product to efficiently burn, is through the use of a fan and tubes with 51 air jets in them. This brilliant design creates a more constant temperature and blending of gases which significantly enhances combustion.
 The fan has 4 speeds, allowing you to control the fires size and intensity. The yellow unit on the side houses the fan, and USB rechargeable power pack where you can charge electronic devices. Depending on the fan setting, the 10,400 mAh battery pack can can keep a fire going for up to 24 hours.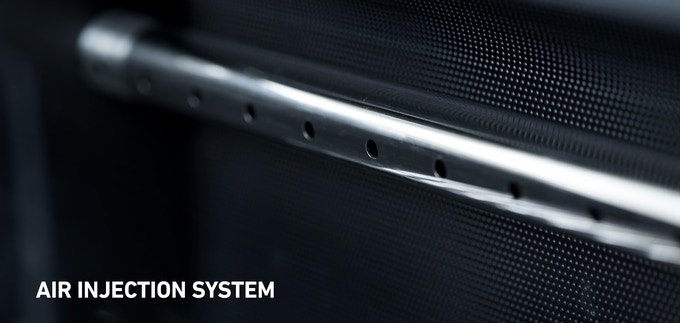 There are 51 of this holes propelling air.As with many products being created in this day & age, the device will have the ability to be operated by your phone. With your phone you can adjust the fan and intensity of the fire by the touch of a finger. The product is on kickstarter for $199 and will include a free solar carry case, making the product self reliant. The first orders will be sent out May 2018. This is a clever piece of engineering/design. It's safe to assume grill manufactures will take note and think about including one of these types of features in new products.