Written for Kickstarter
A fresh approach to bicycle seat post suspension that maximizes rider comfort, overall performance and style.
BodyFloat™ is a patent pending compact and light weight dual spring parallelogram bicycle suspension seat post. BodyFloat™ isolates the rider from the constant bumps and vibrations of cycling while maximizing comfort, pedaling efficiency and overall performance.
Why support BodyFloat™?
Because it levitates you over your bike…how can you not support that? We will use your support to get us into production. We've been riding, testing, racing and tweaking these for over a year and we know we have something very special here that will enhance every riding experience.
There are numerous suspension seat posts available on the market today (Thudbuster, Tamer, USE, RockShox, NitroPro, etc, as well as a few from the past like Softride, AMP, etc.). We found that none of them provided the action, adjustability, performance and comfort that we desired. So we invented a solution to our, and your, desires…and it may just save your ass.
BODYFLOAT™ : Designed and ready for Any Rider of Any Ability on Any Bike
Recreational Riding
Road Riding
Mountain Biking
Commuting
Tandems
Cyclocross
Triathlon & Multisport
Touring / Multiday
Racing (road, track, endurance, mtn.)
Unicycle
Electric / Utilitarian Bikes
Gyms / Spinning / Stationary trainers
Rider Benefits:
Improve comfort & increase riding enjoyment
Improve pedaling efficiency & increase performance
Conserve energy & recover quicker
Improve bike handling, traction & stability
Improve rider confidence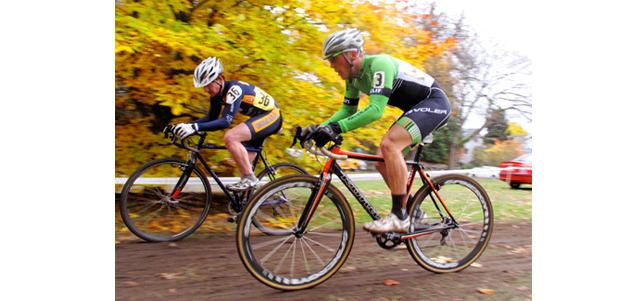 Minimize fatigue, improve handling!
Therapeutic Benefits:
Minimize skeletal & cellular vibrations, therefore reducing body fatigue
Less stress on connective tissues, joints, muscles & organs
Maximizes stabilization of the lumbar spine and pelvis.
Promotes increased blood circulation to the extremities
Features:
Arrives ready-to-ride, pre-configured to your weight & riding style
Easily adjustable pre-load combines with interchangeable springs that allow for fine tuning to your weight, riding style and terrain
Perfect for any type of riding, from leisure to competition, on-road or off-road.
Designed to install on almost any type of bike with a variety of seatpost sizes and lengths
Available with custom colors and graphics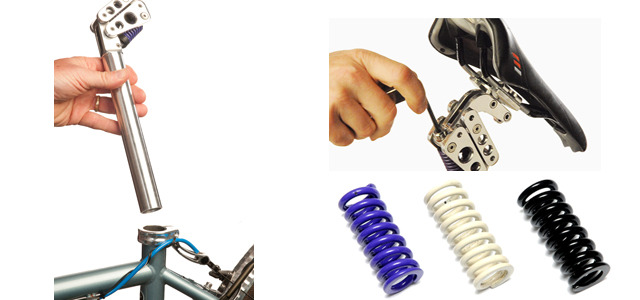 Fits nearly any bike! Easily adjustable to any weight!
FAQ's
Due to BodyFloat™'s unique and revolutionary design there are lots of questions…and here are lots of answers to help you understand why BodyFloat™ is so cool…and why it works better than anything out there. Check the website for even more info.
How does BodyFloat™ work?
Simply put…our patent pending dual spring system levitates you over your bike, isolating you from the terrain below while allowing for better pedal efficiency, more comfort and increased riding confidence. BodyFloat™ does this in two distinct ways:
Firstly, our design allows for comfort! It effectively isolates you from the terrain below and greatly reduces the amplitude of surface vibrations and small bumps thus making your ride more comfortable in every way. You can ride without negative effects and feel relatively fresh after your ride. Quicker recovery from any ride is a good thing, right? And no sore butt!!!
Secondly, our design enables you to maintain a smooth, comfortable and efficient pedal stroke without bounce, flex or wasted energy. Our non-damped spring design (meaning no elastomers, oils, air or other substance) allows for the natural vertical compliance necessary to encourage an efficient pedal stroke. It does this intuitively with your body weight and natural movement that creates circular and efficient pedaling.
Why no damping?
Good question…and this is the genius of BodyFloat™. Damping slows frequency response by definition. No damping allows for the best possible isolation of the power plant (ie: you…the motor) and allows for the best transmission of energy into forward motion. So you can be more comfortable, conserve more energy and put that energy into getting you from A to B quicker and more comfortably.
There are two small dampers in the BodyFloat™. A small top-out elastomer located in the pre-load bolt and a progressive bottom-out elastomer housed in the lower spring guide. These two small elastomers work to soften the endpoints of your specific travel range.
What's difference between the 2.0 and the 3.0:
Isolation is what the BodyFloat is all about and both models do a fine job at it. The 3.0 does a bit better by utilizing 8 silky cartridge bearings, a beautiful carbon seat post and sculpted side links that are manufactured with a higher grade material. The 2.0 uses a highly efficient bushing system, an alloy seat post and sports solid side links capable of providing you ample space for personal engraving options. The 3.0 will be a bit lighter than the 2.0 as well, not sure exactly how much yet, but in the range of 30-50 grams.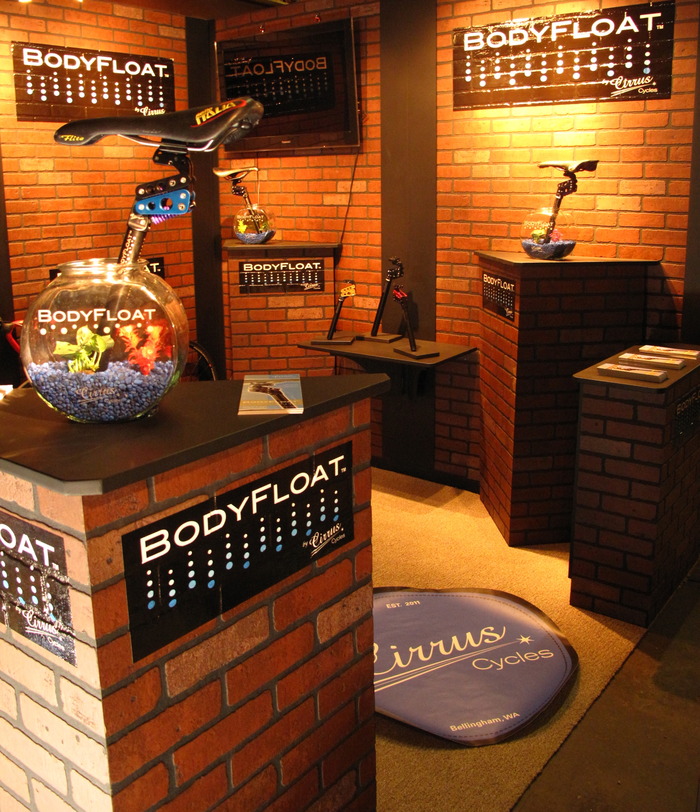 trade show image
How much travel does it have?
Up to 1.5″ (38mm) of true vertical travel, pre-loadable down to less than 1/4″ (6.4mm) if desired. Somewhere in the middle is your ideal 'sweet spot' that works best for you and your needs. Just like fine tuning a car or motorbike suspension; performance and comfort can only be maximized once the suspension is tuned.
Future models will have over 3″ of available travel for mountain specific applications.
What is the "Sweet Spot"?
AKA "heaven". The 'sweet spot' is the ideal combination of spring rate and pre-load that allows the rider to be most effectively isolated from the terrain below without negative movement or action. Your 'sweet spot' is easy to find and easy to change based on your weight, riding style, bike and selected terrain. BodyFloat isn't about suspending you over everything like a full suspension bike or other suspension systems… its about effectively isolating you from the terrain allowing you to increase your efficiency.
What is "pre-load"?
Pre-load refers to the force applied to spring component before external loads, such as rider weight, are applied. For instance: on a comfort based bike you may want less pre-load that offers a more plush feel using more travel. For performance, pre-load the BodyFloat to maximize efficiency, minimize travel and find your optimum range. Adjusting pre-load can be done on the fly with the simple turn of the pre-load hex bolt located on the rear of the unit.
Can I adjust or change the springs?
Yes! Adjustment of the spring is easy. BodyFloat™ comes pre-configured based on your weight and riding characteristics. As mentioned above, you adjust the spring with the pre-load screw. This reduces the effective travel of the unit. If you find that you often bottom-out or it's too stiff, you can change the spring out with a spring of a higher or lower spring rate. This is done by removing the lower spring/spring guide and replacing the spring with one that better suits you.
How and why to get additional springs?
Swapping different springs allows you to customize your BodyFloat to exactly your needs. There are so many options here!! You may prefer stiffer springs for a more upright position, carrying a messenger bag/pack or for less isolation. Use a lighter spring for more plushness and/or with more pre-load, or for high performance applications like racing or stationary bikes. Different springs with different spring rates are available for sale directly through our website and at retailers.
What is its size and weight?
The 3.0 production model will weigh about 430g +/-. It's about the size of your Ipod. The 2.0 weighs about 470g.
Will BodyFloat™ fit my bike?
BodyFloat™ is designed to work on just about any bike. Available in 27.2mm & 31.6mm seat post diameters, with shims for other sizes. Other diameters will be available soon. It will fit any standard twin rail bike saddle.
How much clearance is needed between my bike frame and the saddle?
It can be preloaded so that only 80mm is required from the top of the seat tube to the saddle rails.
Where will it be made?
In North America…of course!! We are currently producing a limited number of prototypes in our Bellingham, WA facility for beta testing. Production will be done through local suppliers and assembled in-house. Our objective is to keep all manufacturing in North America.
When will my BodyFloat™ be available?
We plan on having 3.0 model BodyFloat™ in production by December, 2012 and the 2.0 model by February 2013.
What was the origin of the BodyFloat™?
The BodyFloat™ came about as a blend of two passions: cycling and the desire to help others.
Two years ago, BodyFloat inventor Paul Barkley was assisting rural village development groups in Kenya and Uganda. Needing to cycle between remote villages, he was looking for a spring seatpost to ease the ride.
None of the available spring seat posts provided the features he was seeking, so he was inspired to build one himself. He continued refining the design, building several more versions, improving the spring rate, travel, durability and weight.
What emerged in the spring of 2011 was the patent pending dual spring version that allowed the BodyFloat™ to be lighter, more compact and suitable for even performance road bikes.
At the end of summer 2011, Barkley and Charlie Heggem formed Cirrus Cycles to bring the BodyFloat™ to market and allowing them to pursue their passions of cycling and sustainable grassroots development.
Watch Video @ http://www.kickstarter.com/projects/188418586/bodyfloattm-an-evolution-in-bicycle-comfort-and-pe?ref=category