Let me just start by saying, this place is awesome! Selfishly, I had wanted to set up a tour to play with their awesome BB8 replica as the nerdery is strong with me, but when I visited Bridgewater Studios I got much more than I had expected. They even have their own real-life robot!
Three years ago, Patrick and Eric were working for other people and knew that they could branch out and do it better on their own. With a desire to be their own boss, along with picking their own projects and making some awesome stuff, they set out to start their own company. Both started off with a background in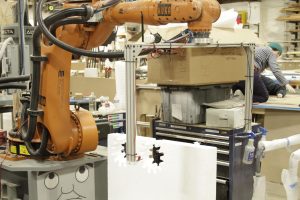 theater and trade-show construction and it's incredible with how much they've accomplished in only 3 short years. They do everything and are known for being the guys that will take on projects that other places won't because they are extremely skilled at completing custom works on a budget.
They now have 25 full time employees and a large space where they do everything from fabrication, woodworking, metalsmithing, painting and more. They print their own graphics with a direct to substrate printer, use CNC routers with software like Rhino and Solidworks to process sheet goods. From the sweet Kuka 6 Axis Robot arm that cuts out shapes to the Form2 SLA, automotive quality paint booth, and Stacker FDM 3D printers, this place had it all. It was like Disneyland for makers!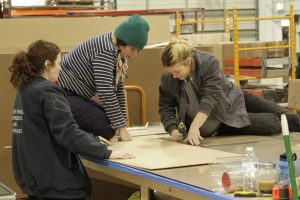 What are those things built there, you ask. It ranges from custom film set props, store and trade show displays, to furniture, and more. They have taken on a wide variety of projects for their diverse clientele. They are a one stop shop in Chicago for all things custom.
When you walk in you'll find a random "Sting" mask, an employees custom motorcycle build, and even a creepy doll head on a forklift hanging around randomly in the shop. This is a testament to how fun the atmosphere here is.
Since Design-Engine trains individuals and design/engineering teams in multiple CAD programs, naturally, we asked about what software is used for design. Patrick said that they draw predominantly on Solidworks and also use Rhino for 3D modeling. The guys at Bridgewater Studios state: " we really like to get it done in CAD first, then bring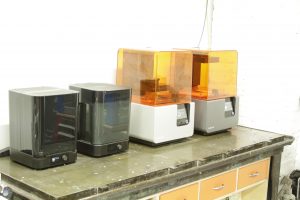 it out to the shop floor". The Bridgewater guys typically will draw something out on SolidWorks than once finalized send it off to the sheet metal fabricator.There are many advantages to using CAD. It makes it possible to sketch and visualize a design and make quick changes as needed, before sending the finalized design file over to be created by a 3D printer CNC machine, or whatever machine is needed. Also, you can collaborate with multiple team members, and save assemblies or designs for future reference. It is an efficient tool use before finalizing a construction and beginning production.
The BB8 started with 3D modeling, then went to carving,finishing, painting, hard coating. From start to finish the project took one month, and every part of the shop had their hands on it. The head of the structure was 3D printed,
the body was cut out with a 6 axis robot arm. After the structure was built, it was coated with a urethane hard coat which then gets more carving and detailing, the electronics are added, it finally goes back to get scenic paint in their high quality paint booth to look like he'd been dirtied rolling all around Jakku for awhile.
When asked what's next for them they mentioned upcoming projects include: Holiday decor for shopping malls all over the country, product installations for Nike and Jordan brands, and working with the Museum of Science and Industry
Eric and Patrick are two of the nicest and truly down to earth dudes around. If you want to learn more about what the work team at Bridgewater does check out their website!!
www.bridgewaterstudio.net