I was fortunate to be able to attend the Chicago auto show media preview days. With that, photographers were able to walk through the floors and take pictures of the vehicles without fighting through crowds or taking dozens of attempts to capture a photo without a person walking through the frame. One of the best parts were attending the press conferences and getting to see and hear the executives and mangers form the manufactures speak and reveal the new cars.
Leading up to the auto-show, I was expecting an overwhelming amount of hybrid and electric cars, and a lot of ugly ultra futuristic concepts. As an enthusiast, autonomous and electric cars don't excite me. To my surprise real drivers cars were still alive. Manufactures were still making cars with manual transmissions and Internal combustion engines, and cars with a focus on the driving experience. Most of the concepts looked like cars that I could see coming to production in the future without much change. There was a good mix of cars from every category.
Here are four new cars that are worth talking about.
Corvette ZR1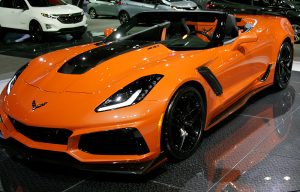 When I entered the north hall of McCormick place, Chevy had their spot near the entrance. My eyes were immediately drawn to the brand new bright orange Corvette ZR1. This car has a very aggressive exterior styling with a large front air dam, and numerous carbon scoops, vents, canards, and spoilers; all being functional and used to achieve cooling and aerodynamic efficiency. The car can be had with a high or low wing, the high offering 20% more down-force. Everything about this car is designed with a purpose.
When creating a performance oriented car of this caliber, every part of the design must be tested and achieve the desired goals. The design starts in CAD, tests are done through FEA. Structural rigidity is critical when building a sports car, valuable information regarding this topic can be analysed through FEA. Here at design engine, we know a thing or two about FEA since we teach it. Once design is approved, physical body parts and a prototype car are made and aerodynamic tests will done in the wind tunnel, then road and race track testing ensues. Once the engineers and execs are happy with outcome of the product, any human with enough in the bank can purchase and take this beautiful piece of engineering to the racetrack or golf course of their choosing.
Powering this beast is 6.2L supercharged V8 engine. It produces 755 hp and 715 lb-ft. With a 212 top speed, this is the fastest corvette ever. Is this amount of power necessary? Absolutely not. Without out sophisticated electronics, cars with this power level will have you fighting for traction and wetting your pants. However, Ferrari, McLaren, and Lamborghini make huge power cars, and the ZR1 came to fight with the biggest and baddest.
The $120,000 price tag may seem like a lot but this is a bargain compared to the ZR1's European competitors.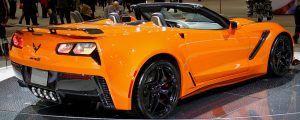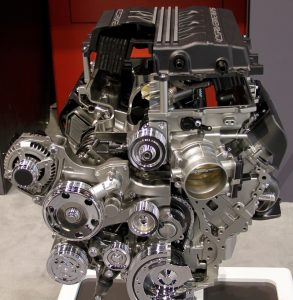 Kia stinger gt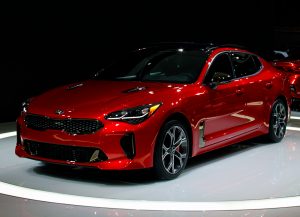 Kia made a cool, attractive, high performance car. I never would have imagined saying those words before, but it has happened. Kia shamelessly admits to taking the design and engineering talents away from some of the most high regarded automobile manufacturers. In 2006 Kia acquired former Audi/VW designer, Peter Schreyer. Schreyer is noted as the man who designed the Audi TT, and completely overhauled Kia's exterior design. Kia also now has former BMW M division chief engineer, Albert Biermann, who is directing the high performance and vehicle dynamics division for Hyundai/Kia.
When he saw the design of the prototype, Bierman said " Hey, these cars need to drive as good as they look." Now the car is hitting production and is starting to hit the streets. Those who have driven the car say they drive good, real good.
The stinger can be had with a 255 HP 2.0L turbo four that starts at $31,900, but today I will be talking about the more athletic GT version. Depending on options, the highest form of the Stinger will go for 40-50k. The biggest challenge to selling this car will be getting people to ignore the KIA badge.
The car was taken to Germany's Nurburgring. The track vigorously tests cooling requirements, suspension, and aerodynamics. Aero features include front wheel curtains with functional vents, and under-body tray with NACA ducts and rear diffuser.
The Stinger GT engine is a 3.3L V6 with twin turbochargers and produces 365 hp. The car gets 19/25 mpg. It propels to 60 mph in 4.5 sec, this impressive for a sedan of this size that can comfortably fit 4 adults. This car is a great value proposition. Though the interior isn't up to par with Mercedes , you are also paying significantly less. This car needed up winning MotorWeek's drivers choice award. It is a well balanced package of performance and luxury.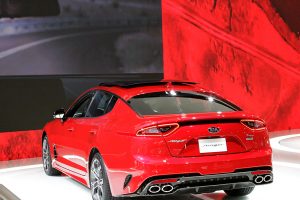 VW Arteon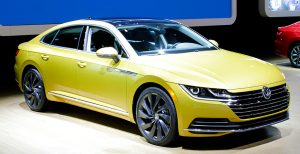 At the 2018 Chicago auto show Volkswagen unveiled the "Arteon", their brand new sedan that will be replacing the CC. This car has a long sloping coupe style roof line, and a large chrome grill containing horizontal lines that seamlessly integrate with the LED headlights. In the rear you have a subtle deck-lid spoiler, and dual trapezoidal exhaust tips. This vehicle looks modern without trying too hard. The new Toyota/Lexus models have a unnecessarily aggressive over-styled design to them. VW is taking a more conservative or classy approach to styling. For those interested in automotive exterior or interior design, they might be interested in learning how to use a design software program such as Alias.
The Arteon is based on VW's MQB platform architecture and has a 5in longer wheelbase than the CC. The car has features such as a digital instrument cluster, heated, ventilated, and massaging seats. The engine inside will be the 268hp 2.0 liter that VW slaps in just about everything. Front wheel drive will be standard but VW's 4motion AWD will be optional.This car is positioned as "affordable premium", thus some cost savings had to be made, such as the interior having some hard plastics. The car will be available for purchase starting this upcoming fall.
Jeep Wrangler Rubicon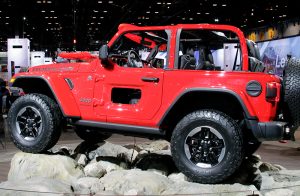 The Jeep Wrangler is back for 2018, but new and improved. It is longer than before, has more ground clearance, and some interior improvements. The available engines are a V6, and a new 4 cylinder turbo, making 285 and 295 horsepower respectively. Transmissions available are a new 8-speed automatic or 6 speed manual. It is said that a new torquey turbo-diesel 3.0 liter V6 will be available next year. Though this new JL Wrangler is larger than the outgoing JK, it is actually lighter thanks to aluminum in the doors, hood, and fenders. The large fenders house 33in tires, but can accommodate 35in ones.
With a rugged boxy exterior, those classic circular headlights, and large flat front, the Jeep is easily recognizable. There is an optional hard or soft top. One of the unique features that Jeep has is that the doors and roof can be removed, additionally the windshield folds down; All this giving you the full on safari experience.
At the auto show we were given a ride through the Jeep Indoor track experience as a passenger of the new Wrangler Rubicon. Their were definitely moments of concern and astonishment during the ride, most notably during the steep off cambered banks, and the hill ascent/descent. This course simulated off-road obstacles, and demonstrated features jeep uses to overcome them. It was a blast experiencing the off road capabilities of the Jeep with this track.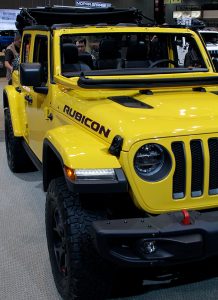 [ngg_images source="galleries" container_ids="34″ display_type="photocrati-nextgen_basic_thumbnails" override_thumbnail_settings="0″ thumbnail_width="100″ thumbnail_height="75″ thumbnail_crop="1″ images_per_page="40″ number_of_columns="0″ ajax_pagination="0″ show_all_in_lightbox="0″ use_imagebrowser_effect="0″ show_slideshow_link="1″ slideshow_link_text="[Show as slideshow]" order_by="sortorder" order_direction="ASC" returns="included" maximum_entity_count="500″]