As promised this years Chicago Auto Show turned out to be an impressive but visually overwhelming event full of new technologies and innovations, concept cars, classic vintage cars and some unexpected surprises. The experience of seeing literally hundreds of cars in a single evening left us in a state of sensory overload, but among the plethora of uninspired SUVs, light trucks and nondescript sedans were a handful of very memorable standouts all of which we will key in on in this article.
While the eye candy and sheer wow factor of concept cars did take some of our notice, this has always been tempered with some reservation. We can acknowledge the combination of aesthetically beautiful shells coupled with cutting edge technology is captivating, the fact that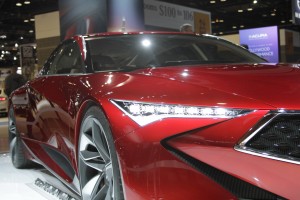 these are generally one off examples exclusive to and for the auto shows make these slightly less alluring for me personally. We know few if any concept cars will ever get manufactured and the best we can hope for is seeing some aspects of these new technologies, innovations and styling make it's way into production model cars in coming years. Far more satisfying to my mind was seeing forward thinking, new technologies applied to model cars slated for production and thus, likely to be seen in the show room and on the street.  
First and foremost in the area of practical application of new technologies was the Chevy Bolt. GM has almost redeemed themselves for the premature end of the EV1 project 15 years ago by intending to bring to market by years end what promises to be the first long range (200 mile) electric car for an affordable 37,500. (30,000 after federal incentives). Having a reasonably attractive body design, coupled with decent performance (zero to 60 in less than 7 seconds)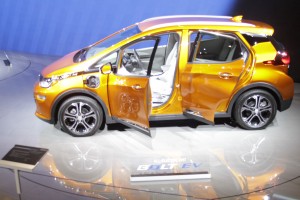 and the ability to seat five people comfortably, it promises to be the breakthrough car of 2017 in spite of low gas prices. Also figuring prominently was the more established sister car, the Chevy Volt which featured an improved all electric range of 53 miles which is combined with a 370 mile gas range extender would allow for long road trips when needed. One of the most stealth but promising applications of Voltec technology was found in the 2016 Chevy Malibu hybrid. By virtue ofapplying the efficiencies learned from the Chevy Volt to it's own hybrid power train, it sets a new standard for midsized sedans. Also, in spite of being six inches longer than last years model it still weighs 300 pounds less. As a result the 2016 Malibu hybrid gets an an extremely impressive 48 mpg (in spite of not being a plug in). This level of efficiency far outclasses similar sized rivals such as the Toyota Camry or Ford Fusion Hybrids by several miles per gallon. 
Another noteworthy development was the debut of the branded name Genesis for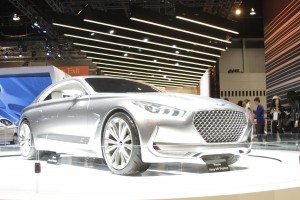 Hyundai's premium or luxury market cars. Previously a single car model, Genesis will now be the name luxury division of Hyundai. The models we saw on the floor one upped not only the other Asian luxury brands. but the German high end brands as well and lend further credibility to Hyundai's coming of age. 
Volvo's S90 full sized premium sedan deserves mention for showing the world their ability integrate their very well-deserved reputation for safety into a well designed high end executive car. Also included in the 2017 package is semi-autonomous driving and an object and large animal detection system that provides both warnings and brake support.
Nissan showed it's 2016 Leaf with an upgraded 30 kwh battery pack providing an EPA certified 107 mile range.The big question remains whether they will introduce their 60 kwh battery pack (providing an over 200 mile range) in the 2017 or 2018 model year.  I would argue the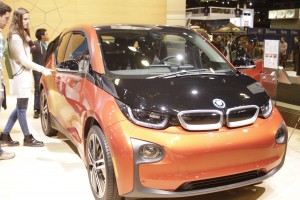 sooner the better and feel they would have been better positioned to keep their lead had they introduced this years 107 mile pack a year earlier. 
BMW is faced with some of the same issues with it's own electric offering, having last year announced the arrival of a 120 mile range battery pack for it's i3 by mid 2016 only to be outshone by the anticipated Chevy Bolt and Model 3 with their respective pronouncements of over 200 mile range at lower price points by 2017. The 43,000 dollar price point will likely make the car less competitive here despite the optional gas range extender. 
Toyota's back to the future inspired Mirai complete with and 19 inch reflective chrome wheels and gull wing doors was a nice piece of eye candy, but, for reasons I will explain in a future piece I remain skeptical of a hydrogen car future.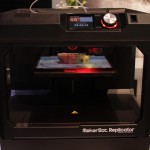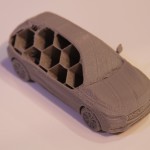 On the vintage end of the spectrum was an impressive perfectly conditioned cream colored 1954 Chevy Corvette which still reflects the best of mid-20th century design. Also memorable was a light blue Rolls Royce convertible with a white interior. Mazda's two seater MX5 was another notable piece of design and well worth seeing. Supercars were very well represented in a roped off area and our only frustration here was not being able to get closer for some better angles and shots.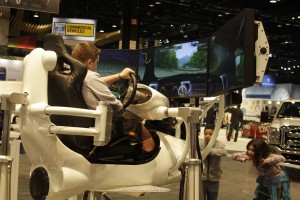 Videographer/photographer Scott Froemming and myself were blase about the preponderance of SUVs and light trucks surrounding us but overall we where impressed by this years show as a whole. 
The only regret we shared about this years show was the notable absence of Tesla, arguably the 21st centuries most forward thinking and innovative automaker. This year Tesla has avoided the American auto shows in protest for being denied selling their cars in the state of Michigan, who, along with Texas and New Jersey have forbade their cars from being sold for not adhering to the traditional dealership sales model. We hope at some point soon politics will be set aside and that Tesla will in the near future be able to sell in all 50 states.
---
Article written by Dave Mazovick for Design Engine, March 1st, 2016.