Each Region or PTC User chapter has a meeting of the minds once or twice per year where Pro/Engineer users gather together to share their knowledge. This November 11th PTC User conference is no different. It is being held in Denver CO at the Colorado School of Mines and hosted by the Colorado PTC User Group (COPUG).
COPUG Annual Meeting 2011
Time and Place: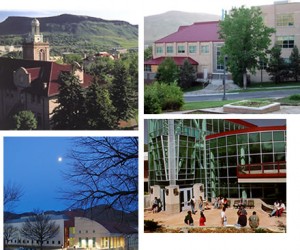 November 11th, 2011 at the Colorado School of Mines mines.edu
The meeting is in building 54, the robotics lab is in building 8, and the Colorado Fuel Cells Center is in Building 20. Best places to park would be the lots D, B, E, and CT.
---
AGENDA:
8:00 AM – Sign in
8:15 AM – Welcome and Introductions (By the Dean?)
8:25AM – 11:30 AM Presentations
8:30-9:15 ISDX Proving Form – Bart Brejcha – DESIGN-ENGINE|EDUCATION
Powerful free-form ISDX tools by leveraging more robust Pro/Surface functions and curves. Aggressive introduction to Pro/Surface and various surfacing techniques. Technique for building a plan of attack, eliminate isoparms/isolines, and tangency issues.
9:20-9:45 Mines Student Presentations
9:50-10:15 Mines Student Presentations
10:20-11:00 Manikin – Greg, 40 minutes
Quickly insert, customize, and manipulate accurate, standards-based 3D human models. Generate human reach envelopes and vision cones to understand design limitations may. Leverage time-saving libraries of global populations and manikin postures to quickly build manikin scenarios
11:05-11:30 Protogenic – Rapid Prototyping, 20-30 minutes
Protogenic is a professional service bureau that specializes in Additive Manufacturing Technologies. We manufacture prototypes and conceptual models using stereolithography (SLA) and Laser Sintering (LS) rapid prototyping technology. Protogenic also offers silicone rubber (RTV) molds and cast polyurethane parts for limited 'pre-production' quantities. These beautiful, dimensionally accurate products are delivered to you on time, with world class customer service, friendly communication and expert management at each step of the process.
11:30 AM – 12:30 PM – Lunch
Konica Minolta – Laser Scanning, 30 minutes during lunch
Konica Minolta Sensing is known worldwide for offering a full line of industrial 3D laser scanners to industries ranging from aerospace to 3D gaming companies. Using our knowledge in hardware and industrial applications we have added 3D scanning and engineering services to our measurement portfolio of products.
12:30 PM – 2:00 PM – Presentations (finish)
12:30-1:10 Creo Surface Freestyle – Bart Brejcha – DESIGN-ENGINE|EDUCATION
Integrating Sub'D Freestyle surfaces with other surfaces inside Pro/Surface and ISDX. Discuss the history of Sub'D Freestyle modeling and compare to Catia, Maya, and 3D Max. Discuss Sub'D Freestyle work flow with respect to integrating to regular surfaces in Creo. Bart will model a Giraffe in less than 5 minutes.
1:15-2:00 Introduction to Behavioral Modeling [WF5] Maiki Vlahinos, Brinks Engineering
This presentation describes the behavioral modeling concepts and strategies for working with analysis features, tolerance analysis features, sensitivity, feasibility, optimization, and statistical design studies available in BMX of Wildfire5. Demonstrations of design explorations and optimization techniques will be presented.
2:00 PM – 3:00 PM – Robotics Lab Tour
3:15 PM – Finish and networking
---
VENDOR SPONSORS:
Special thanks to:
---
DON'T FORGET:
Sign-in to receive a raffle ticket
Turn in your questionnaire to receive a second raffle ticket (back side)
Mingle, network, and sit with people you don't know.
Have fun!
President: Greg Wunderlich – URS
VP of Presentations: Rich Couch – Kärcher N.A. [RICH.COUCH@karcherna.com]
VP of Finance: Sandy Loomis – URS
Executive Vice President: Vaughn McDaniel – Kärcher N.A.
VP of Meeting Sites: Rich Nordgran – URS
VP of Records: Nate Taylor – EAC PDS
VP of Vendors: Gordon Chenot
VP of Membership: Ashley Laney – Covidien
VP of Communications: Sean Sullivan – Velcon
Post-Conference Questionnaire:
Which presentations interested you the most? (Please rate in order of interest: 1-highest, 2, 3-lowest)
Comments/complaints on the location for this event:
What is your reaction to the Creo product direction from PTC?
What topics would you like presented or addressed in future meetings?
We need presentations for future COPUG events. Would you be willing to present and on what topic? Please provide us with your name and contact information (phone and email):
Would your company be willing to host a future COPUG meeting? Please provide your name, company and contact information (phone and email):
Do you have a preferred time or location for future events?
Other Comments or Suggestions: please send to rich.couch@karcherna.com