Canadian company, Carbon Engineering, is planning to use giant fans to suck carbon dioxide out of the air. Now this is usually the job of our trees right? Well due to the large amount of deforestation, there are some areas in the world where regrowing trees is just not possible and, not to mention, takes a long amount of time. Essentially, this type of technology is creating artificial trees, but these fans also serve another purpose that trees do not – they are able to take the carbon dioxide and convert it into fuel that we can use.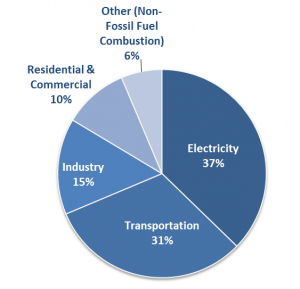 Yet, technologies for capturing carbon dioxide aren't new to the world. There are already several that capture the carbon dioxide from smokestacks before it gets into the atmosphere and pollutes the earth. Since the main reason for carbon dioxide emission comes from the burning of fossil fuels, Carbon Engineering is different in that it hopes to reduce the amount of carbon dioxide that is in the air already, such as from cars and airplanes.
This system works by allowing air through the long row of giant fans. A carbon dioxide-rich solution will then absorb carbon compounds out of the air. The carbon dioxide is then extracted from this solution, which is purified and reused.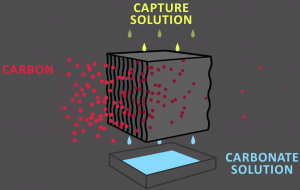 Carbon Engineering has already developed a prototype machine that was able to absorb emissions from about 15 vehicles; they believe that by making a larger scaled machine, they could capture emissions from about 300,000 cars per year.
Check out the video below to see how the fans will work.
[divider]
Article Written by Mila Medonaite for Design Engine, July 28, 2015