Say hello to the future, or at least Google thinks so. Google ATAP's Project Soli is developing a new interaction sensor using radar technology to help you tell your technology what to do, all without ever touching it. The Project Soli microchip is able to capture the sub-millimeter motions of your fingers at an incredibly high speed and with much accuracy. Since the microchip is so small, it can be built into all kinds of devices – from wearables to everyday objects.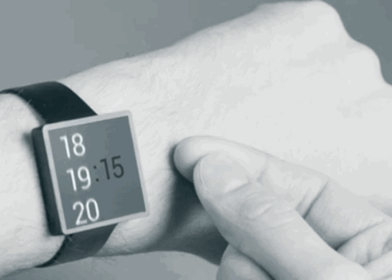 Project Soli uses radar to track to the motions of your fingers. Yet this isn't the type of radar most people are familiar with. According to Project Soli's design lead, Carste Schwesig, "A typical model of the way you think about radar is like a police radar or baseball where you just have an object and you measure its speed. But actually we are beaming out a continuous signal that gets reflected by an arm, for example…so you measure the differences between the emitted and the received signal. It's a very complex wave signal and from that we can provide signal processing and machine learning techniques to detect gestures."
Project Soli uses this invisible radar to recognize finger movements and translate those movements on a screen – essentially, the technology mimics whatever your fingers are gesturing for it to do. You don't have to actually touch the technology screen at all. The team behind Project Soli explained that the most challenging part of the entire process was to take a shoebox-sized radar detector and make it small enough to fit into a microchip. In just 10 months, they were able to overcome this challenge and now the Project Soli microchip can fit into many small devices, such as smartwatches and other wearables.
You might be thinking to yourself, motion detection software isn't anything new. The use of cameras for motion detection has been around for quite some time, but it is nowhere as advanced as this project. Project Soli makes motion detection much more accurate by capturing motion up to 10,000 frames per second. Traditional camera sensors cannot track motion this fast nor can they pass through certain objects that radar detectors can easily permeate.
Still, this project's open source technology will need the help of other developers to create further applications before it can be put into actual use. Despite Google being behind the project, the big question still remains – will this technology be something people want to use?
[divider]
Article Written by Mila Medonaite for Design Engine, September 11, 2015