Some people may know when they have an amazing idea for the next best thing, but actually putting that thought into motion can elude them for years, if not altogether. Take Nick Woodman, the founder and inventor of the GoPro Camera, for example. Back in 2002, Nick and his buds were punching the pavement up, down, and around the coasts of Australia on a surf trip looking for the best breaks they could find. While on this trip, Nick realized his trip needed to be more than just moments in time, and that there had to be a better way to capture his memories in the water instead of just settling with one-dimensional pictures taken ashore. The thought of a wearable camera had been floating around in his head for years, but it was this surf trip that got him "fired up" to put the gears in motion. Here's Nick to tell the story in his own words.
How did the idea for GoPro originally come about?
I'd had the idea for a wearable camera kicking around in my head since the late '90s, but I first really started developing the idea back in 2002 while on surf trip in Australia with a couple of friends. We were living out of a Toyota van, putting in about 5,000 miles surfing the East, South and West Coasts. I was spending most of my time in the water, sharing amazing moments and waves with my friends. I was also shooting photos (this was pre-YouTube!) from the beach, but from that distance my shots weren't doing the surf or my friends justice. Some of the most intense and memorable moments in cranking surf were just that, memories. I'd kill for some GoPro footage of that trip! Ironically, that trip is what fired me up to come home and finally start GoPro to create "the invisible camera", a wearable camera so convenient that you forget you've got it on.
At that time, unless you were a pro surfer, there was no one out in the water to capture a photo of you. That's how I came up with the name GoPro. Most surfers, at some point, wish they could "go pro". My friends and I wanted to go pro just so we could get some footage of us surfing; it was that difficult. So I figured at least a few surfers would be down with the concept of a wearable camera. Thankfully, I was half right.
A funny note: our customer service department is headed up by Ruben Ducheyne, one of my travel buddies from the trip. For several years, if you worked at GoPro it was because you went to UCSD with me or were related to me, so we're a tight crew at GoPro. All new hires feel like family thanks to the atmosphere that's existed since the beginning. It's unreal to see your close friends at work everyday and the progress in incredible as everyone works their boots off thanks to the "family" vibe.
When thinking back about the first time this product idea came to mind, what one memory stands out?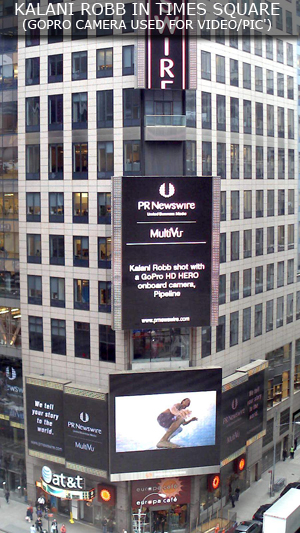 Every time one of us would get a sick barrel, we'd say to each other: "Agghh! If only we had a camera!" Every surfer knows that feeling! But for sure, I've got a couple of photos from early prototypes that convinced me the concept of a "HERO" camera, a camera that helps you capture footage that makes you feel like a HERO, was a good idea. A backhand snap at HT's in the Mentawais that my then girlfriend Jill, now wife, shot while kicking back out on her body board is one of them. Money photo shot by my girlfriend on the paddle back out – priceless.
The memory that probably sticks out the most is when GoPro started to be successful enough to go racing, and I strapped our Digital HERO wrist camera onto the roll bar of a race car. The footage was so good and the camera looked so appropriate on the roll bar that it just hit me like a ton of bricks. I thought immediately, "We've got to make it so you can mount this camera everywhere…" and that was when we transitioned from being simply a wrist camera company, to the world leader in wearable and gear mountable cameras. I guess I can thank that race car for the idea.
How did you raise money to start the company?
Bead and shell belts. No jokes!
After Australia, I flew to Indonesia to surf Bali, the Mentawais, Sumatra and West Java, traveling with Jill who was always pushing us further than I'd have gone alone. Every surfer should be so lucky to have a woman more hardcore than he is! One day Jill comes back to our place in Bali wearing this insanely cool bead and shell belt. Hardcore can be fashionable, too, apparently. Knowing prices in Bali, I asked how much, or how little, she paid for it. After my jaw hit the floor, we paid a visit to the belt maker, ordered 600 more and 2 months later the belts were done and all my boards were broken. We left Bali for California where my '74 VW Westfalia awaited along with a mission to sell as many belts as we could in 2 months, before summer ended. We sold most of them and then I moved back into my parent's place with enough money to launch GoPro.
I thought it'd take two months to roll out our first product; it took two years.
Was there anything similar on the market at the time?
Disposable waterproof cameras were the only option at the time, and you had to be willing to pull the rubber band wrist strap around your neck and paddle around with it like Flava Flav. It was horrible, and 9 times out of 10 you either missed the shot, whacked yourself in the head, ripped your hair out when it got pinched in the rubber band, or you'd lose the camera altogether. I thought I was inventing the most important innovation in surfing while sewing together the first prototype GoPro wrist straps with a sewing machine I'd borrowed from my mom. An inverter rigged to the VW's battery powered the sewer while we camped and sold off those belts. It was a good life!
How has the product evolved from the original concept?
We have had a few big technology jumps. The jump from a 35mm film camera to silent, 10 second digital videos was big! Then came the jump to the 3 megapixel camera that sported an SD card slot and sound. Quantum leap! Next came the 170 degree wide angle lens that really put us on the map. It was like having your own IMAX camera. The effect of that wide angle lens was unreal. That combined with the mounting system that allows the camera to be worn and mounted in all the ways GoPro is now famous for. Our most recent big step is of course the launch of our HD HERO camera, broadcast quality HD for everyday use. It still blows me away how good this camera is, and that's what makes working at GoPro so fun. We're all just a bunch of stoked groms, playing with our own products, just as stoked as everyone else. More stoked, maybe!
You can see a video of the GoPro camera in action below.

http://www.youtube.com/watch?v=GFSDiOB0EhE&feature=player_embedded

Do you still have and/or use your first leash-rigged prototypes?
For sure. I definitely hold onto our old prototypes. I call them the "GoPro Heritage Foundation" anytime I want to watch Jill roll her eyes. Works every time.
GoPro's initial customer base was surf and paddle-surf participants. In what order did new market segments come about?
With a bit of successful sales came auto racing, something I've always wanted to do. That led to the idea for mounting the camera on everything from cars to helmets to ski poles to surfboards. I think it went auto, then moto, then general outdoor sports, and then ironically back to surf once we felt the product was ready to be mounted on a surfboard. That's the most punishing environment of all…the surfboard. Well, that and a race car redlining at 13,000 rpm and blasting away for 3 hours. R&D at GoPro is a good time.
When was it clear the company had strong enough traction to succeed?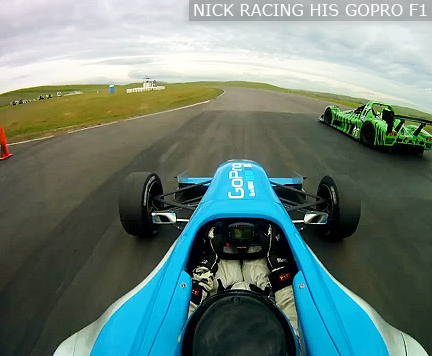 To me, we had it made when we sold $2,000 of the 35mm film HERO camera to a Japanese distributor at our first ASR trade show in 2004. We were done, on the golden road… the big time. Two thousand dollars at our first trade show? Cash it in, boom. The biggest challenge was trying to look like more than a one person company, which GoPro was at the time.
In truth, GoPro's been profitable since day one and it never occurred to me we wouldn't be successful. Sometimes not having a clue can be your biggest asset as an entrepreneur. Invincibility is a good thing.
Where is GoPro seeing its strongest growth right now?
All of our vertical action sports markets are doing well. And thanks to our broadcast quality HD HERO camera, we're seeing the professional production companies in film and TV buying our cameras as well. Some of your favorite shows on Discovery Channel, National Geographic, Fuel.TV and even LucasFilm are using GoPro in their productions.
GoPro is a ton of fun for this reason. Everyone, for one reason or another, wants to GoPro in their own way. We give many thanks for this.
Can you give us a behind-the-scenes look at the commercialization process of the new HD cam?
I've got to thank our customers for that one. Their own videos and word of mouth stoke is doing more to promote GoPro than we ever could. GoPro is now in the hands of the people, and the people say good things.
Are GoPro products compatible with products from other manufacturers?
The HD HERO is compatible with both PC and Mac, and you can connect it directly to any standard definition or HD TV. You don't even need to own a computer to use the HD HERO camera, which makes it the perfect camera for traveling as you can plug it into any TV to watch your footage.
Now GoPro is the best "action" camera on the market, with HD capabilities, a 170-degree wide angle lens, and it only weighs 5 ounces. That said, what's the next step for GoPro?
We're addicted to innovation and as long as people want to document themselves and their friends getting rad, we'll be making cameras and accessories that make that easy to do. A new innovation we're proud of is the Wearable 3D™ system we're developing. You can take two HD HEROs and combine them in a single housing, plus some GoPro magic, to shoot 3D HD video. This will be released later this year and is mind blowing.
One of our goals is to make the products many of us wish companies would make, but for one reason or another don't. We're all a bunch of kids on the inside, so we just try to bring out the "wow" in everyone. It's working so far.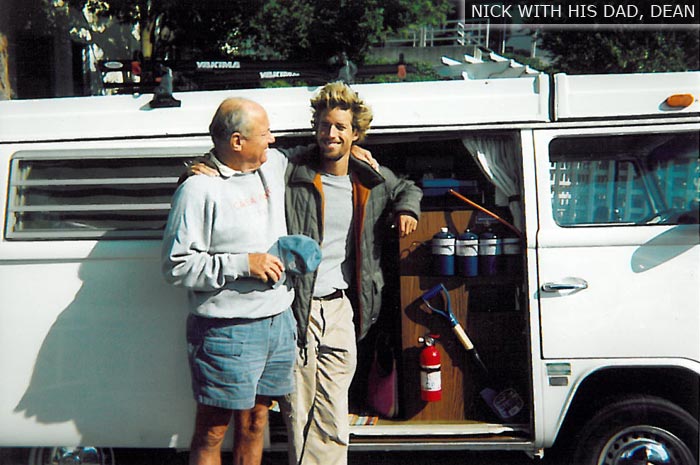 GoPro's mother ship, the Volkswagen Westfalia van in which you made prototypes out of back in the day, was stolen at a tradeshow. Any luck finding the van that started it all? Has it been incorporated in any marketing materials?
All I've got is the key. She was stolen with a full tank of gas and a new paint job. At least she was pretty when she left me… I hope she's doing well.
What's the strangest story you've heard about people using your product?
All I can say is it involved Lake Tahoe, a bath tub, and a bunch of people having a good time. The rest is up for grabs.
Does Bear Grylls from Man vs. Wild use GoPro?
Wow, I hope so. If anyone knows him tell him to give me a call. I'll hook him up. I know Discovery Channel uses our cameras on the Deadliest Catch, but I don't know about Bear and Man vs. Wild. Tell him I say hi. I'd be stoked to meet him.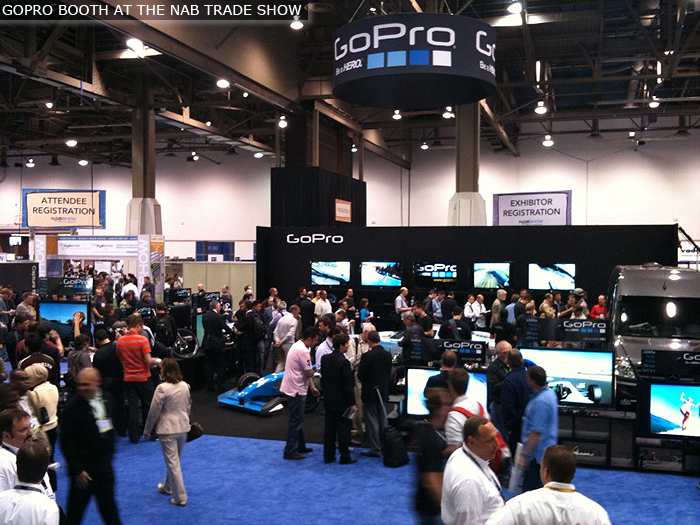 On a more serious note, does the camera require any specific software for uploads, or is it pretty universal?
No special software needed. It's as simple as uploading any video to YouTube or Vimeo, etc.
How many people work at GoPro headquarters?
I'd tell you but it'd be outdated by the time you get this up on the web. We're growing very quickly, which is a big thrill for everyone here at our world headquarters in the sprawling metropolis of Half Moon Bay.
Is the staff pretty evenly distributed through product design & development, sales, marketing, etc.?
We've been primarily an engineering related company, but over the past couple of years we've focused more on sales than prior, to catch up with demand for our products. We're a product company first and foremost. Our success comes from focusing on building the best possible products and people beating down our door for the products we make. The sales team likes that, makes it easy for them! "If you build it, they will come," has been true at GoPro, but of course our focus on sales in the last couple of years is paying off in spades, too.
With this successful and revolutionary product out on the market, what will be the next departments to hire?
We're always looking for passionate engineers, sales people, and marketers. If you love what you do, you tend to do it well. There's much history yet to be made at GoPro, and we need all the smart, motivated people we can find.