My iPhone has been clothed in the new Incase Perforated Snap Case the last few days, and I'm loving how incredibly light it is, yet nice matte black feel… and the perforations actually give it a little bit more grippiness! Well, for this feature and giveaway they've given us a little more insight into their inspiration as well as how much goes into the tools and manufacturing of these super thin simple solutions to iPhone cases!
Click To View Images: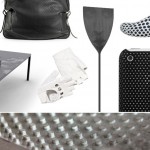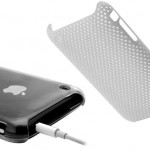 The first idea that came to mind was using a simple, geometric pattern. From there, we started exploring how to perforate our Snap Case with different shapes, scales and pattern densities, pushing the limits of what is possible to manufacture.
We start the tooling process with large blocks of steel and machine out the negative shape of our case to make a hollow form that is later injected with polycarbonate material. Because of the all-over perforated design, the tooling process is very intricate and takes a relatively long period of time. Individual steel pins with varying degrees of curvature for each hole create the perforated design.
Once the tool is cut, it is then textured and finished. Following this stage of tooling, we shoot the first test shots in plastic, which help us to further debug and finalize the tool as well as the injection settings to create the perfect molded part for the production run.
Injection molding makes it relatively easy to perforate a pattern in one direction, but for the Perforated Snap Case, we were challenged with wrapping a pattern evenly onto a surface that contains multiple directions and very thin wall sections. Our goal was to keep the perforated pattern aligned regardless of the angle from which it is viewed. Because of the curves of the case, it became rather challenging to determine the best way to mold it.
For the injection molding process, we use hardened steel tools that are the negative (or hollow) form of our case. These are necessary for the mold injection of plastic that creates the positive case form.
Thin steel pins within the tool create the intricate perforated pattern of the case. When in production, injection-molded plastic flows under high pressure and temperature in between the pins. The challenge is to find the perfect balance—the pins cannot be too small, since that would cause them to break under high pressure; and the spacing cannot be too dense, as material needs to flow through the mold easily and evenly.
Since the perforated pattern runs throughout the case, multiple complicated tool actions are required to achieve a consistent pattern.
Click To View Images: