Mobility Action Plan in Action
Just a few short weeks after being removed from Denver's streets, dockless scooters are set to make a comeback.
Denver residents woke up one May morning to find hundreds of bright-green scooters strewn across the city. The scooters, part of  The Mile High City's "Mobility Action Plan," were put in place to provide more transportation options to residents.
The "Mobility Action Plan," as outlined on Denver's website, is a multi-point program designed to revamp Denver's current transportation use by increasing accessibility, providing more options for mobility, expanding the use of electric vehicles, and improving transportation safety. One of the plan's most ambitious goals is to reduce single-occupant vehicle commutes from 73% to 50% by 2030, by increasing bike, pedestrian, and transit commuters. As an added bonus, the city estimates that, Denver will be able to reduce greenhouse emissions by nearly 80% in 2050.
These goals provide an ideal opportunity for companies like Lime, which provides affordable dockless scooters and bikes to cities in order to encourage cleaner forms of transportation. Lime is just one of eight companies that initially submitted permits to be a part of the Denver Public Works pilot program to test out dockless scooters as an alternate mode of transportation.
The pilot program would provide permits to five companies for one year. Each company would be capped at 250 scooters, or 400 bikes, with an allowance of 100 more vehicles to target "opportunity areas," where alternate transportation modes are scarce.
How Lime Works
While each company has its own nuances, the way they work is roughly the same: residents can unlock a scooter through an app on their smart phone, which will charge their linked credit card by the minute.  Users pay an initial $1 for the first 30 minutes, plus $0.15 for every minute thereafter.
According to the Denver Post, in 2016 the average resident's commute was roughly 25.8 minute, meaning a scooter user can expect to pay roughly $3.87 for a commute of the same length. Commuters can also purchase a one-month pass to Lime for $29.95. A one-way bus local bus pass comes to about $99 per month, or $2.60 for a one-way ride, making Lime's month pass a reasonable alternative.
The company's affordability is important, as ¼ of Denver's residents live below the poverty line. Lime caters to these opportunity areas by offering a program called LimeAccess, which significantly reduces the cost to use their scooters to those who qualify for government assistance programs. Don't have a smart phone or credit card? Lime has taken care of these barriers, by providing a PayNearMe option, where residents can prepay for their scooters at a CVS. Additionally, residents can sign up for a "text to ride" program in lieu of downloading an app.
Despite being convenient, Lime and other motorized scooter companies have faced the problem of increasing the durability of scooters traditionally made of the consumer market. Recently, Lime has partnered with Segway to solve this problem and to increase the safety of their scooters. Unlike traditional Segways, the Lime scooters will keep their sleek, two-wheeled design; however, they will now be able to travel distances up to 35 miles. The company has added front and rear brakes to increase the safety of the vehicle, as well as night-light enhancements to assist nighttime commuters.
Program Flaws
After experiencing success in test cities like Indianapolis and Milwaukee, Lime jumped at the chance to be a part of Denver's pilot program; however, while the scooters were a good idea in theory, their execution was a bit trickier.
The companies gave the city very little notice of their arrival, and the city was left to hurriedly adjust to a mode of transportation that had few regulations to accommodate it, such as where to ride them and where to park them. One of the problems with motorized scooters is that residents can, essentially, park them anywhere. The city was finding scooters haphazardly left in the middle of sidewalks, hindering access to walking pedestrians. Denver Public Works began charging $150 per each scooter parked in the way of pedestrian walkways; however, as designated scooter parking spaces were not drawn up, this did not solve the problem.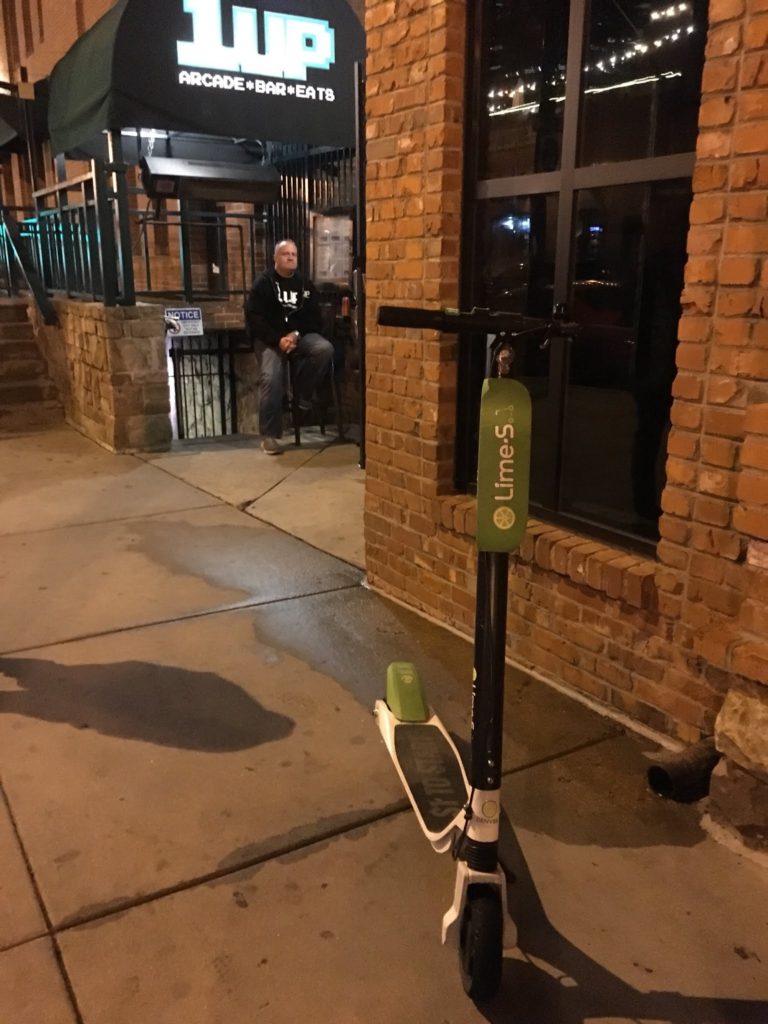 To solve this minor design flaw, Lime is planning on using augmented reality in the future to help people know where to park their bikes and scooters. The idea, according to Lime CEO Toby Sun, is to project virtual boundaries on the ground to show commuters where to place the bike or scooter.
Unfortunately, parking is not the only problem with the implementation of these scooters in Denver.  According to city ordinances, motorized scooters are classified as "toy vehicles," which means they can not be used in bike lanes, parks, or trails. Sidewalk-use-only severely limits the use of these vehicles and provides a hazard to walking pedestrians, as these motorized scooters can reach speeds of up to 15 MPH.
Additionally, Denver's sidewalk infrastructure is not designed for the use of alternate transportation vehicles. In many areas, the sidewalks are uneven and potholed, presenting a safety concern for riders who may not wear helmets (there is currently no law requiring cyclists to wear helmets while riding). In some parts of Denver, sidewalks simply end or have not been installed. As motorized scooters are not all-terrain vehicles, this also limits the areas in which riders can travel.
In order to combat these logistic problems, Denver ordered Lime and other companies to remove their scooters from the city in early June in order to revamp their program. In late July, scooters were allowed back into the city, with a few regulations placed upon them:
Only five companies were granted scooter permits: Lime, Bird, Lyft, Razor, and Spin

Each company was required to pay $150 initial fee, and once the permits were approved, were ordered to pay and additional $15,000 to the city, as well as $20 per bike and $30 per scooter for property repair and maintenance

Each company was ordered to paint parking zones on the pavement near bus and transit stops. Scooters are to be parked upright and adjacent to bike racks. This is to prevent scooters from being parked in public right-of-way areas and to tie in with the Denver Public Works "Transit Amenity Program," which is designed to connect more residents to public transportation.

Companies are required to obtain approval from light rail and commuter rail stations before installing designated scooter park zones

Riders are encouraged to watch their speeds on sidewalks and to yield to pedestrians.
Additional measures have been taken to ensure the safety of riders and pedestrians: Lime employee advisors will be scattered throughout the city to advise riders, and companies are providing in-app tutorials on how to use the scooters and where to park them. Companies are also forging partnerships with BikeDenver and Bicycle Colorado to enforce safety regulations. Come companies, like Bird, take safety a step further, requiring users to meet a minimum age of 18 years in order to use the vehicles.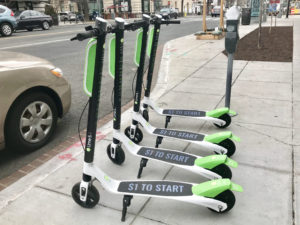 While there is no word on sidewalk infrastructure improvement of expansion from the city, these regulations promise to increase the safety and encourage the use of motorized scooters across the city.