IMTS — A Manufacturing and Engineering Extravaganza
Manufacturing professionals gathered at IMTS — International Manufacturing Technology Show. It takes place Sept 10-15 at McCormick Place in Chicago. IMTS 2018 is expected to be one of the largest trade shows that take place, EVER. The manufacturing industry has been rapidly expanding. Investment in equipment is expected to rise as well. Vice president of exhibitions & business development, Peter Elman, states "With the U.S. manufacturing sector expanding at its fastest pace since 2004 and capital equipment investment likely to follow, we anticipate that IMTS 2018 will be one of the busiest shows ever". There will be over 1800 exhibitors.
There are numerous educational sessions and co-conferences offered throughout the week.
Sessions taking place include:
Additive Manufacturing Conference – presented by Gardner Business Media

Applied AM-EOS Additive Day – presented by EOS North America

GAMS (Global Automation Manufacturing Summit) – presented by HANNOVER MESSE, USA

Integrated Industries – presented by HANNOVER MESSE, USA

Industrial Laser Conference – presented by Laser Institute of America

Top Shops Workshop – presented by Gardner Business Media/Modern Machine Shop
A pair of us from design engine were privileged with a press pass for the show. Much thanks to IMTS! We got to attend some of the presentations, see what the latest from the exhibitors and speak with them. We were there for a day and only witnessed approximately ⅓ of what the show had to offer. When they say, biggest show, they do not exaggerate.
3D Scanning for of CAD Models and More Accurate 3D Prints
At the start of the day we attended a presentation on 3D scanning and the way it aids and improves 3D print outcomes. The title of this specific conference was called: Using 3D Optical Scan Data to Enhance 3D Printing Capabilities. David O'connor, of ShapeGrabber, showed us how scanners are a tool for inspecting printed prototypes and using them to get a higher quality product. A quality scanner can capture millions of data points from complex shapes quickly. Often, the dental industry will have the mouth cast scanned and then later modified  in CAD. Another situation in which a scanner would be a benefit is in the case of recreating an old part that has no CAD file, or for piece, designed, made, and modified after the CAD was created. Part replication is where scanning will be used most.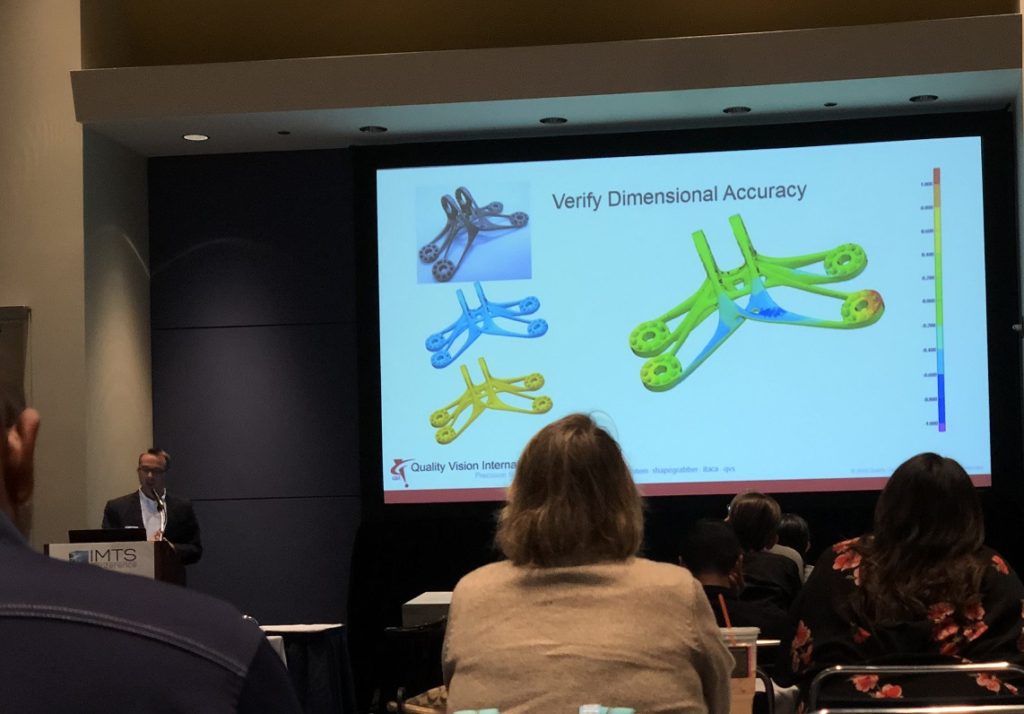 Speaking of 3D scanning, we visited Nikon, which was of special to Liz, as she used to work at a Wolf Camera way back in the day and was geeking out on all the new the products they are were making. Nikon is known for being one of the world's leading camera companies and have arguably the best lenses in the trade. When talking with Jerome from Nikon, we got to see a robotic arm used for 3D scanning that was using Nikon's laser scanners. We also got to take a look at their CMM Manager software that they offer in conjunction with LK Metrology which was pretty neat too!
CAD
We got to witness a presentation from Siemens featuring their Solid Edge software. (Eli can you elaborate here because to be honest I totally tuned this guy out.) That was pretty cool but what's cooler is their NX CMM inspection programming. Check out this sweet drone using NX CMM. It was interesting designed part in the CAD/CAM software and simultaneously seeing it quickly and accurately made. They were demonstrating this, with what appeared to be a mold for a drone body. NX is offering software in which you can design, program CNC tools, control robotic cells, and monitor 3D print quality. Design Engine is connected with individuals possessing NX experience, feel free to reach out and let us know if there is demand for NX training.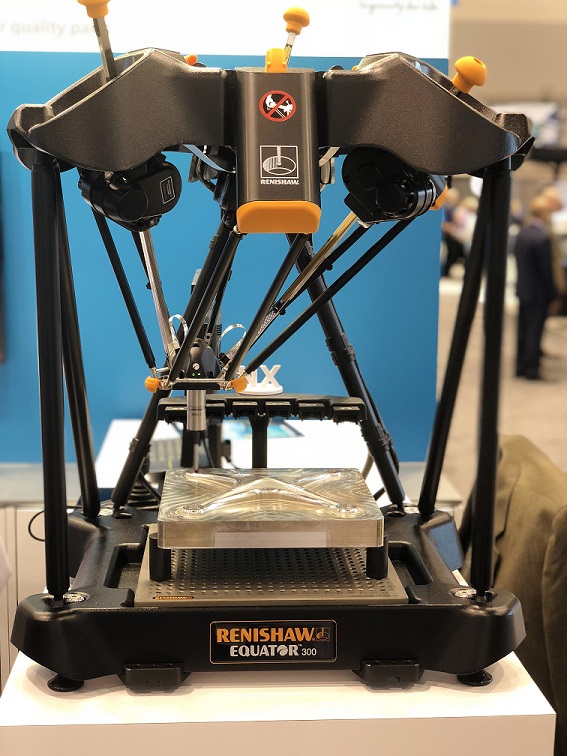 Collaborative Robots
Liz was all about the robots, and IMTS had plenty of those. We got to see the collaborative robot from Mitsubishi Electric in action and had a detailed demonstration. This collaborative robot, which is still in development, was designed to connect with tablets and other interfaces which can be very helpful to the user. This robot is very robust. An example of a past product from Mitsubishi that you might have seen in action on the big screen without knowing,would be the The Mitsubishi Movemaster RV-M2 that is used in the hatching scenes in Jurassic Park. That robot is still up and running today. Liz mentions: "As for the new collaborative robot, anyone else get a "The nozzle" from Venture Brothers vibe here? Super cool!"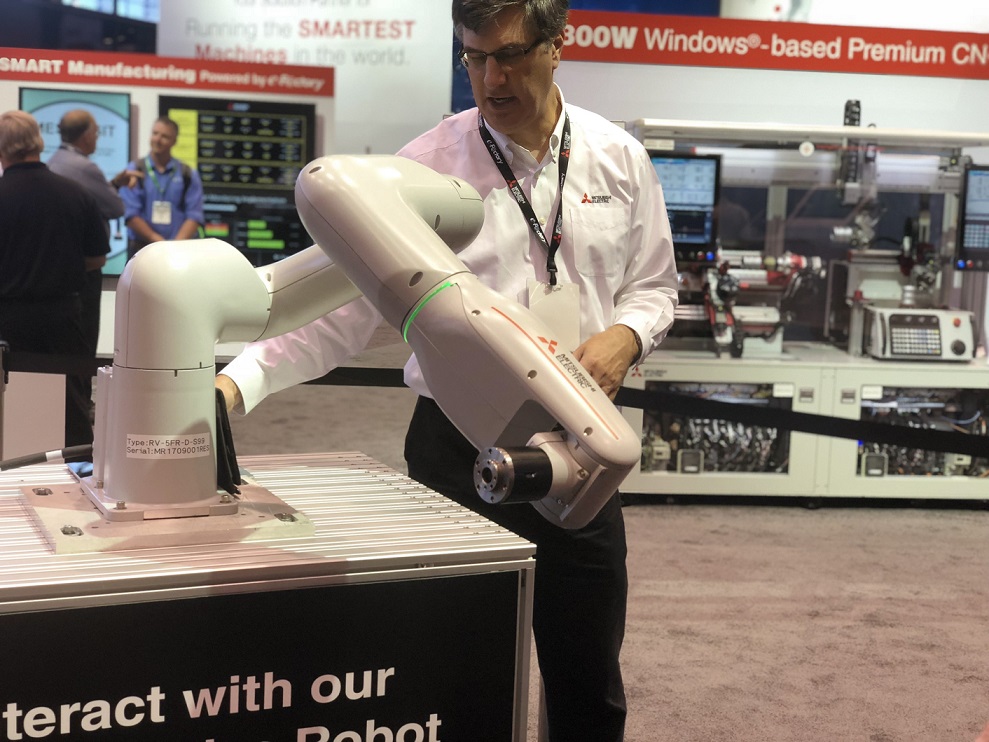 While the collaborative robot from Mitsubishi was awesome, my absolute favorite part of IMTS was the LD2 mobile robot from Omron. This little robot is a task robot with the ability to be "trained" by the person using it for maximum work output. When speaking with Scott from Omron, he told us that the LD2 can be fitted with arms, can use a tray to bring things back and forth, and more capabilities. Liz brought up the idea of eventually having these little guys in homes to help with chores such as cooking, laundry, checking the mail and so forth and he said that isn't completely out of the question and it could be a real possibility as they become cheaper to produce in the future. Liz says "for what it's worth, I would have this little guy fitted with an R2D2 shell and the LD2 would become the hit of any party in my social circle".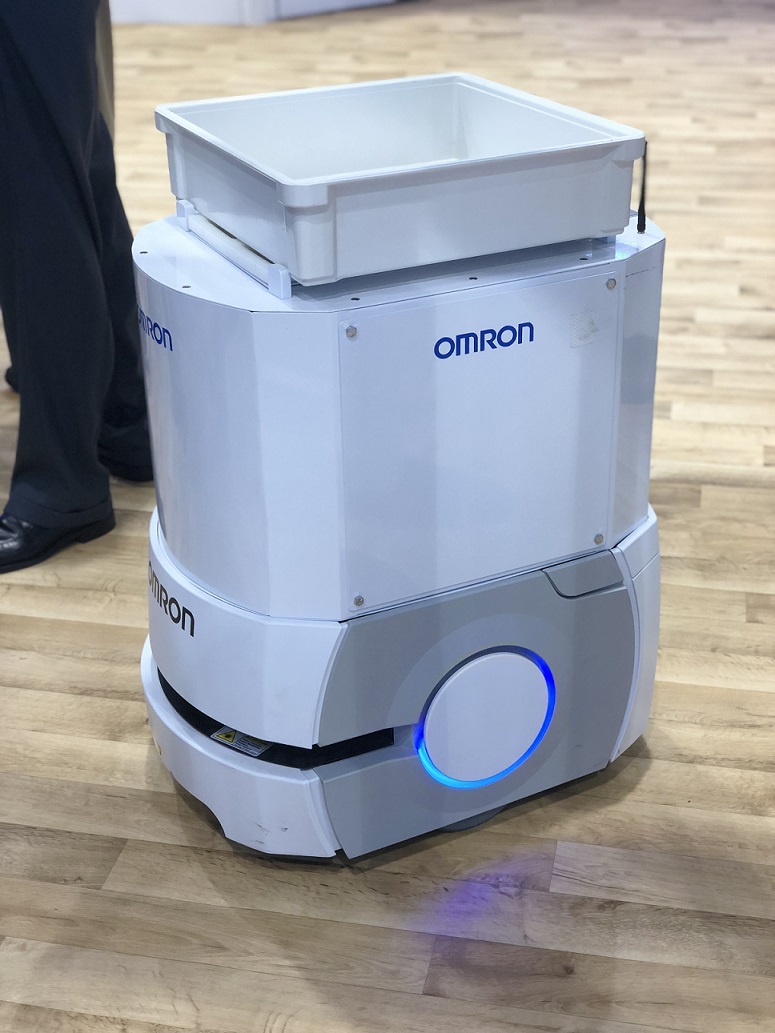 Voice Operated Virtual Assistants for Manufacturing
Voice operated assistants aren't only for smartphones. Today there is a smart voice operated assistant system, ATHENA, made for the manufacturing industry.
A few features:
With ATHENA, an operator can control a machine using simple voice commands.

This revolutionary technology can work on any machine, regardless of brand.

ATHENA is secure, residing on a local, on-premise computer and operating without an Internet connection.
This technology was developed by manufacturing technology incubator iTSpeeX. This tech was demonstrated at AMT's Emerging Technology Center during the ITMS show.
Everything about IMTS was impressive. The level of efficiency that the the new technology is harnessing is leading to lower production times and costs. Automation and robotics are smarter and quicker than ever. But don't worry, the robots have not completely taken over…yet. Many of them are designed to be collaborative and aid people. Sure, some tedious repetitive jobs will be obsolete but new ones will be created also. Overall IMTS was an excellent experience. We hope see whats new at the next one in 2020, see you then!