M3D has launched a new Kickstarter campaign for the M3D Pro, an affordable and reliable 3D printer specifically aimed for consumer use. M3D's first Kickstarter campaign, the M3D Micro 3D Printer, was a big hit and managed to raise about $3.4 million from backers, however the final product didn't work quite as well as M3D promised. Now, two years after the Micro, the company hopes to entice even more 3D printing enthusiasts with its new cutting edge M3D Pro.
The company claims to have used the last 2 years of direct feedback from consumers to drastically improve the consumer 3D printing process. They explained, "We realized that the 3D printer needs to be totally redeveloped. Every single aspect of the printer must be able to be measured so that it can be corrected in real-time." The solution? Full sensor feedback, over two dozen to be exact, on almost everything – temperature voltage, current, position, speed, bed leveling and more. M3D claims the focus on getting rid of hardware challenges will allow the user to focus more on the creative process. The M3D Pro is an attempt at bridging the gap between commercial 3D printing and consumer 3D printing by providing industrial-grade 3D printing features to consumers – without compromising on quality and still maintaining a moderate price point. Michael Armani, co-founder & CEO explained, "When there is a true level of novelty at work, such as a printer that includes a feature set associated with high-end models but at a price point consumers can afford, the platform's audience responds to it. We carefully designed the M3D Pro by incorporating direct customer feedback to show our audiences that we've heard them loud and clear. We're dedicated to delivering a 3D printer that reaches a new benchmark of reliability and efficiency for both casual consumers and professionals alike."
Several other differences set the M3D Pro apart from the Mirco. First, the Pro features a tempered-glass heated bed, which automatically adjusts temperature to provide a consistent printing experience – an element that's not included with the Mirco. Also, as you can expect, the Pro allows users to print larger objects, up to 7.8 inches tall and 7.2 inches wide, while the Mirco is only able to 3D print objects up to 4.29 inches by 4.45 inches. Lastly, the new and improved Pro claims to be much faster than Mirco with a travel speed of up to 120 mm/s. In terms of improving reliability, the Pro does not need to stay plugged into your computer and can even recover from print failures or power outages.
The M3D Pro is currently available on Kickstarter where you can back one for roughly $500.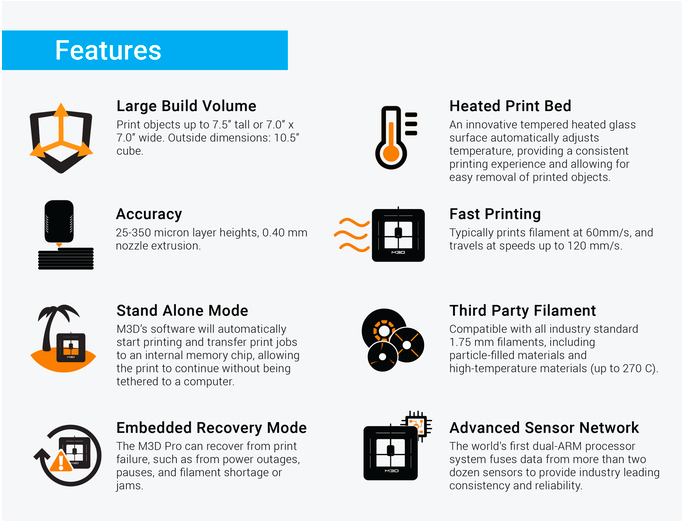 Source via: M3D
[divider]
Article Written by Mila Medonaite for Design Engine, August 18, 2016