At this years 2012 Motorcyle Show, in Rosemont, IL, lots of sport bikes have traction control standard, including the Kawasaki ZX10R, Ducati 1199 Panigale S, Yamaha R1, and the BMW S1000RR. Two additional bikes stood out for having wheelie control and launch control.
One of those bikes is the Aprilia RSV4 Factory APRC SE. It has all those features as well as a quick shifter installed at the factory.
The other bike is the MV Agusta, which has all of those features along with throttle-by-wire. Surprisingly, Honda and Suzuki have decided not to join the traction control era. However, they did upgrade their 1000cc machines.
Suzuki has upgraded their brakes, suspension, and engine. Honda has upgraded the front suspension to big piston Showa forks, which is something Kawasaki started 3 years ago. Honda also added new instrumentation, wheels, and an optional ABS system.
Erik Buell had his Superbike machine, the 1190RS, on display. This bike looks great and only weighs 398lbs (wet weight). Erik Buell's innovations are evident on this motorcycle, including a single brake disc up front, that is mounted to the rim of the wheel instead of the traditional dual rotor hub-mounted setup.
The fuel reservoir is incorporated into the frame, which helps reduce weight and lower the center of gravity. Another cool feature, rarely seen on production bikes, are the air ducts on the front wheel that help direct air over the brake caliper to keep it cool. Erik Buell is planning on racing in the AMA Pro National Guard American Superbike class. This class requires all motorcycles to be production motorcycles. This means that the 1190RS will be sold, but only a limited quantity of 100 bikes will be available.
Here are some other observations we had:
We got a chance to hear Kevin Schwantz speak. If you ever get an opportunity to see Kevin speak, do it! He spoke about his motorcycle classes, where he teaches people to go fast, safely. He spoke about his first time riding on a track, racing in Europe and how he advises the major manufacturers.
We noticed Cory West's Vesrah #57 at the show. Some other race bikes that we saw at the show were Ben Spies' MotoGP Yamaha M1, Josh Hayes Yamaha R1, and Ben Young's GP Tech Moto3 250.
We noticed a new powder coat paint on the CRF250 Motocross bike for 2012.
There was a showing of Electric motorcycles ZERO and surprisingly, no Russian URAL bikes this year. Vintage looking motorcycle manufacturer, Royal Enfield Motorcycles, was not present this year.
The KTM 1190 RC8 race spec track bike was on hand at the show. We have seen this V-Twin down at the Jennings GP race Track. A massive truck pulled up to the track last spring and they let anyone ride it. More orange, please!
At Design-Engine, we have a couple Yamaha Zuma scooters for out of state students to enjoy. We couldn't help but get a photo of the 2012 Zuma. A suggestion for Yamaha Zuma Industrial Designers… more surface area for stickers!
Can-Am booth you can't help but see the Bombardier 3-wheel Roadster Spyder Trike.
We noticed the Korean Motorcycle Manufacturer Hyosung at the Motorcycle show again this year. We've yet to see one of those bikes on the Race track.
Click To View Images: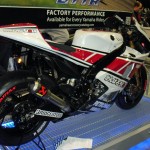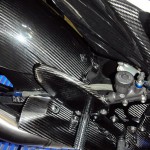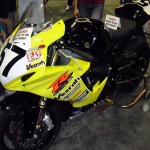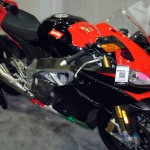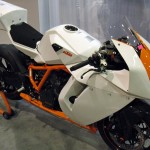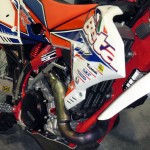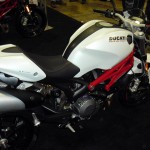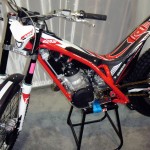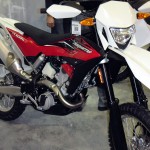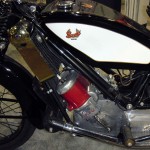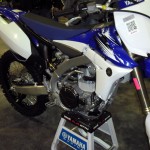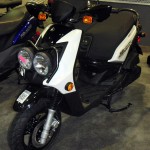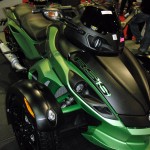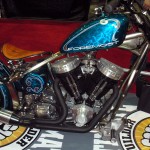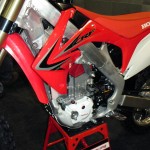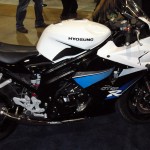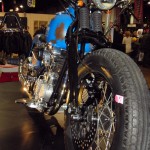 Article Written By: Andy Bunda and Bart Brejcha