It's been several years since Tesla and SpaceX CEO Elon Musk first shared his idea of the Hyperloop train. Despite Musk himself claiming he is just too busy with Tesla and SpaceX to work on the Hyperloop, several companies have been working on turning the Hyperloop concept into reality. One company in particular has introduced a system slightly different from Musk's original idea. Hyperloop Transportation Technologies (HTT,) plans to use a passive magnetic levitation system to make the Hyperloop cheaper and safer.
The Hyperloop could potentially shuttle passenger pods through low-friction tubes at speeds of about 760 mph – clearly there is an issue of safety involved in this. Musk's original idea for the Hyperloop was a vacuum tube with almost all air removed so that capsules carrying people could be pushed along by a series of electromagnets. He described it as, "a mix between Concorde, a rail gun, and an air hockey table" that could take you from Los Angeles to San Francisco in under 30 minutes. HTT plans to use passive magnetic levitation first developed by physicist Richard Post in 2000. Dirk Ahlborn, CEO of Hyperloop Transportation Technologies, Inc., announced that HTT has licensed the passive magnetic levitation system for the Hyperloop, "I had the honor of meeting with Dr. Post in 2014 prior to his passing. He saw the Hyperloop transportation system as the perfect fit for this technology and was excited to see it become part of the project." This new system would involve using magnets placed on the underside of the passenger train in a Halbach array – a particular arrangement of magnets in alternating orientation that creates a very strong magnetic field below the array. The magnetic fields under the train would create a levitating effect as the train passes over non-powered electromagnetic coils underneath the train. HTT claims that this magnetic levitation system would require a lot less power, therefore would be cheaper, and would also be safer than Musk's original idea. Bibop Gresta, COO of Hyperloop Transportation Technologies explained, "Utilizing a passive levitation system will eliminate the need for power stations along the Hyperloop track, which makes this system the most suitable for the application and will keep construction costs low. From a safety aspect, the system has huge advantages, levitation occurs purely through movement, therefore if any type of power failure occurs, Hyperloop pods would continue to levitate and only after reaching minimal speeds touch the ground."
HTT is just one of the many companies working on turning the Hyperloop train into reality. Their next step is to construct a test track in California later this year, with the hopes of bringing the Hyperloop train to the public in 2019.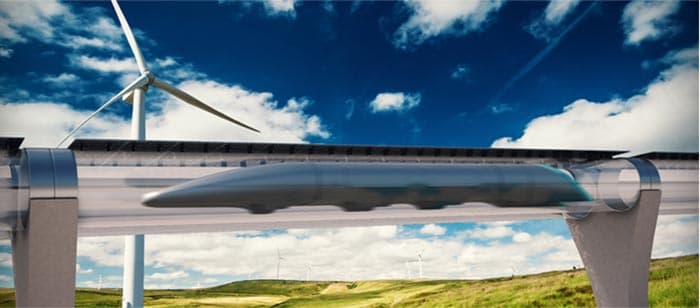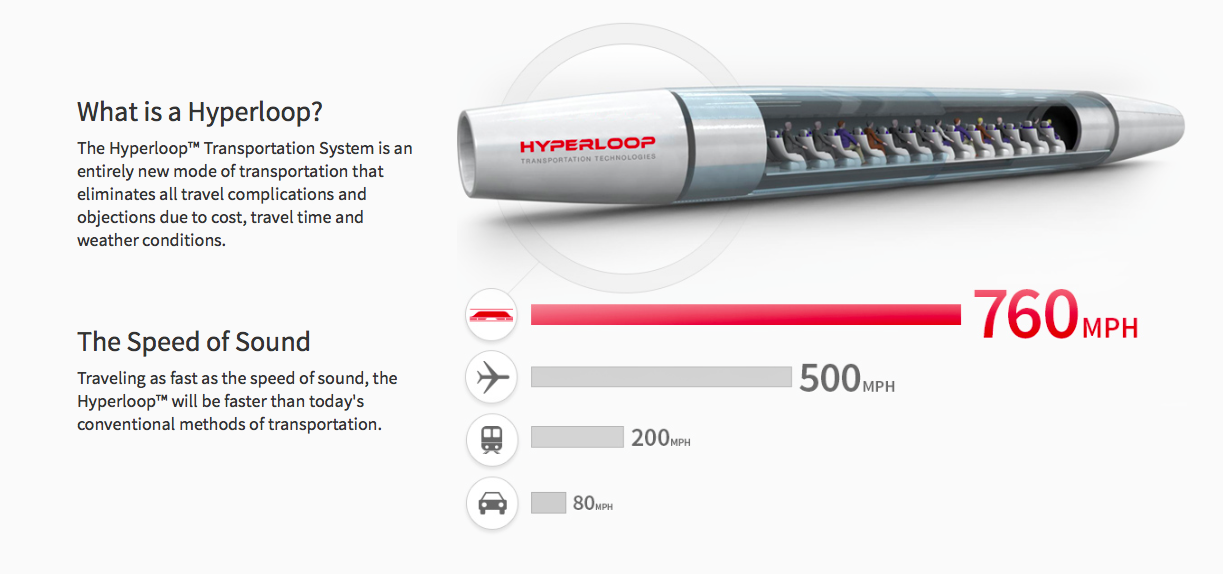 Check out the video below to learn more about how the Hyperloop Levitation works.
All image credits: Hyperloop Transportation Technologies
Article Written by Mila Medonaite for Design Engine, May 13, 2016