By: Bob Duncan
A little history first….
As a pilot for Alaska Airlines, I have always been amazed by the fortitude of Alaskan fisherman. For three years I flew into Dutch Harbor; to say that it is a challenging airport to land at would be an understatement. However, even my most harrowing approaches and landings lasted only 15-20 minutes. Contrast that to the vessels I was flying over. The perilous circumstances that the fishermen face can be measured in hours or days not mere minutes. I truly believe that God gave me the idea for this technology with these fishermen in mind.
A different, but simple idea…
If you were in a room that was 88 degrees Fahrenheit, you would want out! Every time you exhale, an 88 degree puff of air comes out of your lungs. How many times have you blown into your cupped hands on a cold day? Our technology utilizes this self-generated warmth on a larger scale.
In December of 2001, while vacationing in Hawaii, God woke me in the middle of the night with an idea about how to make a better survival suit. To understand why I believe this idea was God given, you must know that I was, at that time, a 45-year-old man who had little knowledge of survival suits.
After returning home to Anchorage, I immediately went to work. It was 20 degrees below zero that day. I went out and bought a pair of chest waders and cut off a piece of old hose. Then I asked my daughter, Clara, to bury me in the snow. I endured the bone-chilling cold for 7 minutes, and then I started to breathe into the hose that was running down my left leg to my heel. After 20 minutes, my entire left leg was warm. The rest of my body was terribly cold. The remarkable results of this simple experiment inspired me to continue.
Months later, with a prototype in hand, I sought out the 48 degree waters of Valdez, Alaska for a test run. Beneath the suit, I wore only a swim suit and a pair of socks. That day I stayed in the water for eight hours. My core temperature was warmer at the end of the test than it was when I started. I had a couple of cold spots, but overall I was very warm. The only problem with this test was that the outside air temperature was 67 degrees. Not exactly the worst conditions.
The suit needed to be tested in the most adverse weather we could find. We waited until January and then drove to Seward, Alaska for the next test. The conditions were perfect; the water temperature was 38 degrees and the air temperature was 10 degrees with wind speed at 15 knots. I went into the water at 10 am and came out at 3 pm. I could have stayed in longer, but darkness and a curious sea lion led us to stop the test at the five hour mark. It was a huge success. I knew I was truly on to something.
On to 12 hours in Sitka…
At this point in time, we had not convinced many people that this suit actually worked. In order to gain credibility, we decided to ask a third party to take our temperature readings. The Alaska Marine Safety Education Association (A.M.S.E.A) agreed to help us with the next test in Sitka. With the A.M.S.E.A verifying our temperatures, I went into the water at 5 am that day and did not come out until 5 pm. Once again, I came out of the water warmer than I was when I went in. Now we had some credibility.
18 hours in Sidney, BC..
Before the Sidney test, we optimized features of our suit using dry suit technologies. This time we also decided to test a standard "gumby" suit alongside our suit. During this test, we utilized state-of-the-art temperature measuring equipment. I swallowed a capsule which was an actual temperature sending unit that transmitted my core temperature every minute. These readings are accurate to a hundredth of a degree.
The outside air temperature during the night got down to 34 degrees and the water temperature was 48 degrees. I went into the water at 5pm and came out at 11am the next morning. Our new record was 18 hours! Again, my core temperature actually rose. The person in the gumby suit lasted only 3 hours; at that point, their core temperature started to plummet. We felt that this test had set a new world record. However, since we did not have a third party reading the temperatures, we elected not to proclaim the record.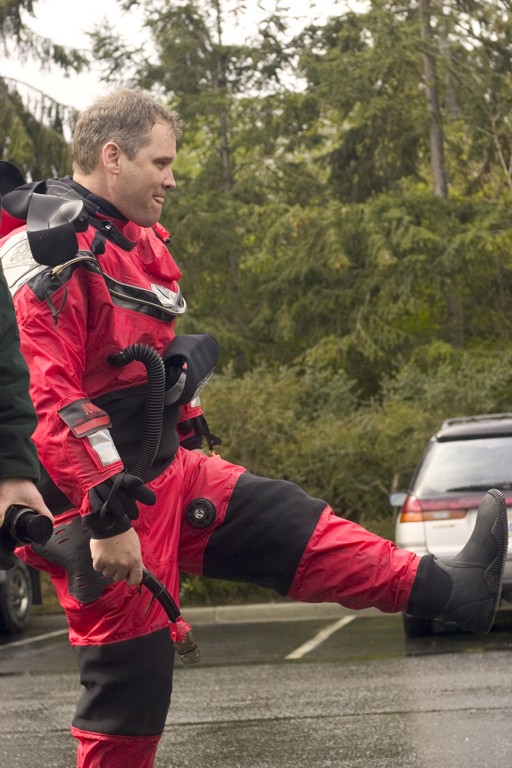 24 hours and 40 minutes in Sequim, Washington…
Our goal from the start was to shatter the endurance records of our competition. "Stay alive for days, not hours" was something that we thought we could say but needed to prove. We asked an independent source to take temperature readings. Thanks to the Clallam County Search & Rescue volunteers, we were able to get the kind of support we needed to set a world record. The Port of Port Angeles graciously donated the use of John Wayne Marina.
For this test, Evening Magazine's John Curley volunteered to go in the water alongside me in a standard gumby suit. At 12:20 pm on April 16th we plunged into the 48 degree water. At 1:43 pm, John Curley was pulled from the water complaining of the cold. He had reached his pain threshold 1 hour and 23 minutes into the test. My temperature had not decreased at all. At 1pm the next day, after 24 hours and 40 minutes, I came out of the water. My temperature reading at the end of the test was higher than the average of my first hour temperature readings. We set a new world record!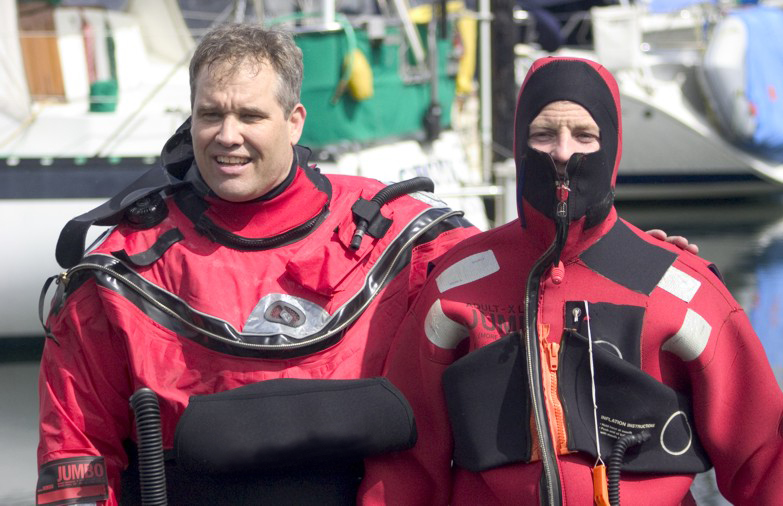 Recognizing the life-saving potential of this product inspired me to get serious about taking this suit to market. I took on a business partner, Bob Groff, to help bring this dream to reality. Together we have a new energy and deep commitment to make this suit available to those in harm's way.
Creating hope and preserving life…
When a fishing vessel goes down in the Bering Sea, time is of the essence. A fisherman submerged in the water in a standard survival suit is not likely to survive beyond the 6-8 hour mark. The Coast Guard helicopters are in a race against the clock; a race they often lose.
The Latitude98ºTM Suit creates hope by significantly extending a critical factor in life or death situations: the rescue window. This technology has allowed us to reach endurance numbers in frigid water that were previously deemed unattainable. Helping more fishermen live through a potential tragedy and be reunited with their families is our passion.