Bart likes to tell everyone at the track that racing is a family sport. "Usually it's my Dad who comes to the races and that's only down in the Southern States." Race tracks like Road Atlanta, Roebling Road & Jennings GP are closer to his father's home in Northern Georgia. "My mom is at the track here somewhere" Bart explains to everyone in the paddock that she is visiting from Denver! This time Bart's mother, who grew up in San Francisco, has been complaining about her health and the Mile High Denver altitude. "She just plain feels better at lower altitudes", Bart explains.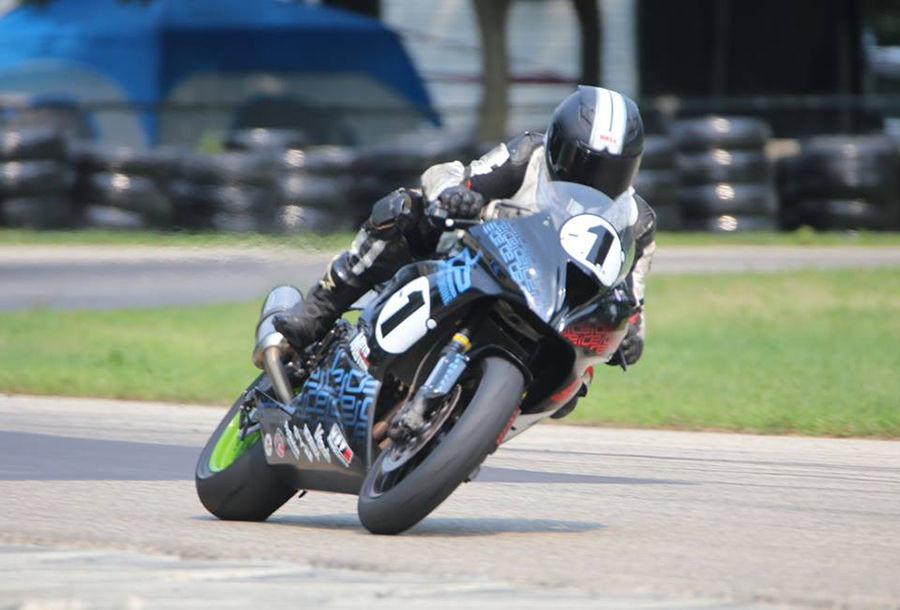 Bart Brejcha swinging through Turn Five at Blackhawk Farms.
Photo by Dean Coryell
Racers know that it's hard being at the race track for most people. It can be a bit much for anyone even friends and family especially all day like we do. Riders meeting @ 7:30 AM while typically racing all day till five then 2 hrs to load the truck and trailer then the sometimes 2 hr drive back to Chicago in traffic can be too much for anyone. You have to love racing to hang out all day. We took Bart's mom to her first Saturday practice and Sunday Race weekend and she hung out all day both days; all while being diagnosed as chronically ill she managed to spend both days at the track. She did manage a nap or two even with the sounds of race bike engines screaming.
It rained in the morning Saturday (all night, Friday night too) so we signed up for practice after 1:00 Saturday since it's to be sunny Saturday afternoon maybe the sun would dry up the track some. The team put on a new Pirelli SC1 rear and pumped it full of Nitrogen. Brian has that Nitrogen all figured out now. We use Nitrogen to help manage the humidity inside the tire so we can maintain a constant pressure/temperature blend inside of the tire. Bart's race pace was there from the third session running 1.11's on MR12 race fuel.
We signed up for 9 races this weekend. All the Middleweight, Heavyweight, and Unlimited classes. We've seen racers try more but at Bart's pace, that's a lot for one day. It may be that Bart needs to pick up the pace on his endurance training, especially in this early part of September if the team plans on racing all nine again.
"I ripped a stellar holeshot in the Super Sport Unlimited class after riding a wheelie the entire way". "Not too rough on the clutch this time since I didn't let off nor feather the clutch at all" Bart ran his fastest lap-time at Blackhawk Farms yet this August weekend, a 1:10.4 Congratulations Bart and team!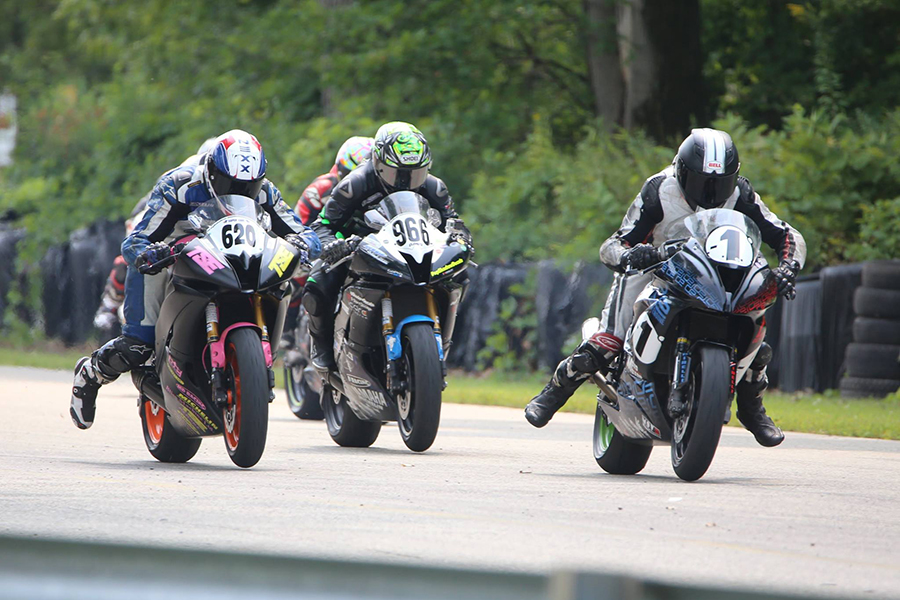 Bart Brejcha defiantly getting the holeshot in this race.
Photo by Dean Coryell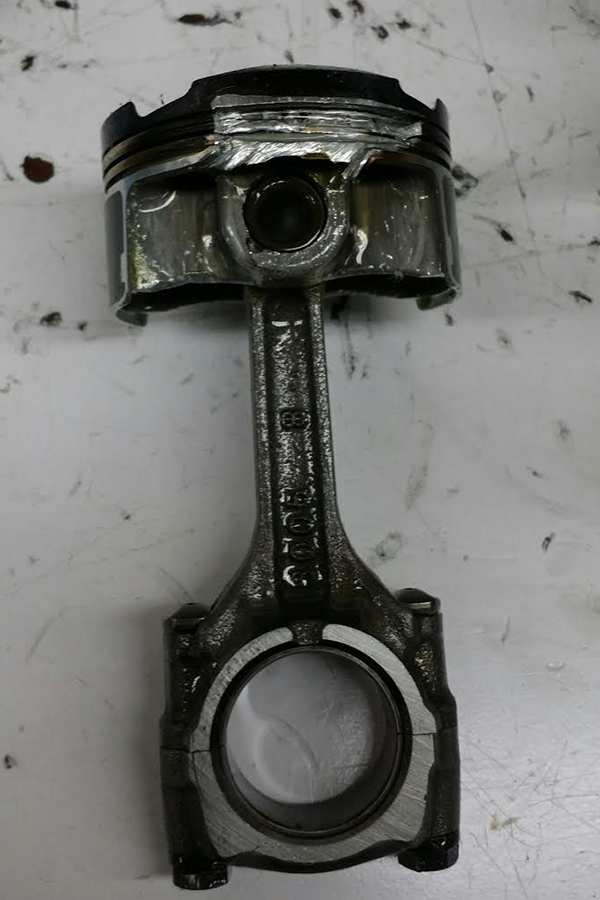 The piston that failed.
Photo by Jason Farrell Performance
The engine smoked slightly in all the morning races. In the second 1000 race, we only made it 4 laps before we started billowing white smoke out of T1. Bart explained, "I looked back after exiting T3 and noticed the smoke and got off the track right away". He went on, "I wasn't able to catch the leaders anyways, they on literbikes were running high nines." In Blackhawk Farms speak that's 1.09 lap times.
"The clutch is near smoked", Jason Says. "That's normal because, like me, you actually use the damn thing", says Jason Farrell of Farrell Performance in a text message to Bart who referring to the 636 clutches has already ripped the engine apart. In the Unlimited GP race, Bart came from a third row start on his Kawasaki 636 to get fourth off the start and was in 3rd place after Jason Farrell and Tom Girard. Jason Farrell took the engine apart already. The first image we got was of the smoked clutch. "I do ride that clutch hard, in my first unlimited race I rode a wheelie all the way to T1, that's not riding the clutch though". "In the consecutive races, I slipped the clutch and leaned forward to keep the weight on the front wheel"
We don't have long till the next race weekend which is at Gingerman Raceway in Michigan. We need to get the ZX6 race engine refreshed, tuned, and the bike back together by the 16th of September for the Sportbike Track Time Friday Race practice. We want to dominate at the new track.
3rd 25 min GTU
1st Unlimited Supersport
2nd Middleweight Supersport
2nd Heavyweight Supersport
Did Not Finish Unlimited Superbike
Did Not Enter Heavyweight Superbike
Did Not Enter Middleweight GP
Did Not Enter Middleweight Superbike
Did Not Enter Unlimited GP
After blowing the engine in the Unlimited Superbike we just loaded the truck and trailer. Disparate not finishing or entering the rest of the races we are still on top of all the points for the 6 races we are competing in.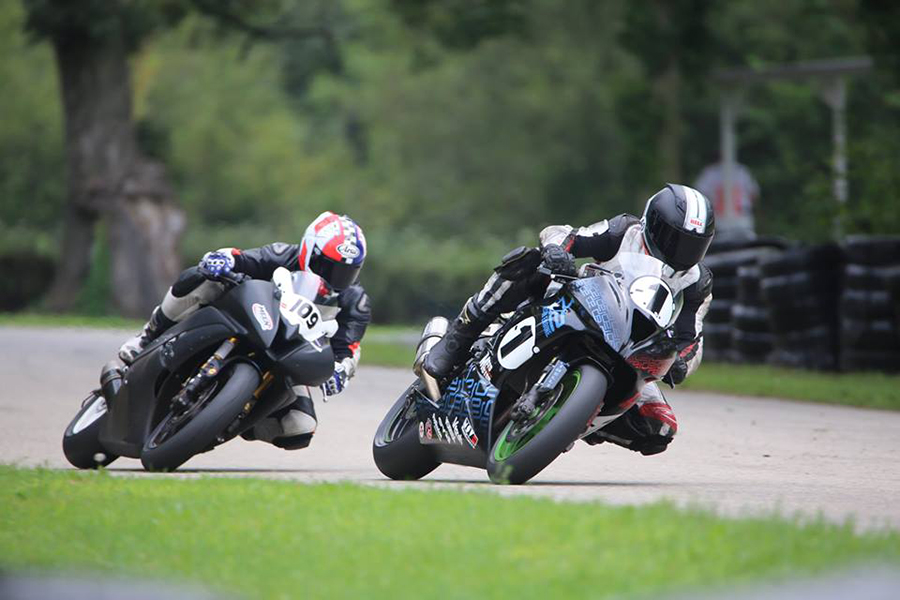 Ricardo Valdez is behind Bart Brejcha. Ricky picked up a few races this year. 
Photo by Dean Coryell
Social Media Bart Brejcha