A Last weekend in 2015 at the Farm: Race Season Finale
The Design Engine Racing Team, this past weekend at BlackHawk Farms Raceway, clinched five Series class titles. The championships were won in the Midwest region of Champion Cup Series (CCS) in all expert middleweight and heavyweight classes. The team overcame many obstacles and problems this season, including oil on the course, multiple crashes, a mid-season switch from Suzuki to Kawasaki and engine failure – just to name a few – yet the team never gave up. By clinching all these class titles for the CCS Midwest region the team is now poised to improve and set new records. The team managed to obtain fastest lap time of the middleweight and heavyweight bikes each race weekend. We credit the team's success to pre-race preparation, Nitrogen gas filled Pirelli tire pressure, a more organized and prepared rider, a rigorous fitness program, improved endurance, determination and a bit of risk management.
This weekend was staged as the last race weekend for the Midwest. CCS officials call it "double points weekend," and with the AASRA races added to the schedule, it's a national event. These national races are AMA-sanctioned travel events comparable to the WERA National races, complete with racers from all regions visiting Blackhawk Farms for the first time.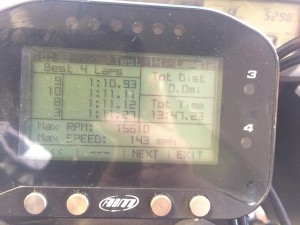 The race team arrived early Saturday morning for two rounds of practice that started at 8AM. Since it's an ASRA weekend, the format for racing is slightly different. Design Engine's race team typically competes in six races per day, including the 25-min GTU, the three middleweight and two heavyweight races. However, Saturday had only the Supersport races scheduled and the 25-minute GTU race. 'U' stands for under 600cc, and this first race of the team's schedule is the one race where Bart needed to win to secure the overall points. Other than this race, the weekend's schedule was relatively easy since all the other points are locked in. A lot was resting on the outcome of GTU, a 25-minute race where Bart and team lead by one point in the points standings. If the team wanted the win for all six titles, they had to win this GTU race. The other five were in the bag.
Brian Kolasa was prepared and prepped both bikes for battle. The B-Bike was given the moniker 'Captain America' for the Red, White, and Blue paint scheme. The team corrected some maintenance issues plus organized some fiberglass work on the A-Bike race plastic after a crash the weekend before at Gingerman, where they set the fastest lap time again for the middleweight and heavyweight races. We almost had the overall fastest time, but missed it by 2 tenths of a second. That effort was on the B-bike too! The team held all the fastest lap times all year for all middleweight and heavyweight races… except Jason Farrell. "He is the race coach and his times don't count," Bart says with a smile, "Plus I like him out there… It makes me faster catching that silly rabbit."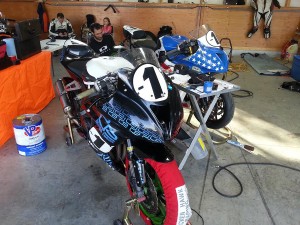 Bart ran a few ten's in practice. That's race track speak for one minute and ten seconds and change, or 1:10 lap times. Trying to get into Carl Soltisz's head, Bart yells out in his Southern accent at the TSE pits, "I've never ran 10's in practice before," loud enough for everyone in the TSE pits to hear. His jocular psychology technique may have backfired because Carl ran off and won the GTU after a shift lever fell off the A-Bike machine forcing a DNF for the team. Design Engine still clinched second overall for that class all while Bart and Carl both knocked down consecutive 1:10 second lap times. In hindsight, Bart should have pulled off into Pit Row and had the lever fixed and finished the race to gain more points, since the team only got second place by one point.
The rest of the day, Brian's instructions were to just finish races without individual battles as he explained the points calculations. With Brian leading the team they are playing it smart. If you know Bart, that's probably not the best advice… it's hard for Bart to lollygag around since he really has only one speed, plus he really likes to battle! Dan Ortega said Monday on Facebook, "Yesterday was the first time I've ever seen him (Bart) race with the ideology of win the war not just the battle."
With the points locked in on all the other races, Design Engine really only had to enter and complete three laps to clinch the individual class title for each race. Bart secretly figured it best to not let too many folks get by and to settle for third place most every race just to be on the safe side.
Workouts
Bart looks for small improvements each year. More speed into T3, consistent lap times, deeper into T1, spin tires all the way thru T3 …. Blackhawk Farms Raceway is a technical track that is exhausting for many who run that pace. "A motocross workout program where the focus is on core and endurance with light weights and repetition is what we are doing", explains Sondra Ellingson.
Sondra Ellingson, Bart's personal trainer, has been preparing a blog posting for the workouts that are designed to keep Bart in shape, so when racing he uses his core strength not elbows to hold him up around the turns. Being strong and light is the key for racing motorcycles. Bart supplements the gym workouts with yoga, running and bicycling.
Sondra's mom came to the track for the first time. She has seen the Facebook posts and had to experience the racing first hand.
Annual Birthday bash and corner worker party
Saturday Night was fun as everyone, including race direction and all the corner workers, came to the party. Design Engine contributed plenty of beers and chicken. Injured racers, who all have September birthdays, all showed up to put on the party. Jack and his wife plus JP and his wife. Jim's birthday is in September, too.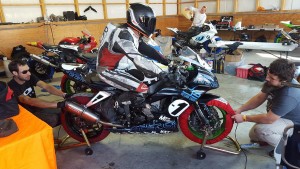 Teasing Bart
Brian likes to tease Bart that maybe he is too old to compete with these young experts. Bart's response was fast and too the chase, "I've never ran consistent 10's before… as long as I can see steady progress I'll go faster and faster." The team did manage to clinch five championship-class titles for the Midwest region. That is no easy task. Last year they won the overall points and the overall points obtaining the #1 plate. This year they won something more special: five series championships!
What's next up?
The team is now looking forward for Daytona in mid-October. "That track requires so much horsepower," Bart explains, "this will be the first time we go there with some engine muscle… we don't call it Design Engine for nothing," Bart laughs out loud, "I want to beat Greg Melka this year at Daytona." We all have our mile markers, and Bart has his set for middle October.
For Daytona, the team will add Apex bars to the A-Bike and replace the exhaust silencer to the B-Bike. No time for engine rebuilds though. Design Engine racing is eager to learn that Daytona banking with the faster engine and Nitrogen in the tires. They think we will run a 28psi Nitrogen pressure because the banking requires a stiffer carcass even with the specially made Pirelli tire for Daytona.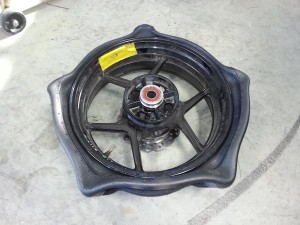 The team really looks forward to Homestead in December this year. Last year with the Art Basel in Miami was so much fun. It was Scott's idea (the Design Engine videographer). What a beautiful showing of art galleries, food trucks, street art, thousands of people walking, and artists painting live on the side of buildings. Design Engine may fly everyone down for the December racing this year as well as if a holiday of sorts. After all it's cold in Chicago. "That's how Chicagoan's manage the winter, we travel to warm places."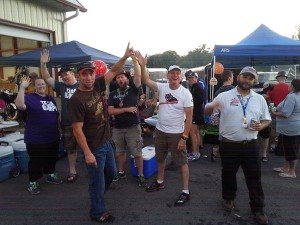 For next year we will probably be on a Kawasaki unless Bart gets an offer to ride something else.
Race Results Saturday
GTU DNF
Middleweight Supersport 4th
Heavyweight Supersport 5th
Race Results Sunday
Superbike Middleweight 3rd
Heavyweight Superbike 2nd
Middleweight GP 2nd
Overall Season Wide Points overall for class
1st Middleweight Supersport
1st Heavyweight Supersport
1st Middleweight GP
1st Heavyweight Superbike
1st Middleweight Superbike
2nd GTU
Social Media Bart Brejcha
Youtube https://www.youtube.com/user/bbrejcha
Instagram https://instagram.com/bartbrejcha/
Facebook https://www.facebook.com/bart.brejcha
Twitter https://twitter.com/bartbrejcha
Sponsors
Design Engine DESIGN-ENGINE Design engine is both a Blog and a School were they teach Design & Engineering software such as Solidworks and Pro/ENGINEER, Creo & Maya the software that created the dinosaurs in Jurassic Park.
Pirelli thru Farrell performance
US Chrome http://www.uschrome.com/ Performance Coatings since 1940 You really need your cylinders electronically Nickle plated
Moto & Motor  http://motoandmotor.com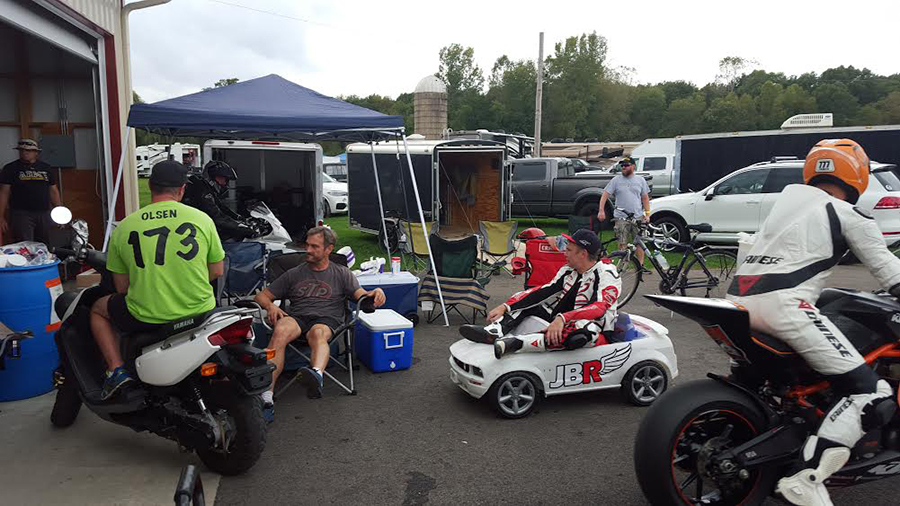 blackhawk06a11x17b < latest BFR track map