Founder of SpaceX and CEO of Tesla Motors, Elon Musk's idea of the Hyperloop has received funding for $8.5 million and plans to raise an additional $80 million in 2015 alone. His idea, which to many seems crazy and fantasy-like, is being backed by many big names that don't think he's so crazy. The Hyperloop proposes to get rid of the biggest obstacle in the way of high-speed travel – air.
According to Musk, he wants to get rid of this barrier and turn the Hyperloop into a vacuum-like train. Yet, he states it won't simply be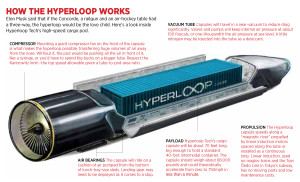 vacuum-like, but rather a "cross between Concorde, a railgun and an air-hockey table." The group behind this $8.5 million in funding is Hyperloop Technologies – which includes members Shervin Pishevar, a major investor in Uber, Joe Lonsdale, co-founder of Planatir, and David Sacks, founder of Yammer. Musk had originally planned for the Hyperloop to run between Los Angeles and San Francisco, where it would take a mere 30 minutes to get between the two. However, the Hyperloop Technologies team is hoping to have it run between California and Las Vegas. To them, this seems more realistic, especially now that they have come across a Nevada businessman who owns a 150-mile lane from Vegas to California that could be used for the first Hyperloop train.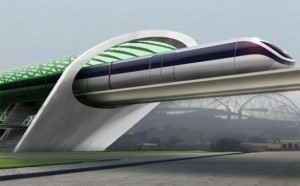 Additionally, Musk had wanted the Hyperloop to be a passenger train, but since it is set to travel up to 800 mph, Pishevar believes it
would be best to start out with transporting freight at high speeds. Other difficulties they have faced with the Hyperloop include powering it, since many believe it would be too difficult to power it on solar power alone, and designing the pods for human transportation (no plans for a toilet yet.) Still, perhaps the biggest issue of all is receiving the rest of the $6 to $10 billion funding Musk says will be needed to produce it. Hyperloop Technologies' $8.5 million and even $80 million seems like a small dent in the funding, but it certainly shows the first steps needed toward turning Musk's sic-fi fantasy into reality.
[divider]
Article written by Mila Medonaite for Design Engine on February 16, 2015