The offices of Design-Engine Education are located in what was once known exclusively as the meat packing district (West Loop) of Chicago. To this day it has some notable remnants of this era mixed in among the upscale restaurants and condo lofts. One of my favorite pieces of office decor, which were a reflection of both the history and sense of place of our immediate environment, were several stainless steel meat cutting tables. They had been procured on the cheap from a local meat packing firm some years back and had been used as desks and tables in our office. This may stand as a prime example of how a functional object from one era with one specific purpose can be re-purposed and re-imagined to provide a both aesthetic and utilitarian addition to a creative work environment. I am often reminded of the over 100 year history of the building which had for most of the 20th century been a shoe manufacturer. I had some ingrained memories of being at loft parties in this same building during the early 80s (I'd like to say this without aging myself, I'm just a kid you know) when the lofts were significantly larger and not cut into the 2000 square foot or less units they are today.
Our office is on the 6th floor of a seven story building and our suite looks out at another old building which was still functioning just a few short years ago as a gasket manufacturer from generations ago. I sometimes look out at this six story structure just across from us and I'm bemused at what often seemed to me to be a time warp or a look into the past. Whereas our forte is about using 3D modeling on computers and bringing into play the latest techniques and technologies; through the windows across the street I can see old line machining devices, stamps and automated punch presses. It sometimes seems almost cinematic blending elements I've seen in films like Brazil and Modern Times. In a sense there is a gulf of over a hundred years between our suite on our side of Green Street and the activity we look out upon through the windows across the street.
It was when this gasket company had finally closed shop that I made closer acquaintance with Mariano Chavez who is one of a number of professionals who was given the opportunity to salvage fixtures and objects from the said building. Through him I found out much about methodical nature of the salvaging process which usually involves a system of bidding for access to the building and two distinct phases. The first phase tends to focus on the contents of the building in the way of furnishings, fixtures, objects both ornamental and functional which to my mind is the most interesting phase followed by the second phase which focuses scrapping of actual raw materials, wires for copper, iron and steel etc. I have since also become aware of the fact that buildings are often demolished with a significant amount of the contents still in the building as it might sometimes be deemed not economically viable to salvage or save the objects for various reasons, which might include radon gas, asbestos or time constraints. In this sense salvaging may be seen as an inexact science that can be approached differently from building to building. Today the building is being rehabbed and turned into an upscale hotel. Along with many other neighborhood rehab projects, the cityscape of the West Loop is changing drastically. Here's a look at our favorite spots in the neighborhood and surrounding areas, click here.
The very idea of once functional objects that had a utilitarian purpose being sold at often high premiums for home decor purposes in itself is an issue some purists feel conflicted about. Some might feel that a piece of history has been reduced to a conversation piece or knick-knack. For my part I think the mere preservation of a historical object or furnishing is of itself to be applauded as it reconnects us with a rapidly disappearing part of our past that is easy to overlook. In this sense these salvaged or found objects have become artifacts which offer an insight to another era and bring a sense of history and place when added to either home and office interiors. The floor space of Mariano's Agent Gallery on Damen Street in Ukrainian Village is very cramped but offers a glimpse of how objects with one intended purpose can be reinvented or repurposed. In this way a large beaker becomes a vase holding water and flowers or a light diffuser can become a pot or pan coaster. Adorning the walls are numerous charts depicting subjects as diverse as astronomical bodies, animals and ironically meat products. I notice a plethora of early 1900s light bulbs, metal shelving and signage containing the Cyrillic alphabet (fitting for Ukrainian Village). The shop has a strong presence of metal seating in the way of both stools and office chairs and a a diverse selection of lighting which is inclusive of some original creations which source old lamps that were incomplete or broken and adds a new machined metal base which despite what some might regard as sacrilege were some of my favorite pieces in the shop.
In addition to his skills at welding, Mariano is also a visual artists with a diverse body of work that includes both paint on canvas and sculptures and this cross fertilization has no doubt helped with his aesthetic eye in terms of finding and accumulating a coterie of artifacts in his shop.
Complementing the more familiar furnishings and lighting are objects that defy descriptions including electrical relays, steel worker booms and an antique optometric device. A sense of both history and timelessness are evoked from this diverse collection of artifacts which remind us of a machine age era which preceded and was integral to the modern industrial design of today. However different we might view todays 3D modeled, often plastic, industrial objects which surround us a connectivity to this earlier era of heavy industry, machinery and streamlining is immediately present and resonant. An understanding of the evolution of yesterdays industrial object and how this correlates to todays modern object can give us both a deeper insight and greater appreciation for the forms and designs of today.
Click To View Images: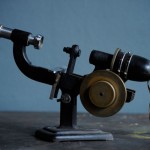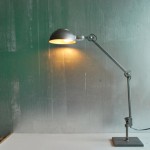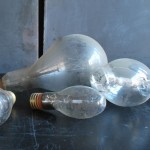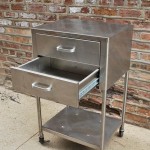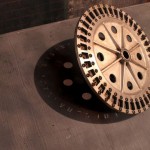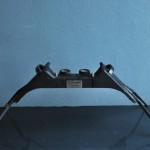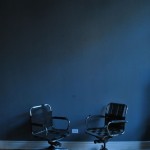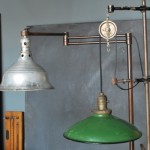 Article Written By David Mazovick