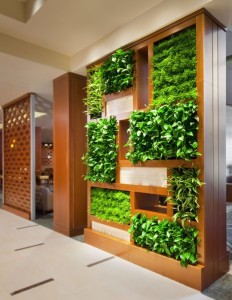 With the world becoming more interested in where their food is coming from, vertical and indoor gardens are becoming essential for growing organic food in small spaces – from home to restaurant. Along with the emergence of at-home vertical gardens, there are a few restaurants that have also started to grow their own plants and herbs. Homaro Cantu, the chef behind Moto Restaurant and Berrista Coffee, believes in growing plants onsite, making it a much healthier and cheaper option thanshipping them from places all over the world.
When we see a pint of blueberries at the grocery store, we don't usually think of where they come from. Are they even grown in the United States? Most produce is not only grown out of the states, but also genetically modified and sprayed with pesticides and chemicals. When blueberries have to travel from Mexico to your local grocery store and arrive still looking delicious, something is going to have to be compromised.
Yet, most people can't have their own garden since traditional horizontal gardens require a lot of space. A vertical garden takes advantages of being able to grow produce, one on top of the other, making it especially efficient in cities where space is always limited. Of course plants need to be strategically planted (they still require sunlight and oxygen) but with a vertical garden if you have a sturdy wall and containers to grow the plants in, you are well on your way to growing your own food.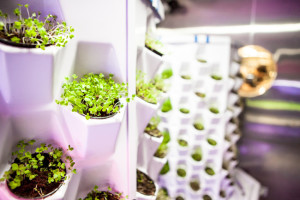 Moto restaurant features what Cantu calls the "Motofarm," where they grow their own produce. Cantu calls his herbs "zero food mile herbs" meaning they have not traveled anywhere – they go from the garden to your mouth. Also with "zero food mile herbs" there is no additional charge for the food to have to travel, which is usually the cause of price surges in most grocery store produce. Planting your own food gets rid of the need for pesticides and chemicals that most traditional growers have to use. The outcome is that you will be planting your own "organic" food – but at a much cheaper price.
Cantu's other creation Berrista Coffee, located in Old Irving Park, has its own vertical garden where they mostly grow basil and mint. So when you are ordering a "Mint Lemonade," you aren't getting artificial mint flavorings or syrup, you get the real thing. Cantu hopes to eventually have these "Motofarms" available for everyone to have built in their homes, but so far he is setting an example at Moto and Berrista of what sustainable and space-saving indoor gardens should really look like.
[divider]
Article written by Mila Medonaite for Design Engine on March 10, 2015