Canada's Argon 18 delivered one of the most unexpected but clearest category winners with their entry-level E-80 last year. Their new E-118 produces similarly standout performance at the premium end of the scale. Striking to look at and inspirational to ride, this chassis is going to be one to keep an eye out for this season.[pullquote_right]Ride & handling: Very light, but enormously power efficient and offers precise handling.[/pullquote_right]
The E-118 has a radically low ride position, but then it's all about serious performance. The bars are rock solid however hard you twist them under power, and that rigid torque transmission goes right through the frame from stem to stern.
There's a tiny amount of front mech rub from the Campagnolo chainset and slight lag from the carbon/alloy Fulcrum Red Wind wheels compared with a super-light full-carbon set. There's no mistaking that you're muscling your way towards serious speed though and, once you're into the tuck, rider and bike dovetail beautifully.
Riser kits for the pads are available if you're not supple (or slim) enough for a true flat-back position, but if you are, the Argon cleaves through the air with an astonishing sense of purpose. While aerodynamics of top-end bikes are impossible to categorically compare outside a wind tunnel, the Argon just feels (and HRM traces confirm that it is) blisteringly fast.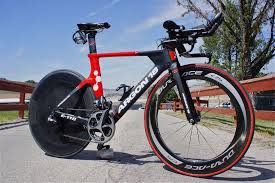 Spin smoothly through the finely graduated gears of the 11-speed block or grab a big gear by the scruff and smash it up to speed, it doesn't matter. The E-118 is a genuine force multiplier whatever way you feed it wattage, and its potential light weight gives it a clear edge in acceleration and climbing terms.
Even though the wheels aren't any sort of clever fat toroidal section, the handling is immaculate. They're pitch perfect – dropping into turns with superb steering accuracy, but relaxingly stable in a straight line. The rear brake is very powerful and controlled, letting you stay in the tuck to the last second, and you can hit descents as though you were on a conventional road bike.
What's really impressive is that comfort was never an issue however long our ride was. The lowered position certainly places some demands on your skeleton, but rough surface vibration or pothole kickback never knocked us off our stride.[pullquote_left]Frame & equipment: Radical fit is inspiringly purposeful and surprisingly comfortable[/pullquote_left]
Like most top-end aero frames, the E-118 comes complete with dedicated fork and stem – in fact, one of the neatest leading-edge fork and integrated stem designs we've seen. The headset is adjusted and secured from underneath, which allows Argon to use a very clean looking, big box- section 'Oneness 2.0' stem for maximum stiffness. A switchable chuck behind the three-bolt front clamp gives either 65 or 95mm of stem reach from the same unit.
A TRP linear-pull brake syncs neatly into the trailing edge of each fork leg behind the wide stance fork crown to complete a very clean look at the front. The cables plug into the headstock behind the stem, dropping into the extended aero section between the top and down tube.
Another web section spans the junction between down tube and aero section wheelhugger seat tube creating a very tall, stiff bottom bracket area. The press-fit BB86 bottom bracket means wide axle compatibility and Argon's AFS fit system also drops it lower than most for stability. Another set of linear-pull brakes sits out of the airflow behind the bottom bracket keel. The reversible twin-position seatpost is secured with a neat wedge system to complete the very clean lines of the chassis.
While the seatstays are relatively slim and short blade sections extending back from the deepest part of the seat tube, the rectangular chainstays are absolutely massive. The alloy horizontal dropouts get replaceable steel faceplates so you can crank up the axles super-hard without worrying about fatigue. Thanks to the HM7015 Nano-Tech construction it's also extremely light for an aero frame kit, clocking in at under 1.9kg including fork, headset and stem.
As you'd hope with a new for 2012 frame, the E-118 is fully Di2 compatible, with a battery mount out of the way under the offside chainstay. Because Argon's UK distributors I-Ride also bring in the Campagnolo range, our sample came equipped with their top-of- the-range Super Record TT transmission.
While the Italian company have just announced an electric shifting system in conventional road bike format, there's no aero version yet. The carbon levers, with their return-to-level function, are beautiful to use though and Campagnolo are still the only company fitting 11 rather than 10 cogs out back for the ultimate cadence control.
Jim Walker also import Fulcrum wheels, hence the new Red Winds here. While they're impressively tight and responsive for carbon/alloy hybrid clinchers, we reckon most people building up this chassis will opt for something more opulent and completely composite. We'd definitely recommend the radical, almost right-angle, reversible gull-wing Argon AHB-5000 bars though.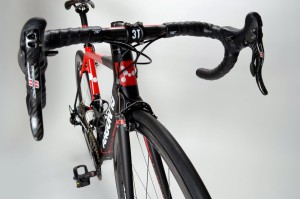 Article by Guy Kesteven, Triathlon Plus