[dropcap]T[/dropcap]wo new 3D printers are already crossing the price barrier, dropping to prices comparable to consumer-grade printers. One, the M3D Micro, is tagged at $349, and the other, the MOD-t, at $149. A Kickstarter crowdfunding campaign for a company called M3D concluded three weeks ago, with more than $3.4 million raised through the sale of more than 11,000 printers at prices ranging from $199 to $299. When it's launched, the company's Micro 3D printer will sell for $349 retail.
"Accessible to Everyone"
The Micro uses an auto-leveling and auto-calibration system that M3D says are designed to maintain the printer's reliability and longevity. Additionally, the company is claiming that its Micro is the most space-efficient 3D printer yet, and one of the most power-efficient.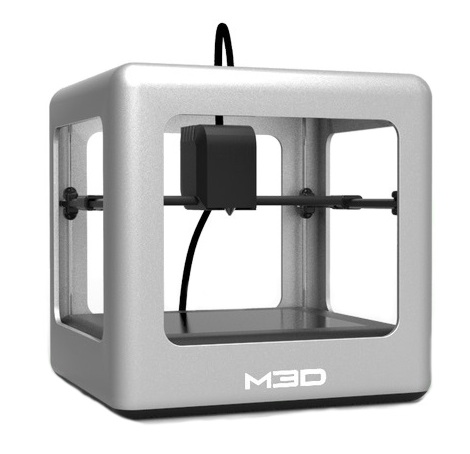 But that may be the higher end of consumer 3D printers. Another company called New Matter has launched a crowdfunding campaign on Indiegogo, offering their MOD-t 3D printer for $149 to the first 500 contributors. This will be followed with the next 1,000 sold at $199, and an eventual retail price of $249.
The MOD-t uses a fused filament fabrication process, and can create objects up to 6x4x5 inches. A two-axis motion system is used, limiting the way an object is built to up and down movements, which also limits the price. It has built-in Wi-Fi, and the industrial design was by the well-known design firm Frog Design. New Matter intends to offer designing software and a curated marketplace for sharing built objects made by artists.
Steve Schell, co-founder and president of New Matter, said in a statement that, "to truly make 3D printing accessible toeveryone, we had to create a unified hardware and software experience that encourages people to explore and share their creations."
The 3D printing space is heating up in other ways beyond cheap printers. Earlier this month, for instance, Autodesk announced an open software platform for 3D printing. Given the company's position as a maker of modeling and design software, the move could boost this nascent industry of object printing.
"More Reliable Yet Simpler"
The company said that the platform, called Spark, "will make it more reliable yet simpler to print 3D models, and easier to control how that model is actually printed."
Autodesk will be introducing a 3D printer as a reference implementation for Spark, which Bass said "will demonstrate the power of the Spark platform and set a new benchmark for the 3D printing user experience."
In January, Adobe announced that its industry-leading Photoshop program will begin supporting 3D printing. Also in January, 3D printer maker MakerBot said Dell would be offering its 3D printers and scanners with Dell Precision workshops. The bundles are targeted at engineers testing product concepts, architects creating design models and start-ups toying with product designs.
In November, Staples said it would start rolling out in Europe a low-cost, in-store 3D printing service, using the Mcor IRIS printer.
Article By Barry Levine, May 28, 2014 For toptechnews.com