Hot Shot Hole Shot
Bart did get every hole shot in the races this weekend!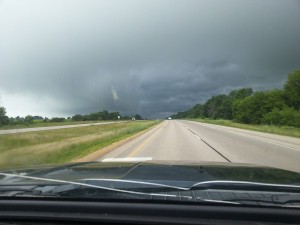 Rain, the dreaded rain
The weather report suggested there might be rain Saturday or Sunday. It might happen so if you have spare rims then you mounted rains on there for the weekend.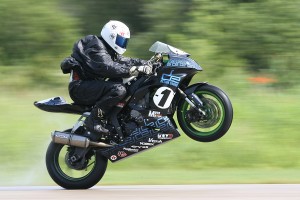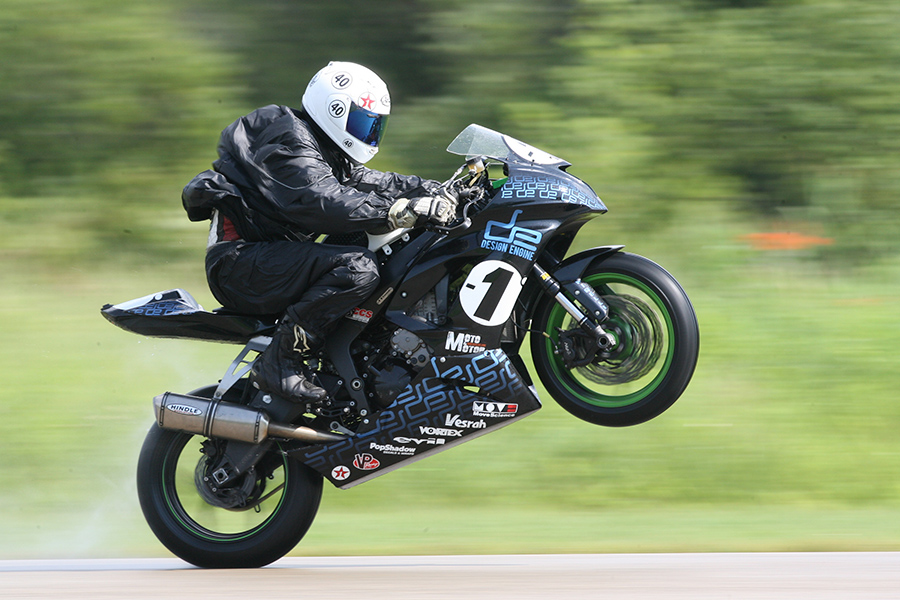 Usually in the rain Bart is fast. His first race in the rain was as an armature at Putnam Park during a Central Motorcycle Roadracing Association CRMA events. I started last in that race won that race by 60 seconds. Blackhawk Farms Raceway, BFR, however is slick in various places and has lots of grip in others during wet racing. "From my motocross experience we learn that different color equal different textures." All the various patchwork offers different traction. For example, the concrete patch in the bus stop has lots of grip in the wet but getting on and off the patch is slick. All that combined with Brian & Max asking Bart not to crash squirreled him out. Leading almost all the points boards, crashing in the rain doesn't make sense plus hardly any of the experts even went out in the rain races. Tracks that have lots of traction in the wet are Jennings GP, Putnam Park & Barber. "Barber gets its rivers," Bart explains, "You hydroplane across those problems with drainage there but that hydroplaning is rather consistent at Barber so not a big problem. Where you don't want to push it in the wet is Blackhawk Farms & Mid Ohio. Cars have been upside down dripping oil on those tracks for years." "Oil floats" Bart explains using the Exxon Valdez oil slick as an example that right when it rains is worse because that oil comes up to float right away.
Two weeks ago we raced Road America on the new ZX6. She had some troubles getting going but we worked through all the typical problems and managed to pull off the fastest lap of all the middleweight bikes and won 5 of 11 races from the double header weekend. (A 2:24.392 edging out Greg Melka from the Florida Region by .01 seconds) This Blackhawk Farms Raceway weekend would be also a double header with the glooming threat of rain but unlike car racing, sportbikes race – rain or shine. We only had two weeks to prep the bike for the next round which we did not have time to do for the Road America. For this round we ultrasonically cleaned the brake calipers and switched out to a Brembo master cylinder off the Suzuki. We did ship off the front forks and had the Suzuki gas forks converted to Kawasaki ZX6 forks at Traxxion Dynamics in Woodstock GA. Took 2 days to ship, a day to convert and we paid extra to have them shipped back in one day.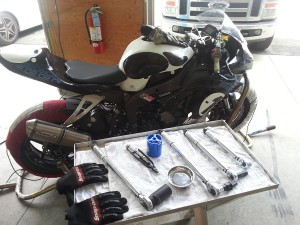 Thursday
We converted the Traxxion Dynamics Suzuki Nitrogen front forks to the ZX6. With only four days to spare, we had to ship the forks to Woodstock GA and have them shipped back in time for Friday practice. They arrived Thursday and with plenty of time to get them installed,. Bart Met Brian at Brian's house to help load the bikes. The 2011 Suzuki seems to have been sold so we have to take the GSXR to the track to give it to the new owner with out the front forks. The Stock forks are shipped back slower for the easier expense and it was some work to get the Suzuki into the trailer without internals. The Suzuki is still for sale by the way. Email Bart or Brian if your interested … brian@designengine.com
Friday – Track Day to dial in the suspension
The team wanted to take this time to sort out the suspension and get acquainted to the ZX6 with the tight & technical Blackhawk Farms
We worked a bit with Mark Styles of Trackside Suspension Engineering to set up the Kawasaki since we have the N2 forks converted over shipped and installed.
Invited the Collins family https://www.facebook.com/dave.collins back to swim Friday night at Brian's house in Williams Bay
Hole shots:
Bart won every hole shot in 11 races with the exception of one red flag restart. "My heart rate does not get elevated probably from all the motocross starts growing up." Thanks to Jason Farrell, Bart has a new strategy nowadays. He jumps up and down in the garage with all his gear on as if jumping rope to elevate the heart rate. I've always been good at getting the hole shot even as a kid racing motocross. An elevated heart rate before that warm up lap makes me more alert, like dumping ice water over your head.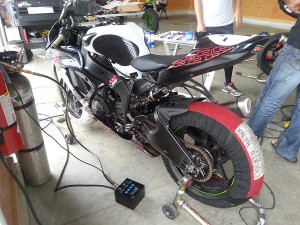 Kansas Drew "That darn kid from Kansas is running off and winning the overall points" He is referring to Drew, who is in his first year as an expert. He learned at Brainard Raceway that Drew Jankord https://www.facebook.com/drew.jankord is an Electrical Engineer. Bart likes engineers and knows there are a lot of engineers racing. Brian says, "Drew can take last place with two entries and still get 30 points". Bart usually does not care about points and such things as he explains, "I'm just out there racing myself." After winning the #1 plate last year his attitude on points has changed. He did not set out to win the #1 plate, it just worked out that way. "I want to win every race!"
Bart wants to try a liter bike but might as well just race in all the unlimited classes using his new ZX6. Jason Farrell is excited to see Bart on a Kawasaki and is more than generous in getting racers on Kawasaki's. "Does he get paid by Kawasaki?" Bart asks with a smile. He has his eye on that KTM twin that Southeast Sales sold to Mark Jurczyk. "They pay 1000 for a win," Brian gets mad, "Do you know how much those bikes cost?" 18k used is not in the budget this year or next. Jason let Kenny Olson race his ZX10 last year at BFR. He crashed it a lot. Maybe it's time for Bart to try that ZX10 of Jason's. Bart smiles and says with a laugh, Walle https://www.facebook.com/wally.malinowicz & Germany will hate it if I get out there in those unlimited classes. How many races are there anyways? The GTO, Unlimited Superbike, Unlimited Supersport and Unlimited GT. "I would be so exhausted!" That's an extra 120 points per race day if you count the 25 min GTO race. Racing sport bikes is physically and mentally taxing as motorcycle racers are often in stellar shape.
My lap times are faster anyway and I'm in great shape. Brian and Max are searching for a 650 twin to race with Drew. Bart explains with his southern accent, "riding a 650 twin takes less effort physically and you can break way later and take more corner speed with those things." He also thinks that riding a 650 would benefit his middleweight pace as a mental exercise as the SV helps one get on the throttle sooner faster harder. But the team has a problem with the SV650 because those machines are not made any longer. "Who else makes a lightweight bike now days anyways, I want to crush that class", Bart tells Brian in the garage. Kevin Van Engen has emailed Bart a few available SV650 machines. Others have offered their SV650 to see the team excell at the points.
Brian notices that Bart's lap times taper off as each lap goes by. "Maybe Bart is not in as good of shape as he thinks he's in" Brian tells Sondra Ellingson Bart's girl friend and personal trainer. Bart insists, "My plan is to run 2 miles every day this entire month even on track day events."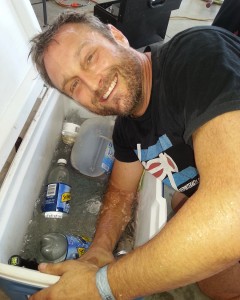 Won 3 of the first races (dry races) We were on a winning streak and if the rain could just hold off a few hrs more… We were not so lucky.
We turned our fastest lap time on Saturday at a 1:10.90 with a 15×42 gearing. Tall gearing yet the bike is so much faster and a fastest personal best at BFR for Bart.
Playing it Safe in the Rain on Saturday
The two races we went out on rain tires and Bart played it maybe a bit too safe. Maybe not too safe as Max heard complaints on the radio about him riding wheelies in his rain race. "Did ya'll guys see my wheelies?" Bart yells in his Colonel Sanders voice as he removes his gear from the first wet race. "I rode wellies out of One (T1) three (T3) five, six (T6) & seven (T7) just to test the pavement." "They can't call me out on that because that's how you know the grip in the wet." "Problem is those patches", he explains with a jeering grin. Brian & Max have the radio set in the garage to the precise channel so we can hear the flag stations talking to each other on their radios. Max laughs as each flag station worker yells out #1 riding a wheelie again!" Usually the fine for wheelies is $50.00, the donation to Brian McLaughlin's Red Flag Fund Inc.. Last year 'Germany' i.e. Stefan Dolipski https://www.facebook.com/GermanyRR pre paid his wheelie this event last year. We all remember how cool that was.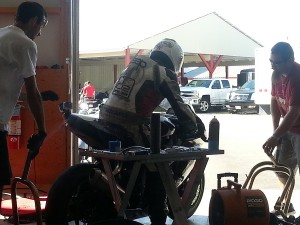 "If you crash on those patched corners it's not my fault. It's the ass fault." Bart gets too much mileage out of that joke but he never gets tired of telling it. He likes to quote Groucho Marx "if you hear me tell a joke twice don't stop me I want to hear it again." "The truth is there is no way to test that grip until you crash," He tells everyone loudly in the pits. He went on to say, "I just didn't want to crash, plus I haven't crashed that new 'Kawie' yet" Everyone rolls their eyes in the garage. "I plan to crash, that's why I wear all that safety equipment." He likes to complain about Blackhawk Farms Turn 2 and Turn 4 have no room to crash safely. "I hear Palm Beach has a dangerous wall in a crash zone too", he explains. Palm Beach raceway races this weekend and he had a chance to fly and meet his bike there with Mark Rhoads and Brian driving down this week.
Brian's Birthday
Birthday Bash at Brian's place in Williams Bay & More swimming. A whole slew of people came up from Chicago to partake. Scott Fromming https://www.facebook.com/scott.froemming with Tarah Zallar https://www.facebook.com/tarah.zallar Scott created a time laps of the night sky. Al Harper the Director of the Yerkes Observatory came over for a visit at Brian's house and for some BBQ. The Observatory is only a few hundred yards as the crow flies from Brian's back yard.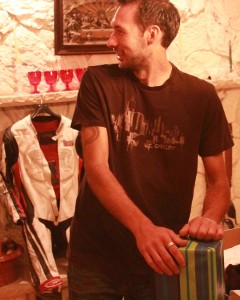 Sunday Fun day
Seemed like everyone had their bikes sorted for Sunday. The team played with gearing on Sunday and went to a 15×43 and for the last race a 15×44. The 15×44 was more aggressive getting out of the turns but difficult in Turn 1 because it was too low and requires a shift just after the apex.
GTU 25 minute race: In the GTU race, Carl Soltisz https://www.facebook.com/carl.soltisz the self proclaimed 'Super Carl,' was able to get around Bart leveraging a lapped rider. He usually works the lappers to his advantage but now that Bart's riding a ZX6 it's so much faster than his Suzuki, he gets all the hole shots and is in front as the person to pass. Carl went on the right and Bart passed on the left and Carl came out the victor in that one. Half way through the race Bart got severe arm pump. "It's from not riding enough Motocross" he explained as his girlfriend, Sondra, rubs him down in the garage. She thinks he should hit the gym more.
Jan Boogaard, https://www.facebook.com/jan.boogaard who drives the Green sweeper four wheeler at BFR, noticed the lack of drive out of Six Silo (that's the second turn six. See Bart's track map below) and mentioned that other bikes seemed to close in there on Bart to Brian. Brian decided to go up a tooth on the rear. Bart thinks that he should have held second gear through there instead of up-shifting like he does mid way thru T6 on the Suzuki.
Race Director comes to visit the garage three times
Bart really likes all the CCS officials. We have been asking everyone who remembers all about the old racers. Mark Styles has stories. So does Rick Breuer. Rick is the the current race director. He raced middleweight for 20 years. The truth is racing is dangerous and there is a lot we as racers can do to minimize accidents.
The first time for the visit was an incident in the GTU race. Kevin Waiter and Bart came up on yellow plate lapped riders passing thru T5 thru T6. Bart passed on the inside 5 riders while Kevin passed the same on the outside. He got too aggressive and passed a sixth… He crossed Matt Flowers line and Matt bumped his rear tire then crashed in T6. The incident crashed Kevin as well. No damage on Kevin's bike per say but Kevin thought he might have a cracked rib. Matt's bike had tweaked rear sub frame and luckily Matt was un-injured. Bart made sure to apologize and be there when Matt rode back on the crash truck. Bart considered that insident his fault as he took one more bike passing a bit to over zealous. He offered to Matt to pay for the rear sub frame.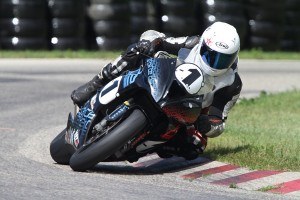 The second visit involved a pass on Dan Ortega that possibly happened under waving yellow flag. There was a crash in T1 and T2 bikes resting in various stages of upside down-ness. Dan leading, we came up fast on Jessica wearing Mar Farrell's leathers. Dan hesitated while Bart passed on the inside @ T2. The complaint was passing under a waving yellow. In the end, it turns out that the pass was completed under a standing yellow and Bart's in the clear.
The third visit was to tell the team that the pass was acceptable.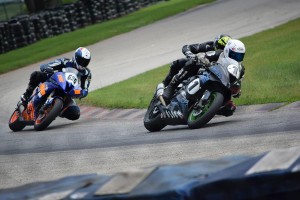 Monday
(yoga and light run) It was raining in Chicago so no Palos Park. Sondra packs Bart for his Cali trip to the high desert of Adelanto, CA to teach another surface modeling class to General Atomics.
Results
Saturday
1st middleweight superbike
1st middleweight gp
1st heavyweight superbike
Rain race 2nd middleweight supersport
Rain race 3rd heavyweight supersport
Sunday
2nd 25 min GTU
2nd heavyweight supersport
1st middleweight supersport
2nd middleweight gp
2nd heavyweight superbike
2nd middleweight superbike
11 races, 11 podium finishes. Four wins, six 2nds, and one 3rd place finish. Not on par with our 9 wins and 2 second place finishes from the same event last year, but we are still dialing in a new machine.
Social Media Bart Brejcha
Youtube https://www.youtube.com/user/bbrejcha
Instagram https://instagram.com/bartbrejcha/
Facebook https://www.facebook.com/bart.brejcha
Twitter https://twitter.com/bartbrejcha
Sponsors
Design Engine DESIGN-ENGINE Design engine is both a Blog and a School were they teach Design & Engineering software such as Solidworks and Pro/ENGINEER, Creo & Maya the software that created the dinosaurs in Jurassic Park.
Pirelli – We're not sure why we put this because we pay for all our tires. Jason likes it.