South Beloit IL Sept 29, 2014: Design Engine Sportbike Race team secures the #1 plate and overall expert points with a wide variety of 1st place finishes in the for the 2014 CCS race series.
For the CCS double header weekend in July the two race wins Saturday and five straight wins propelled Bart to the top of the overall points lead out of all the expert racers in the Midwest series. This effectively secures the Design Engine race team for the overall points lead for using the #1 plate for the 2015 season. Winning 7 out of 11 races over the course of the weekend, the difference having a new engine and new team members was substantial. "In the past my engine has not been strong enough to get the necessary drive out of turn seven for the front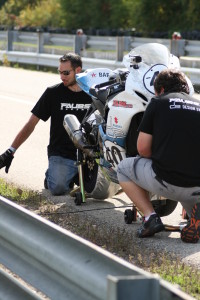 straight and I would often get passed down the straight due to lack of drive," says Brejcha, "With the combination of more corner speed through turn seven, fresh engine & late braking I was able to fend off those faster engines and into turn one." Bart goes on, "I couldn't have made those results without the assistance of the FAUBS folks. Their help with bike prep before and during the race weekend was paramount… thus freed me up for racing"
Bart is a long-time participant in CCS races at Blackhawk Farms raceway, but this weekend's success marks an all-time high for Design Engine's race team. Bart and his Suzuki 600 has lead and even won expert middleweight and heavyweight races in recent past in both WERA & CRA, but usually only in wet conditions; and never with CCS until this year. Bart says, "In the wet my engine was not holding me back, now my engine is a bit stronger… 15hp under the Yamaha's and Kawasaki 600's. Next year I'll have faster engines!"
[divider]
Overall points: 960.9 Over by 220.4
1st GTU Expert the 25 minute races series
1st Superbike Heavyweight Expert
2nd Superbike Middleweight Expert
2nd Supersport Heavyweight Expert
3rd Supersport Middleweight Expert
3rd place GP Middleweight Expert
[divider]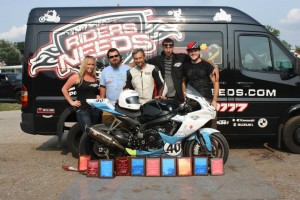 [dropcap]M[/dropcap]otorcycle racing has proved to be a team effort for Bart Brejcha. In order to stay in good physical and mental shape, Bart does a great deal of Vinyasa & Bikram Yoga and weights based on a motocross training regime with NASM-certified personal trainer Sondra Ellingson. Bart uses Pirelli tires and Vesrah brake pads, and Brian Kolasa and Max Umbs keep Bart away from the mechanics' routine so he can focus instead on the races. Brejcha's video production team aims to capture footage on the track with mounted GoPro cameras and off the track with spectator-perspective video and racer interviews.  Bart among many others is an instructor of Creo & Solidworks.  Bart teaches the Plastic die casting and forging working at Design Engine.
[divider]
testimonials for training videos for the school.  Most can be located on the Design Engine Youtube Channel.
Social Media Bart Brejcha
Youtube https://www.youtube.com/user/bbrejcha
Instagram https://instagram.com/bartbrejcha/
Facebook https://www.facebook.com/bart.brejcha
Twitter https://twitter.com/bartbrejcha