Homestead, FL December 7th 2014: Design Engine's race team visited Homestead for the final race of the year 2014. It was a welcome escape from the frigid cold of Chicago to a warm, humid climate in the shadow of Miami. It would prove to be a weekend of sunshine, incredible artwork and intense racing, but, as I sat in Chicago traffic on I-94 with Brian Kolasa and Sondra Ellingson, I recall having only one thought in mind: I hope we make this flight!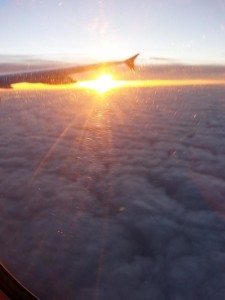 Brian, our skilled driver, with some tactical driving down the emergency lane, managed to get us to O'Hare on time and catch that plane by the skin of our teeth. Relieved, I sat back in the seat of the 737 and formulated my game plan to capture, in image and film, what would prove to be one of the most memorable race weekends of my life. I had never been to Miami; although I was no stranger to the Sunshine State. I fondly recollected visits to see family in Florida throughout the younger years of my life, in Kissimmee, Orlando, Daytona Beach and Tampa.
We landed in Miami, and walked out of the concourse only to be met with a wall of humidity and heat. Quickly we shed our layers of coats, sweaters and accessories, embracing the welcome warmth we had all but forgotten in the early stages of Midwest winter. Exhausted from the hustle and bustle of O'Hare and a layover in Raleigh-Durham, Bart picked us up from the Miami International Airport. We made our way to Homestead and bunkered up in our hotel room for the night. As I lay in bed, I formulated the first phase of my master plan: time lapse. I managed to convince a bewildered and reluctant Brian Kolasa to join me in a 5:00 AM venture to the beach the following morning.
The art of capturing time lapse photography is a relatively young hobby for me. As the videographer of Design Engine, I manage the development of the Design Engine video Training Delivery System and documenting video testimonials of the Design Engine students. We use a different time lapse recording on every testimonial. Few people really understand my passion for it, but I feel like it is something you have to experience to truly comprehend. It's the challenge; a more difficult form of capturing a moment in time that takes precision, skill, and a little luck, but something beyond that as well. It's the search for new picturesque landscapes, the places you go, and the people you meet along the way. Time and time again I find myself looking at other photographers' and videographers' work and thinking to myself: "I've shot a time lapse there!"
That Friday morning in Miami would prove to be another one of these memorable experiences for me. I dragged Brian out of a warm, comfy hotel bed in Homestead to venture to the beach and find an ideal location to set up shop. We had no idea where to go to locate a good beach, and after a few failed attempts driving all over Homestead we happened across a fitting spot along the shore of a former estate-turned preserve that allowed for public access to the waterfront. I set up Design Engine's Canon 7D and tripod, and began the intervalometer. A large part of capturing time lapse is patience, and while the camera did its work Brian and I met several local characters. Each had a unique perspective of the area and did not hesitate to share their insights with us.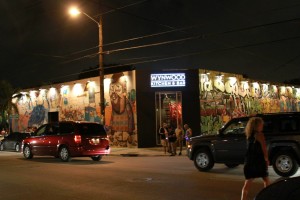 People were so friendly in Homestead. The first person we met was an older gentleman who frequented the pier every day as part of his normal routine. He described to us the beauty of the spot we had happened upon, as well as some of the background of the nearby estate. The next was a local worker for the preserve, who shared valuable insight on the local fishing and kayaking destinations around the pier. Our final visitor told us about some must-see locales in and around Miami. I had done some minor research of potential spots to check out, and was enthralled to have one location confirmed by a local. "Go to the Wynwood Walls," he said.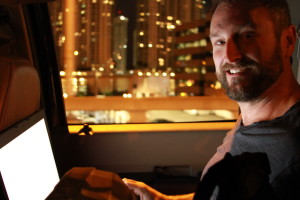 The remainder of that day was spent resting around the pool taking in the sun while practicing yoga and calisthenics with Sondra, our NASM fitness instructor. That night, we took the short trip from Homestead to Miami to visit these infamous "Wynwood Walls." As we travelled past the skyline of Miami through some of the rougher areas of the city, I was amazed as a transformation took place before my eyes. I began seeing murals on nearly every corner, then every building and even sidewalk. Before long, we found ourselves in the center of an artistic wonderland, in the heart of which was Wynwood and its walls of murals.

We happened to come at just the right time. Art Basel, an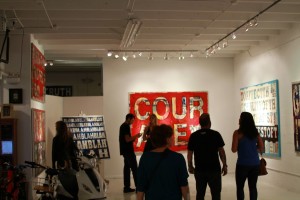 international art festival featuring all forms of art, was in full swing as we wandered into Miami Beach. Stunning works of paint, photography, and sculpture surrounded us on every wall, a slice of paradise for a photographer such as myself. To attempt to describe the demographic of people in attendance would be impossible; individuals of all shapes, colors, ages and dispositions seemed to converge upon this place with a similar mindset: to observe, enjoy and converse about all that was going on around them. I have seen some impressive displays of art in Chicago, but Art Basel would easily prove to be the most extraordinary art exhibition I have ever seen.
[divider]
Having taken in all of the beauty that Art Basel and the Wynwood had to offer, we awoke the next morning with our ultimate goal in mind: Homestead's CCS races. We made our way to the track, and set up shop in one of the last remaining garage spaces. Saturday was practice.  Our race team had to get on track quickly to determine the gearing. What sprockets to use is important to fast lap times. We were all impressed by the hospitality of our neighbors in the paddock. Motorcycle racing is more than just a hobby for those who participate on and off the track; it is a way of life. The word family is used a great deal. It is not just about winning, it's about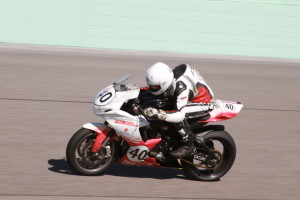 the experiences you gain and the friendships you make along the way.
I grew up at the racetrack, my father being an avid NASCAR and sprint car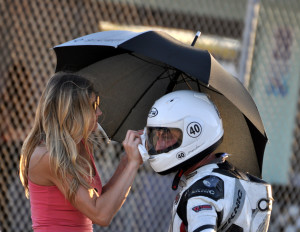 racing fan. I find myself at home at the track, and I'm sure many fellow enthusiasts share this sentiment. Motorcycle racing is very much a family sport, and Bart Brejcha is a perfect example of this. Bart grew up around motorcycles; his father raced motocross and Bart began racing motorcycles at a very young age. By the age of fifteen, Bart was racing multiple classes including open pro motocross while many racers of his age were still racing minibikes.
In 2011, Bart began racing sportbikes in competition. Completing 20+ race weekends, with seven races each day, he quickly earned the nickname of "Iron Man" for competing in so many races each day. 2015 will mark the 4th year of racing for Bart, going into the year with the #1 plate and overall points in the CCS Midwest standings. Design Engine looks forward to an exciting year of racing in 2015, and hopes to build upon the success of 2014. We look forward to seeing everyone at the track!
[divider]
Article written by Scott Froemming for Design Engine, January 16th 2015
Scott is a staff videographer, photographer and web designer for Design Engine. Scott conducts racer interviews and Design Engine Education testimonials for training videos for the school.  Most can be located on the Design Engine Youtube Channel.
Social Media Bart Brejcha
Youtube https://www.youtube.com/user/bbrejcha
Instagram https://instagram.com/bartbrejcha/
Facebook https://www.facebook.com/bart.brejcha
Twitter https://twitter.com/bartbrejcha