Week Before the Brainerd race
On the bigger more horsepower oriented race tracks, it's a good idea to have a fresh engine installed and dyno'd for Oxygenated MR12 for race day. Bart spent 8 days suffering with a cold in the Middle of Ohio in hopes to get a refreshed engine. Although Bart's Suzuki is the fastest bike we've had ever, the Suzuki's compared to the Yamaha R6 machines still seem to suffer in the Horsepower department. Now the team will suffer with our engine and also with Bart's lingering head cold. The refresh engine wasn't meant to be, however, all fingers are crossed for the next roH3und of motorcycle road racing at Road America over the Fourth of July weekend for a refreshed engine.
Arriving Thursday afternoon
Bart passed the
David Collins
crew going north on 94 in Middle Wisconsin. "Even driving to the race track is a race", Bart tells Kit on the phone as they waved at each other on the expressway.
Friday Practice
Design Engine pitted next to Christian Alvarado on Thursday night, partially to irritate him and also because that was the only spot on the paddock left. This past December, Christian gave Bart a hard time for a pass which he thought was too aggressive. Pitting next to each other will probably make them friends again, Brian teases. Bart likes everyone, however, the reverse may not always be true. "Bart can take some warming up to" Brian explains as Bart preforms his best Matthew McConaughey impersonation. Both Bart and Christian are often the loudest jokesters at the track, Brian tells people. Often, people who are a lot alike don't get along.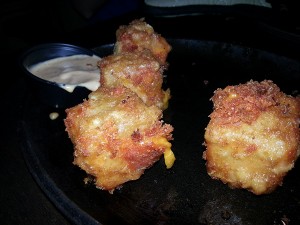 All the CCS racers are required to wear the 'X' on their bikes. The Racers'X' did fairly well against the Minnesota racers it seems. The team was initially plagued with quick shifter and gear indicator problems. Racers often have it figured out precisely what gear to be in and where. For example, going into Turn 3 Bart is in 5th gear and in the turn he needs to be in 2nd gear so he counts 1,2,3 – loosening gears appropriately. The problem is that the display shows 6th but he was really in 5th. If one happens to glance down and see the 6th gear on the indicator, you inadvertently lose four gears and risk crashing. Anyway, we put tape over the display indicator so there was no confusion.
Getting the lay of the BIR course is the plan for Friday. Bart has been once to Brainerd but it was a rainy weekend in June – the Short Course visit back in 2014 where he won one Trophy Dash race.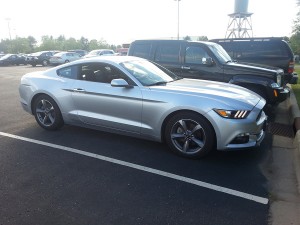 Brian's flight landed close to 2PM in Minneapolis. He showed up with an upgrade for his rental car – a Ford Mustang 6 Cylinder. "Fastest car in the world, A rental car," Brian quotes one of Bart's jokes noticing a ford pickup truck on track Friday late, "I'm going out on track in the rental" Brian stating seriously. This Mustang gave us new meanings for doughnuts.
fastest laptime Friday 142.4 in the mornings and 141.5 the afternoons.
"Gotta push the brake markers into T3 and less roll off in T2 and no roll off into T1" Bart explains to everyone as he pulls off his gloves after coming in off the track. Bart makes those notes on his Brainerd track map that were printed out at the Hotel color printer. Bart makes maps for every track he races. Get a copy of Bart's Brainerd Track Map in PDF format BIR -Short course map
Bart and Christian are cool again, by the way.
Friday night Bart, Brian, Derek and Jason went to grab dinner and libations at the local Tap House http://www.bouldertaphouse.com/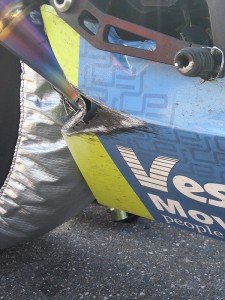 Saturday
Saturday races were treated like practice by many of the CCS guys. Bart started mostly from the third or fourth row in many of his starts. It is a real eye opener to get around everyone in T2 wide open off the start. Best placement is on the far left or outside but Bart found himself on the inside sometimes passing 5 to 7 bikes at once into T3 hard on the brakes.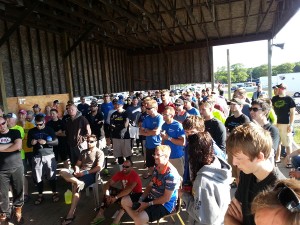 The day started out with problems. The gear indicator stopped working thus giving out misinformation – when in 2nd gear, the indication was that we were in 3rd gear. We disconnected it but found the quick shifter didn't work so we connected it back and just put tape over the indication on the dash. Brian tried to call around Saturday for a replacement gear indicator module and was unsuccessful communicating over the phone. The receptionist at Brothers Motorsports whom Brian obtained this replacement from Brothers Motorsports in Brainerd MN http://www.brothersmotorsports.com/" target="new">Brothers Motorsports was not very helpful in relaying messages or "Parts Department" was too busy to pick up the phone so Brian just took this opportunity to rip around in the rental car. Time to just go to the shop and see what this rental car can do! Apparently the shop didn't have the part we needed so Brian used all of his charisma and charm to talk management to let us simply remove the part off the showroom. The part we needed came off of a used 2011 GSXR600 from their showroom. "Brian works magic all the time." Bart explains.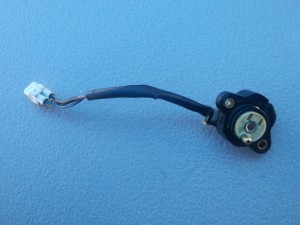 We had lots of fun hanging with Kit and Brad, the 19 year-old amateur, young gun's Dave Collins pit crew this weekend. They offered lots of food, Kit likes to cook for us at the track. Bart borrowed a couple gallons of fuel and forgot to remit, now Bart owes them back two gallons of unleaded premium. Next month all will be even again.
Managed to pull off a few second place finishes Saturday finishing behind Scott Stall, Jason Farrell and Kyle for many of the 6 races on Saturday.
fastest Laptime Saturday 139.7
Sunday Funday
Brian arranged for Bart to try Morning practice on John's Yamaha Superbike w/ 140 HP
Didn't go out on the Suzuki
Sunday Funday is the day where the points count for the CCS racing league.
Grids were large. Bart explains, "I like to start on the far left if possible or else start in between two bikes in front of my shooting for open air between two. Don't want to get bunched up on the far right".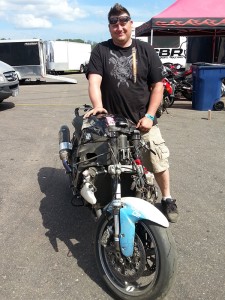 Bart paid close attention to Jason's coaching Sunday with his videos of his lines, where he gets on the throttle/brakes etc. Maybe too close as he went out in the next race, got into 1st place and crashed. "I now know where the limit is in that T5", Bart laughs.
fastest Laptime Sunday 138.7
Race Results and Lap times mylaps
Wheelies
Bart pointed out why the photographers wear the Day Glow over coats. "Every time I seen the Day Glow over coats I ripped a monster wheelie!" Bart exclaims with his southern accent. "I need my wheelie Wednesday photos and CCS fines us for wheelies"
On the Drive back, Bart grabbed a quick beer at a Mexican restaurant near the Minneapolis airport while waiting for Brian's SMS that he dropped off the rental car. Bart needs to pick him up at baggage claim. Bart drove most of the way 65mph back to Chicago while Brian told stories.
Brian Kolassa is a real pleasure to work with, Bart tells people. Even with Bart's crash in race 11 Heavyweight Superbike put the team out for the rest of the day, The team had a great weekend. See the GoPro POV video on Bart's YouTube channel. Be sure to bookmark the Youtube channel. More photos and
videos to come this week of our Brainerd experiance.
Saturday Race Results
Middleweight GP Expert 2nd place Place 1:40.472
Heavyweight GP Expert 2nd Place 1:39.7672
Middelweight SuperBike Expert 4th place 1:40.605
Heavvyweight SuperBike Expert 4th place 1:40.006
Heavyweight SuperSport Expert 4th Place 1:40.439
Heavyweigth SuperSport Expert 3rd Place 1:40.304
Sunday Race Results
Middleweight GP Expert Did Not Enter
Heavyweight GP Expert Did Not Enter
Middleweight SB Expert 3rd place 1:38.774
Heavyweight SB Expert Did Not Finish
Middleweight SS Expert 5th place 01:40.098
Heavyweight SS Expert 3rd place 01:39.531
Social Media Bart Brejcha
Youtube https://www.youtube.com/user/bbrejcha
Instagram https://instagram.com/bartbrejcha/
Facebook https://www.facebook.com/bart.brejcha
Twitter https://twitter.com/bartbrejcha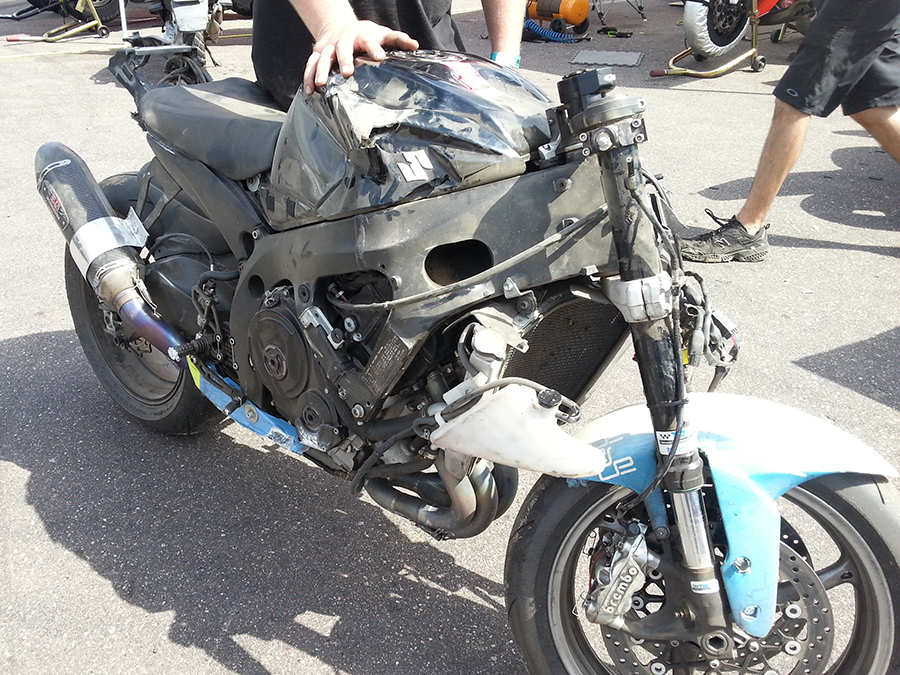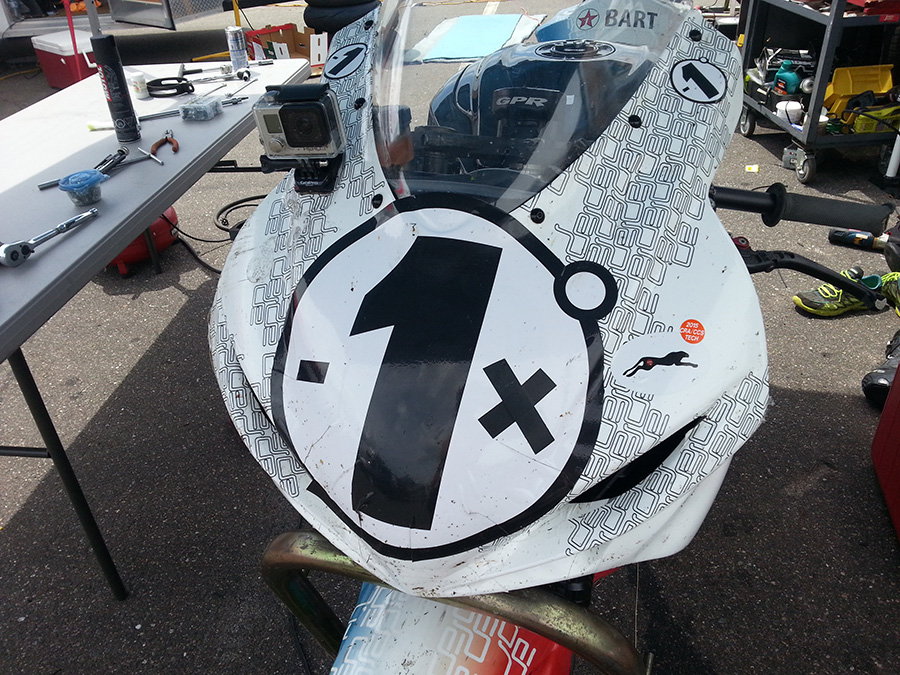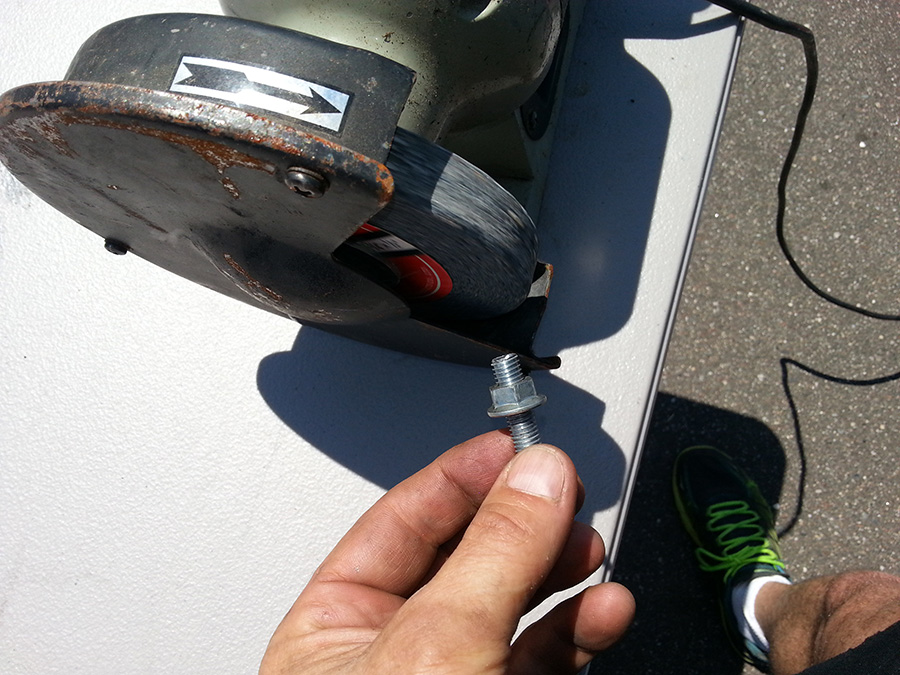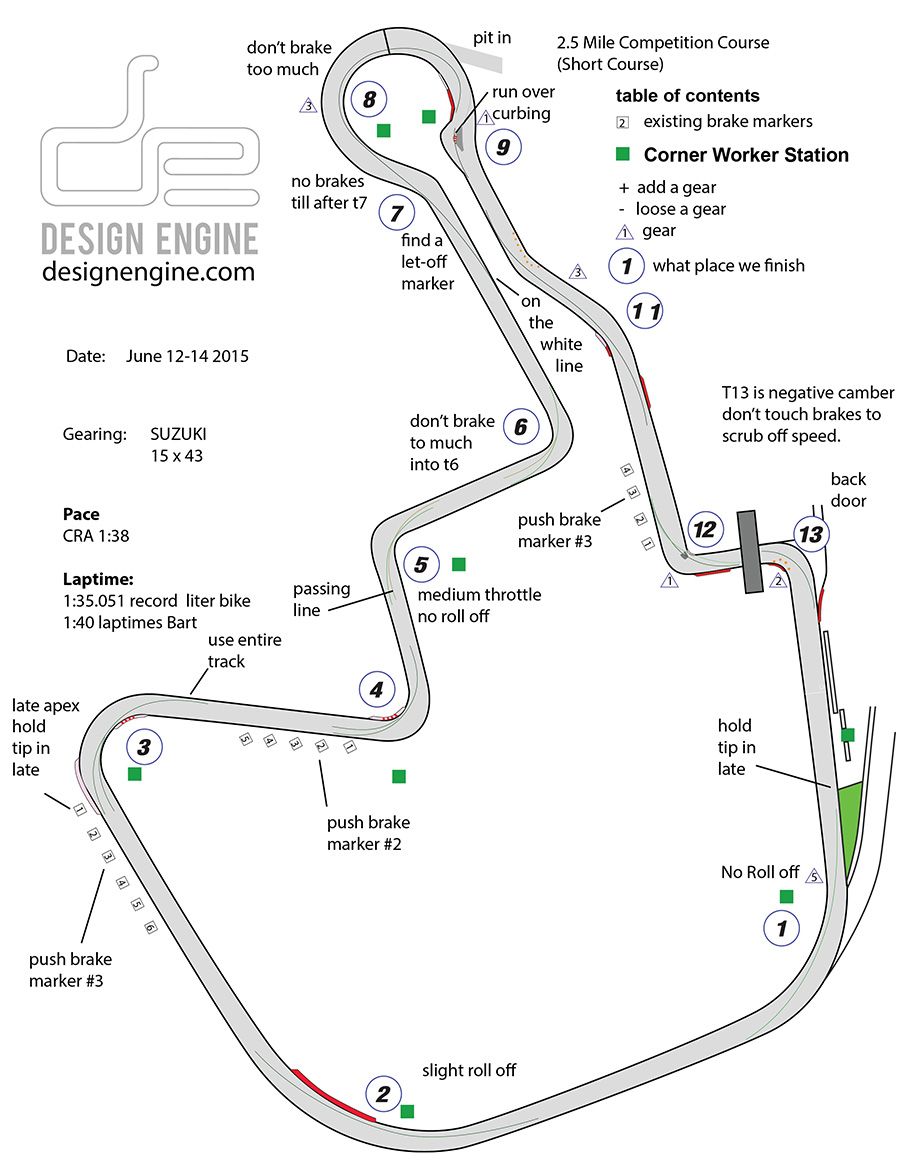 Get a copy of Bart's Brainerd Track Map in PDF format BIR -Short course map