In 2011, a nine-year-old boy named Caine Monroy could have easily joined other youth in the neighborhood playing sports or video games. Instead, Monroy chose to spend his summer at his father's auto parts store, diligently working on an arcade constructed completely of cardboard. He spent hours building and designing his arcade, developing security for his arcade, and working on game design. Caine dreamed of one day having many patrons come to play his game, although a limited customer base for his father's store brought little traffic for the arcade. The boy persevered, and a chance encounter would eventually change the fortune of the arcade forever.
Towards the end of that long summer, a filmmaker by the name of Nirvan Mullick walked into the store to purchase a replacement handle for his car. He noticed the arcade that Caine had built, and curiously inquired as to how the machine worked. Caine explained to Mullick that he could pay $1.00 for two turns on the arcade, or purchase a $2.00 Fun Pass and receive 500 plays. Mullick chose the Fun Pass, and enjoyed playing the arcade. He would later return to the store and ask to produce a film about the game entitled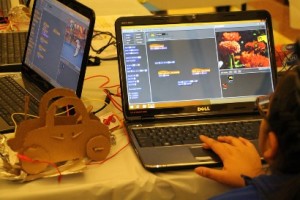 "Caine's Arcade." The film was an instant success, with over one million views in the first day. In addition to providing publicity, the film helped raise over $300,000 for scholarships and established the Imagination Foundation, a group dedicated to fostering entrepreneurship and creativity in young minds around the world.

The Imagination Foundation started an annual event called the Global Cardboard Challenge, where children and adults are challenged to design, build and create using cardboard. Celebrated in over 45 countries with over 90,000 participants, the Global Cardboard Challenge provides a creative outlet and an opportunity for youth and community to join forces in harboring entrepreneurship among young people. This year's Chicago event will be hosted right in Design Engine's backyard in the West Loop. For more information, visit http://www.codecreate.us/chicago-cardboard-challenge.html.
[divider]
Article written by Scott A. Froemming for Design Engine, 9/26/2014