NeoCon is the leading event for the commercial interiors industry in the US. This year, like years past, NeoCon 2023 celebrated design excellence, showcased groundbreaking products, and fostered industry connections. So, fasten your seatbelts (preferably attached to a stylish chair) as we embark on a journey to uncover the highlights of NeoCon 2023, featuring the exhibitors that made us go "Wow!". 
Steelcase, masters of workspace innovation, captivated attendees with its innovative products and design-forward thinking. With a focus on creating inspiring and inclusive workspaces, Steelcase presented furniture that not only promotes collaboration, productivity, and well-being, but also work from home solutions.
Their commitment to sustainability and environmental stewardship was evident in their offerings, showcasing ergonomic chairs that weigh 29lbs or less to cut down on packaging. Steelcase proved once again why they're at the forefront of design greatness, aligning with the steady trend of sustainability seen at Neocon over the last few years.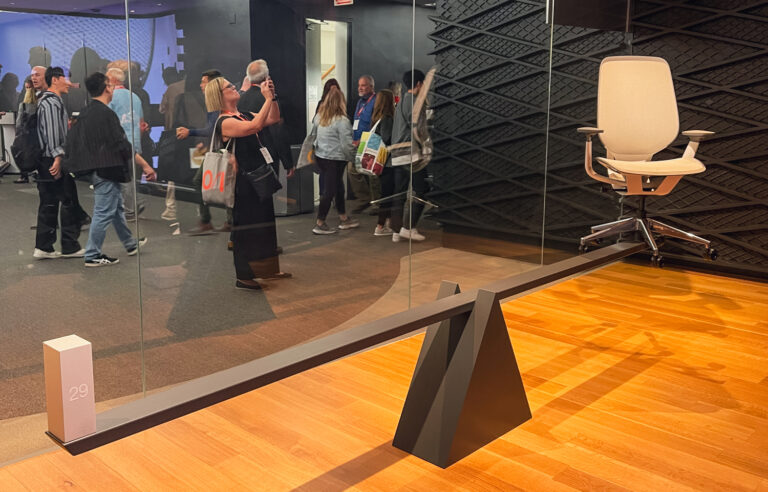 Steelcase chair with 29lb weight display
Photo credit: Liz Wisdom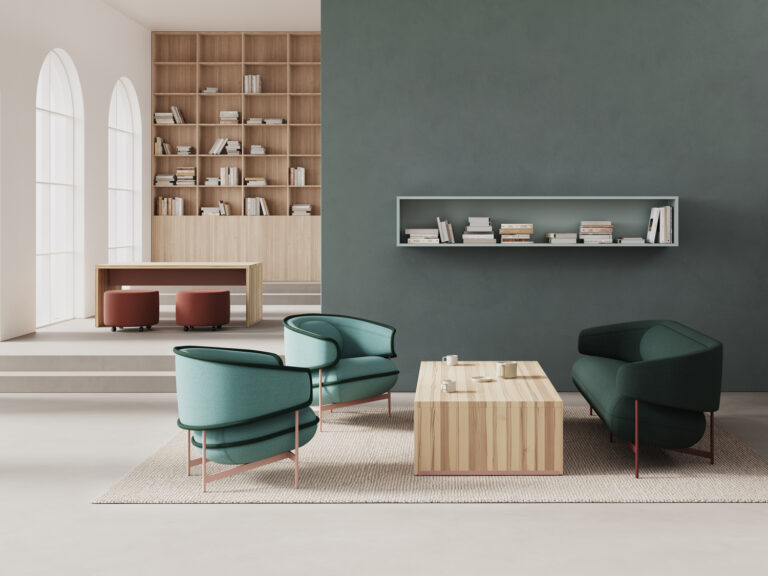 Photo of Hightower Flote Collection
Hightower, not only shares a name with a prominent house in Game of Thrones but is also a powerhouse of design in their own right. They were a Best of Competition award recipient for their Flote Lounge collection, showcasing their commitment to designing furniture that elevates the commercial design industry. With a focus on style, functionality, and comfort, Hightower's products are versatile and adaptable to various workplace settings. This futuristic collection was not only design-forward but also insanely comfortable!
One of our favorite exhibitors was Sixinch. Known for their imaginative and unconventional designs, Sixinch's products blend aesthetics and functionality to create unique spaces that inspire creativity. This year, their David Bowie inspired collection had us geeking out! The color palette of blues and reds, along with the textures in their furniture was mesmerizing. Their Sattle chair display was so fun and awesome! We couldn't get over how rad they were and loved the mobility of the Sattle Wagen.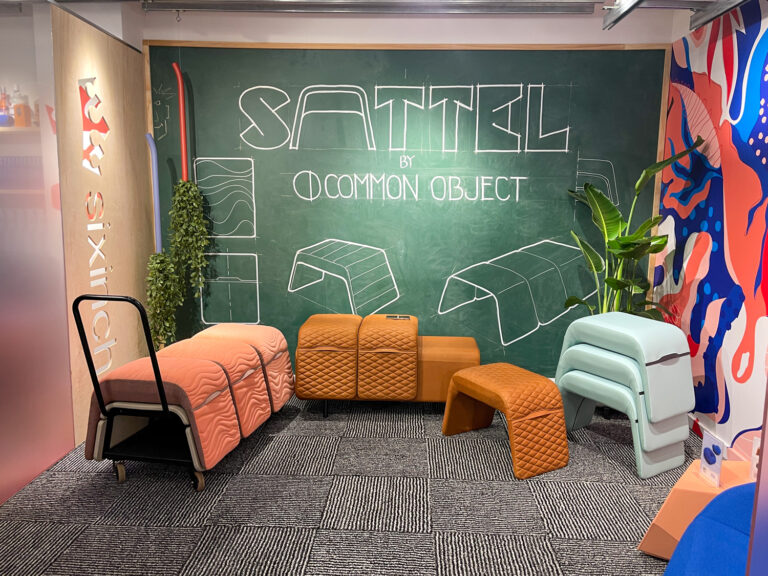 Sattle Chair collection by Sixinch
Photo credit: Liz Wisdom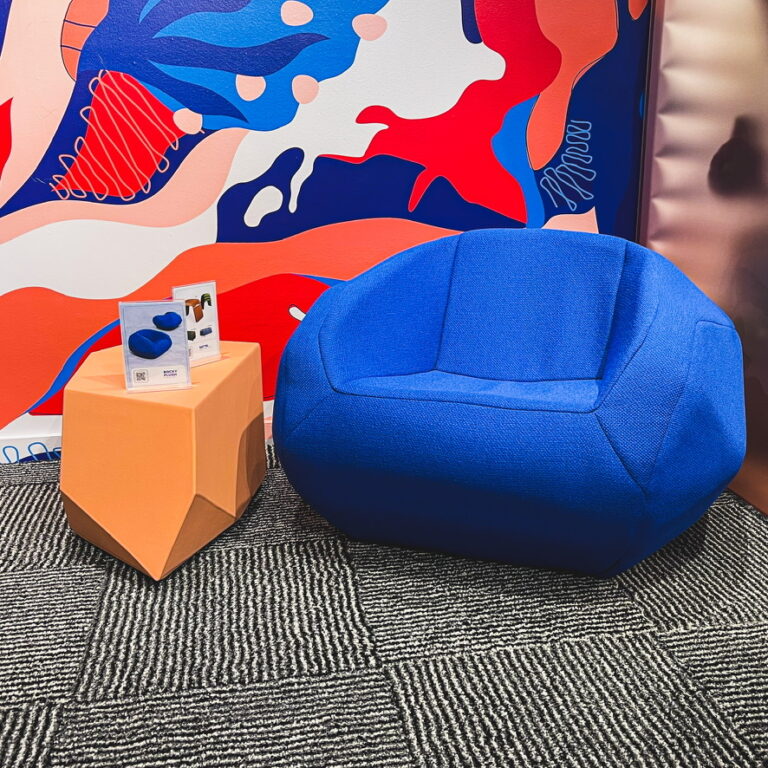 Rocky Plush Chair by Sixinch
Photo credit: Liz Wisdom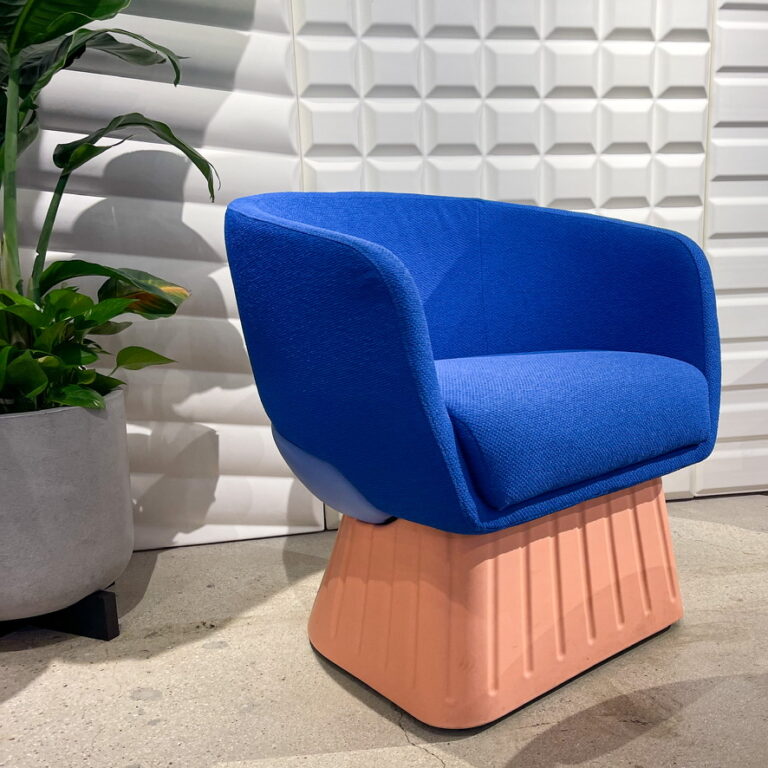 Sole Lounge Chair by Sixinch
Photo credit: Liz Wisdom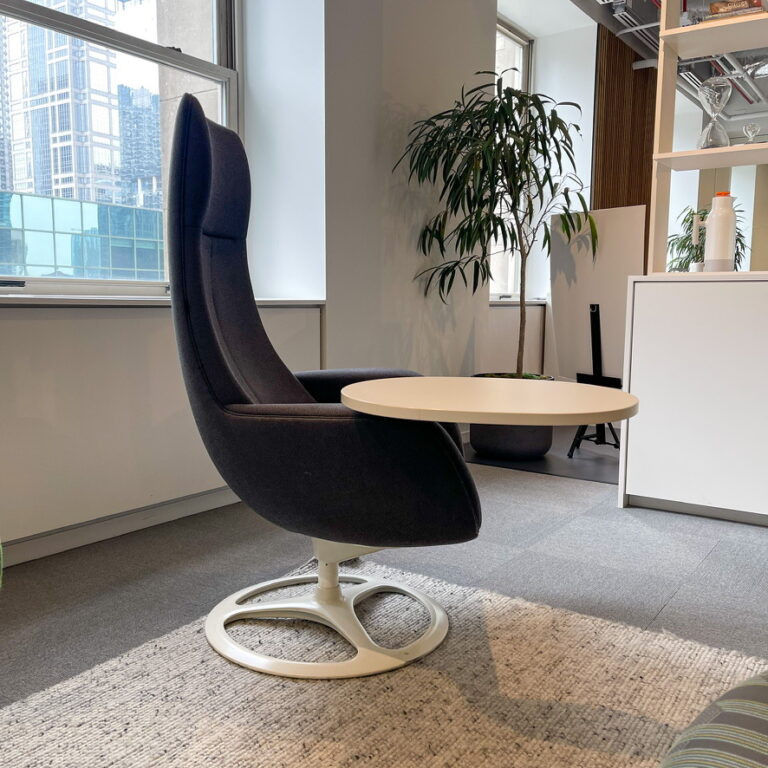 Okamura Lives Work Lounge Chair
Photo by Liz Wisdom
Okamura, a leading Japanese manufacturer, impressed attendees with its ergonomic and technologically advanced seating solutions this year. These chairs were the epitome of style meeting functionality, making you feel like you were sitting in a hug. If that's not enough, they even threw in an attached desk for good measure. Okamura's products are designed to enhance comfort and support in work environments, aligning with the trend of chairs with attached desks, which promote flexibility and efficiency in modern workplaces. 
Okamura's nature-inspired furniture design embodies a harmonious blend of functionality and organic aesthetics, offering a unique and refreshing approach to interior decor. Drawing inspiration from the beauty and balance found in nature, Okamura seamlessly integrates natural elements into their designs, creating pieces that evoke a sense of tranquility and connection to the environment.
We want to give a round of applause to Om Seating, for their gorgeous pastel color palettes which were an absolute delight! Om Seating has established itself as a leader in providing solutions for various environments, including worker tasks, collaborative spaces, healing environments, and more. Their portfolio features thoughtful design, reliability, and user-oriented ergonomics. With a genuine drive to learn more about emerging materials and new methods, Om Seating continues to innovate and draw from today's learnings in tomorrow's designs.
Om Seating proved that sitting down can be an art form with their range of seating solutions for every environment imaginable, from worker tasks to healing spaces. Their designs are not only easy on the eyes but also on your precious back.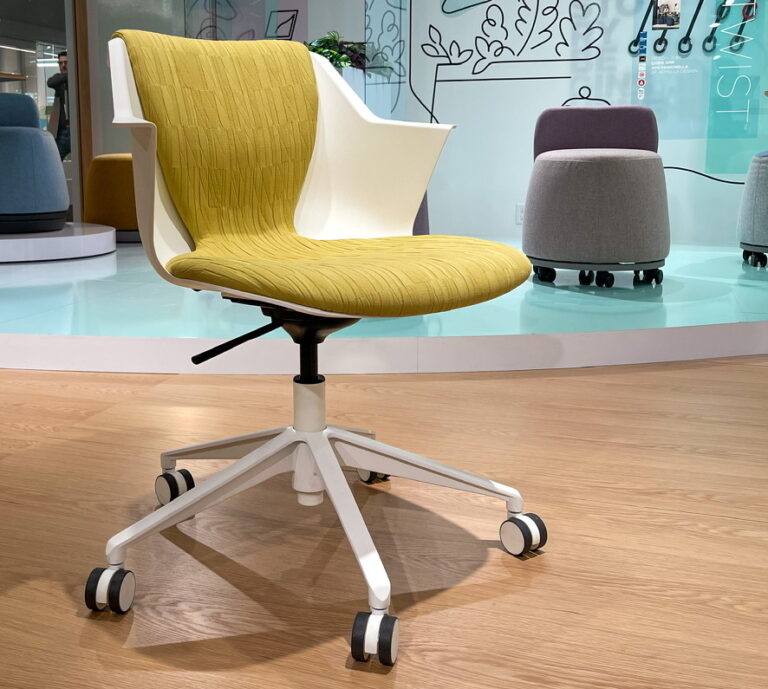 Om Seating Werksy Chair
Photo credit: Liz Wisdom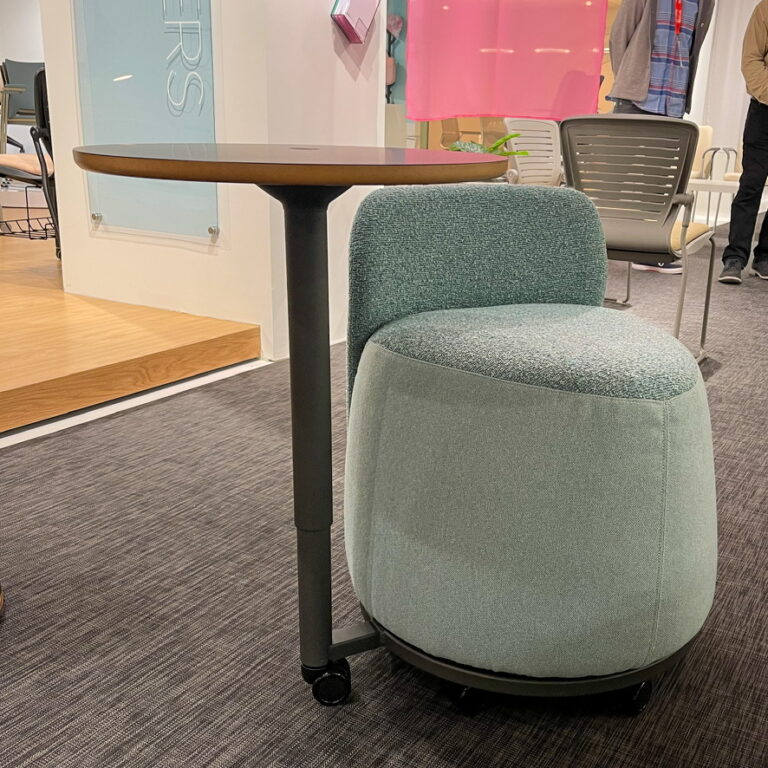 Om Seating Pouf with Table 
Photo credit: Liz Wisdom
Sustainability was the belle of the ball at NeoCon 2023, with exhibitors showcasing their eco-friendly materials and green manufacturing processes. This has been a growing trend for the last several years, and we're happy to see it gain so much popularity. So, if you want to be on the cutting edge of design and save the Earth at the same time, go green or go home!  
Additionally, floor seat cushions made a notable appearance at NeoCon 2023, providing an alternative seating option that combines comfort with a relaxed aesthetic. These cushions offer versatility and adaptability, allowing users to create informal and inviting seating areas within various commercial spaces. 
And last but definitely not least, let's talk about the trend that had us rethinking the way we sit—chairs with attached desks. Who needs separate pieces of furniture when you can have the ultimate multitasking combo? This allows you to seamlessly transition between work mode and collaboration mode without skipping a beat. 
NeoCon 2023 was the design event of the year, where creativity, sustainability, and fabulousness collided in a whirlwind of innovation. Steelcase, Hightower, Sixinch, Okamura, Om Seating, and all the other exhibitors brought their A-game and left us in awe of their design prowess. 
Want to learn to make creative furniture like the pros? Design Engine has you covered. Check out our industrial design courses or our design courses for engineers.