A jet ski champion from the south of France named Frankie Zapata has set a new distance record for hoverboards by traveling 2252 m (1.4 miles).  The flight, as captured on the accompanying video, was witnessed and certified by the Guinness Book of World Records and surpasses the previous 2015 world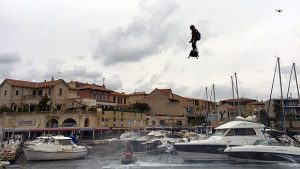 record several fold.

Developed in his own workshop under the name Zapata Racing, the actual board, called the "Flying Air," uses a propulsion unit that can achieve a speed of 93 miles per hour and a claims a altitude of up to 10,000 feet with the potential of staying airborne for up to 10 minutes.
The video shows Zapata hovering at a height of about 50 meter over the coast of the French Atlantic town of Sausset-les-Pins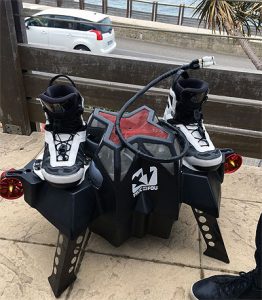 for a duration of seven minutes primarily over the water.
The board itself boasts what is referred to as an independent propulsion unit, which Zapata says has been developed by him over the past four years. Zapata Racing expects the board to hit the market by 2016. The prototype demonstrated was fueled by kerosene has four 250 horse powered turbo engines. A remote control throttles the four engines so in this sense the board bears some resemblance to the control systems of drones.
Zapata also stated that the commercial version of the board will likely have a seat. Zapata's existing line of devices are water propelled and require long hoses to connect to, so the current prototype represents a departure from their current line of products.
---
Article written by Dave Mazovick for Design Engine, May 6th, 2016.