Electric Racing Bike
Zero and Brammo are the two names that have already established themselves over the past few years in the fairly new and evolving field of Electric Racing Motorcycles. Both have emerged as leaders in the industry. Now, Lightning, a name which has earned reputation on the track for numerous first place and record breaking finishes will join in by bringing a street legal version of it's performance bike to market.
Lightning which is based in San Carlos, Ca was founded by Richard Hatfield in 1999. Over the past few years Lightning has garnered an award winning reputation for breaking land speed records with their electric super bikes. Lightning was first in creating an electric bike that broke 200 mph and the company has consistently been pushing the boundaries in terms of speed and performance, having achieved over 218 mph last year in the Bonneville salt flats.
Lightning's Superbike will be offered for a 38,888 dollar price tag and will come with a standard 12kWh battery pack which would give it a highway range of about 100 miles and a street range of about 150 respectively. In addition optional 14kWh and 22kWh battery packs which would bolster the range significantly. The battery packs will be air and oil cooled lithium Ion polymer and would take two hours for a full charge using level 2 charging and eight hours using a standard 120 volt plug. The battery and motor are the main stressed members of the chassis meaning they serve a multifunction in what's referred to as a monocoque design.
The IPM motor (interior permanent magnet) supplied by Remy International is liquid cooled and is noted for being the same model used in the GM Tahoe hybrid. Regenerative braking extends the range by partially recharging the battery and the wheels and are made of forged magnesium. No clutch or transmission are required as the motor is a one speed direct drive making it easier to ride than a gas powered bike. In effect, Lightning will be manufacturing the same bike it has raced to acclaim on the track with the addition of mirrors and lights. This means the street legal version will be capable of 218 mph and will by and large have the same specs as the track version. The bikes will be built to order and will take a two to three month time frame to deliver. Hatfield has also indicated that Lightning will also bring to market a more affordable street bike in the 10,000 to 12,000 dollar range early next year. Lightning has delivered an impressive product that should make people take notice on the virtues of it's breath taking performance. With the continued steady advance of battery technology over the coming years with improved power density and lighter weight anticipated we can expect the bar to be pushed even further with faster, lighter bikes capable of longer ranges in the future.
Ember video here
http://www.youtube.com/watch?v=V9FOnkSLFBw
Lightning Super Bike Spec Sheet
* Remy HVH250 electric propulsion motor 125kWH, 10,000 RPM
* 218 mile per hour maximum speed
* 100 miles highway range, 150 mile street range
* 12kwh battery pack (optional 14kwh and 22kwh battery packs)
* 2 hour level 2 charging time (15 minute level 3 charging time)
* Regenerative braking, Dual Brembo 310mm disc;
Brembo radial-mount forged 4-piston calipers
* Marchenisi forged Magnesium wheels
* Race Tech suspension system
Click To View Images: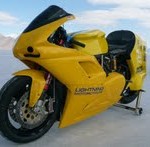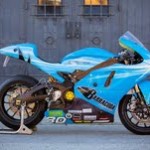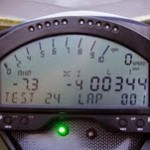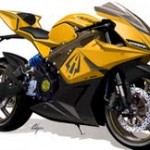 Article by: David J Mazovick