Microsoft announced new keyboards and mice today: the Wedge Touch Mouse and Wedge Touch Keyboard, and the Sculpt Touch Mouse and Sculpt Touch Keyboard. The Sculpt products, though quite nice, are iterative updates of existing gear, but the Wedge Touch Mouse and Wedge Touch Keyboard are truly cool, and offer further evidence of the Microsoft's renewed commitment to great design.
Both Wedges (and, indeed, all four devices) depend on Bluetooth, so there are no cables to connect. The Wedge Touch Keyboard comes with its own cover that doubles as a multi-angle stand for a tablet. Take the cover off, and you can prop a tablet up on it, and adjust the angle via a joint in the center. When placed on the keyboard, however, the cover automatically powers the keyboard down.
The underside battery compartment is designed so that when it's flipped upside down and held against a tablet surface (so that the covered keys are against the tablet screen) it grips easily in your fingers. The keypad itself, meanwhile, is delightfully compact, but doesn't feel too cramped. It also has novel hotkeys across the top for launching new Windows 8 menu functions – the Charms that appear from the right side of the screen.
The Wedge Touch Keyboard will retail for $80 and is available "soon." The Wedge Touch Mouse is similarly compact and striking-looking. It offers four-way touch scrolling and Bluetrack technology that lets you mouse on just about any surface. It will retail for $70. These look to be great mobile devices. Clearly, Microsoft is thinking of consumers who are going to buy a Windows 8 tablet that isn't a Surface (which already has its own dramatic keyboard that doubles as a case).
The Sculpt Touch Mouse and Sculpt Touch Keyboard – both of which are $50 – are larger and more full-featured than the Wedge models, if not as exciting. The keyboard also features Windows 8 hotkeys.
But the big story here is Microsoft design. Windows 8, Windows Phone, the Surface tablets and now these input devices are all evidence of a company firing on all cylinders at once, putting design first and foremost. These are thoughtful hardware releases. It's great to see from a company that once put so little emphasis on human-focused design.
Click to View Images: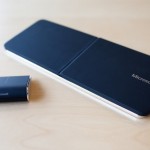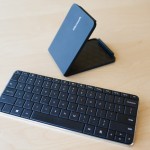 Article by: Matt Honan