2020 Peoria Creo User Group
Sponsored by PTC, Design Engine & The Department of Mechanical Engineering, March 6th 2020
For the third year in a row, Bradley University is slated to host the Creo User Group Meeting. Our goal of this event is to bring Creo designers and engineers and other professionals together.   All are welcome, come learn with us!   If you are too far for a tangible visit, consider following us on any number of Facebook live presentations.
When – Friday March 6th, 2020
Time – Registration and Continental Breakfast begins at 8:30am. Breakfast, Coffee, and Lunch will be provided. Presentations go on at 9:05AM.
Where – Bradley University Business-Engineering Convergence Center 1500 W. Main Street Peoria, IL 61625 Caterpillar Multi-Purpose Room 1150/1160
Why – Networking and to offer a chance to learn from each other.
Contact – Please email Sondra Ellingson for tables and other sponsorship opportunites.  sondra(at)designengine.com
Topics
Various Creo presentations ranging from using Top Down Design to developing products for 3d printing to how to modify products that we created using surfaces if you don't know surfaces to what's new in Creo 7.0  These three presentations are slated at this time and presented in no particular order.
Presentation & Discussion: "What Creo and Onshape together means for designers and how PTC's strategy should inform long-term design optimization strategy" – Keith Gargiulo PTC
Presentation & Discussion: "Sub Divisional Surfacing and using top-down design in an effective way to manage all the parts and consecutive updates." –   Bart Brejcha Design Engine
Demo Presentation:  "Windchill navigate Studio Hamed Yazdi" –   Tech30
Presentation & Discussion: – "Interrogating surfaces when you don't know surfacing ahead of time. " –  Bart Brejcha Design Engine
Presentation & Discussion: – "Creo Design Exploration & Render studio. " Trevor Silence Tech30
Demo Presentation: "Simulation Driven Design using Creo Simulate and Creo Simulation Live."   Barry Dietz  Komatsu
Archives From the 2019 Creo User Event: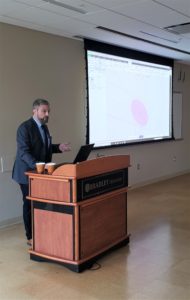 Bart Brejcha of Design Engine started out the event with a presentation featuring Creo 6, "What does Advanced Assemblies in Creo mean to you?" that was broadcast via Facebook Live Video on the PTC Creo page. This was a demonstration for making large assemblies easier to manage from Shrinkwrap to flexible components and a few other cool new functionality. Bart gives a quick tip in this YouTube clip for mastering what is hiding behind that "right-click button".
Hamed Yadzi and Eduardo Soto from Tech-30 presented on a couple topics. "How to create augmented reality experiences using Creo Illustrate & Vuforia Studio"  & "MathCAD integration with Creo" , demonstration for reusing your existing CAD data to generate AR experiences in minutes. You can also find this presentation on the PTC Creo Facebook page.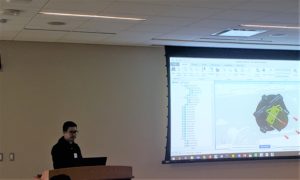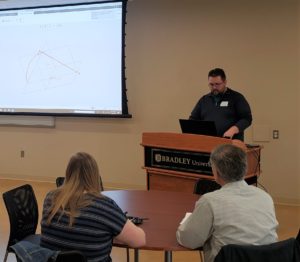 "Curvature Continuity in Surface Modeling" was the presentation topic for Jon Robertson of Clean Slate Design Solutions, who is currently on contract with Harley-Davidson. He spoke about improving aesthetic and increasing manufacturability.
Keith Gargiulo, PTC presented "Taking advantage of exponential change in design – How to use PTC's tools to get 10X better, not 10% better." His main topics included AI-driven generative design, Real-time analysis, AR in engineering – sharing and getting feedback, and finding the best manufacturing solution – additive or subtractive/system on a part. These topics illustrate how PTC is incorporating exponential technologies and redefining the expectations of what the flow of work in design will even look like.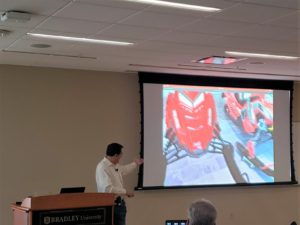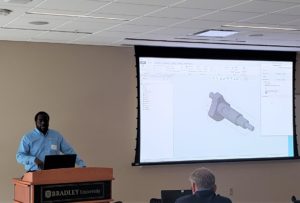 Our lunch and learn presentation by Mike Wimberly of Boundary Systems was titled "Enforcing CAD Standards using ModelCHECK Gatekeeper for Windchill". Mike discussed the processes that help you catch errors before the product makes it down the manufacturing line.
The event was capped off by the last presentation, "Surfaces as tools presented using Creo 6.0?" given by Bart Brejcha of Design Engine.
At the conclusion of the event, attendees were able to meet and network with the future minds of the industry as Mechanical Engineering undergraduate students were displaying their final projects of the year. It was a chance for them to meet CAD professionals that they will soon be working alongside.
Facebook Live and other Video clips/images
archives from the Peoria User Group 2018
Previous
Next