Charging stations are starting to appear in urban spaces all over the U.S and take on many forms from almost nondescript looking kiosks to noteworthy pieces of design. We will look at a number of these in this article.
In terms of the charging standards that have been debated internationally there has been an accord reached this fall regarding a fast charging standardized plug. The plug is based on the system favored by most of the German and American auto firms. This has and will be a sticking point for the Japanese firms who have evolved and implemented the CHAdeMO plug standard. This has been for all practical purposes been superseded by the SAE J1772 charging plug in North America. To complicate matters Tesla who recently won the Motor Trend car of the year award for the Model S, have their own charging and plug standard. Although not often articulated, the Tesla Model S generally has an adaptor in it's trunk so in a way these various plug types are not as mutually exclusive as one might think. The wrangling on the issue of a standardized DC quick charge plug (which generally can give a vehicle a full charge in 30 to 40 minutes)will continue to be a matter of debate since Nissan Leafs, Mitsubishi i-miev and the Honda Fit are all on the Japanese based standard.
In my own city of Chicago the only DC or fast chargers I've seen have been at the cities two respective airports Midway and O'Hare where they've been set up in parking lots for those waiting for arrivals. Within my near North Side neighborhood I can count several level 2 240V chargers which have even popped up at Walgreens and Whole Foods parking lots. It's safe to say that the proliferation of EV charging stations is preceding the relatively slow adoption of electric cars as days can go by without seeing a plug-in electric car. While this will soon change we can see that the infrastructure has fallen into place and we can hope that the plug standard will speed the process.
Very recently Tesla unveiled to much fanfare their new quick charger which has been set up at strategic points in California between major cities. Of note is the fact that these quick charging stations are powered by a large array of solar panels. Meaning that they supply grid free electricity to the Tesla Model S vehicles they're exclusively designed to serve. Tesla like Apple is standing by they're own standard and has delivered a very well designed piece of architecture that can deliver 150 miles of range in about half an hour. It is arguable that the reaching of a standard may well be seen as the rest of the industry reacting to Tesla. They were in a way forced to go it alone by the heel dragging that has only been resolved in October of 2012.
The first attempt to initiate good design in a charging station happened in 2010 when GE shrewdly tapped the creativity of noted designer Yves Behar for it's Wattstation which boasted a nice cylindrical base and a circular face with a digital readout. GE has also teamed up with Sanya in the creation of Skypump which pairs a GE base with a vertical wind turbine. This has also received positve reviews within the design community. A plethora of designs now exist with some basic 240V units now available for home or garage installation at home renovation stores for price points as little as 750 dollars. Public electric vehicle charging stations require more durability and generally cost in the thousands.
Another approach to charging that's now being looked at is called inductive charging. In effect this is also being called wireless charging. This type of charging simply requires the electric vehicle to be parked over a specific inductive coil for a 'time' until charged. A company called Evatran expects to bring this technology to the market over the next few years under it's subsidiary Plugless Power.
As of November of 2012 there are over 14,000 public charging stations in the U.S. as compared with the over 150,000 gas stations nationwide. We are at the beginning of a very long game.
Click To View Images: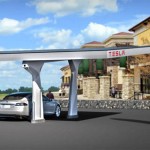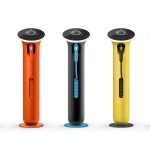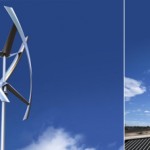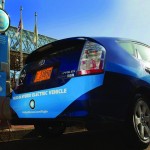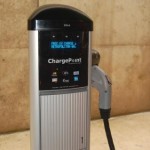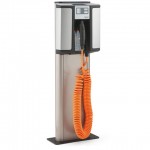 Article Written by: David Mazovick