Despite their popularity, selfie sticks are kind of awkward, bulky to carry around and still unable to capture certain angles. Podo is a portable remote-controlled camera that works by syncing with your phone and features a sticky surface that allows it to stick to just about anything, allowing it to capture photos and videos from just about any angle.
The Podo camera works by pairing with your phone's Bluetooth technology. Once you open your phone, Podo will send you a live feed to view on your phone screen. A ring of LED lights on the Podo will indicate when then camera is on, while the overall design of the Podo is nowhere near inconspicuous – meaning it's very hard to use the camera as a spy device. Since everything is connected via the user's phone, the Podo app allows the user to adjust camera settings, set a countdown timer or trigger the photo. The pixels on the Podo camera sensor are 50 % bigger than those of the Iphone 6s, providing better picture quality. Yet, perhaps the best feature of the Podo is that there are no stands, clips or mounts required to use it. The micro-adhesive pad on the Podo sticks to just about any solid surface with a quick press and easily peels off when you're done. There is no need to replace the mirco-adhesive pad as it will stay sticky as long as it's clean and if it happens to get dirty, you simply clean it with water. Currently, Podo comes with six different camera modes: Photo, Lapse, Video, Multi, Booth and Solo but the team is constantly working on more features for this versatile camera.
Early bird pledgers can order the Podo now for $39 and expect it delivered by December 2016.
Will you be getting one?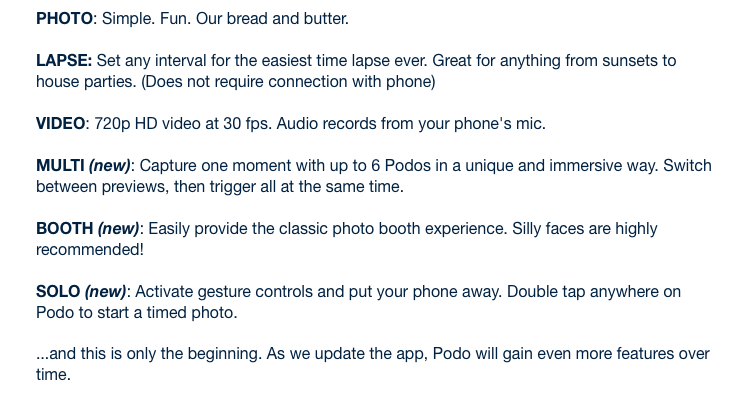 Source via: Podo Camera 
[divider]
Article Written by Mila Medonaite for Design Engine, September 16, 2016