When auto makers submit their cars to crash tests, the sensors that are used to collect data about the crash process are often destroyed by the impact of the crash. To solve that problem, German car maker Volkswagen is turning to "space foil" – a special type of super-thin and highly accurate sensor that was originally developed to measure the pressure on a spacecraft's wings as it reenters Earth's atmosphere. VW has already used the special foil in crash tests, and it expects the results to help improve overall car safety.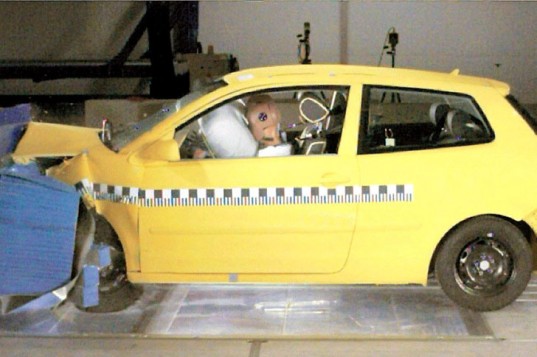 Piezoelectric foil was developed in the early 1990s when German engineer Paul Mirow was working on Europe's Hermes spacecraft. Mirow and his team were looking to map the pressure distribution on the wings as Hermes returned to Earth's atmosphere without adding any drag to the wings, so they turned to the super-thin foil, which serves as a sensor by converting physical effects like vibration and pressure into tiny electric pulses.
Space foil is roughly one-third as thick as a human hair, which means that it can be glued to the surface of a car without changing the structure of the vehicle. When the car crashes during a crash test, the foil moves with the bent or dented metal instead of being destroyed by the impact. Using piezoelectric foil enables VW to know what's happening, when it's happening, and exactly where it's happening during a crash test — data that could ultimately help save lives.
Article Written By: Mark Boyer