Adobe After Effects Workshop
In this Adobe After Effects course we teach you the basics of the industry-standard tool for motion graphics, special effects, and production is fun and easy with our controlled learning environment. With instructor guidance and tutorials, you will learn to control Keyframes, use Parenting, use Time Remapping, understand Masking and Blending Modes, create mattes, and use adjustment layers to add complex impact to your animations.
Our Adobe Premiere Pro training is the perfect companion course for this After Effects course.
Investigate project, Clip, Comp Windows, Palettes, Timeline, and Graph Editor.
Discover how to create striking motion graphics and animate text well.
Create projects and compositions with Media Clips that play in a sequence.
Learn to control Keyframes, use Parenting and Time Remapping, and understand how to make the most of powerful Masking and Blending Modes.
Apply animated effects and motion to sequenced media elements.
Manipulate the sequence and duration of footage items into hierarchies through parenting and nested compositions.
Blend transparencies with Masks, Track Mattes, and Modes.
Create complex animations with Keyframe and Velocity Control.
Create and use 3D animations and effects.
Art degree or a basic understanding of video is helpful. Participants should have basic Windows application skills, such as saving files, copying and pasting text, etc. Experience with a video editing application such as Adobe Premiere is helpful – although not required, as is experience with graphics applications such as Adobe Photoshop.
Understand scope of Adobe After Effects and what it can do. Discuss uses of VFX in media and why they are useful in communication.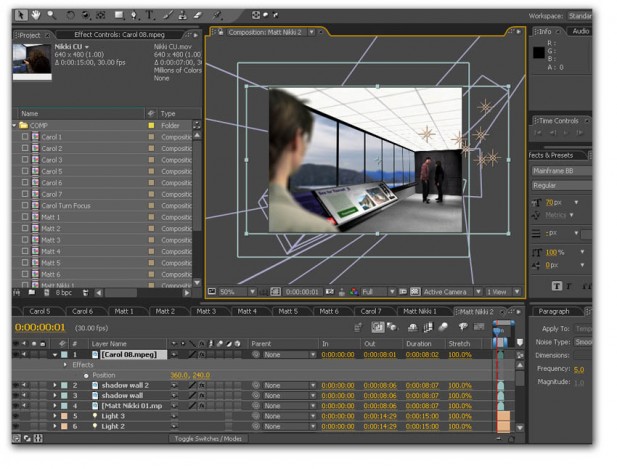 Getting to know the User Interface (UI) and tools
Learn how to use program features to execute workflow
Create an intro and outro for a YouTube video
Learn to integrate After Effects elements with other applications.
Understand how to render compositions and use Adobe Media Encoder for exporting.