As advanced as 3D printing technology has become, most printers can only print small objects very slowly. For larger projects,  3D printers first print smaller parts and assemble these parts into larger objects later. Autodesk's Project Escher is revolutionizing 3D printing technology by allowing users to 3D print larger items much quicker than ever before.
Autodesk first wants to emphasize, "Just to be clear, Autodesk is not releasing a new 3D printer. Project Escher is software and control technology that can work with a new generation of 3D printing hardware." Project Escher is essentially an assembly line of 3D printers that have multiple heads working on a project simultaneously – allowing the project to be done much more quickly without compromising quality. The developers behind the project explained that, "Project Escher is a parallel processing system where numerous independent tools collaborate to fabricate a design. It's faster because whatever the job is, there are more workers on that job. And there is no compromise to detail because we're using proven existing technology."
You can 3D print just about anything these days but it always comes down to an issue of time, especially for large objects. Autodesk's Corey Bloome explained, "3-D printing is measured in ounces per hour, so if you need to print a 100-pound object and can only do an ounce an hour, well, you do the math." – That's almost 67 days. A single 3D printer has the disadvantage of having only one tool head working on part of an object. Project Escher can essentially have an unlimited number of individual 3-D printing "bots" working together continuously to create one object. This assembly line of 3D printers features a smart setup controller and interchangeable tool heads. Autodesk hopes to eventually make the tool head changing automatic and integrate additional technologies, such as laser cutting, into the printer as well.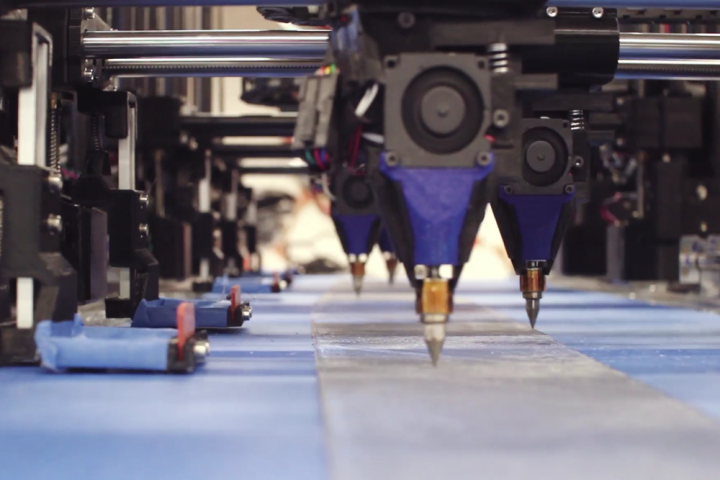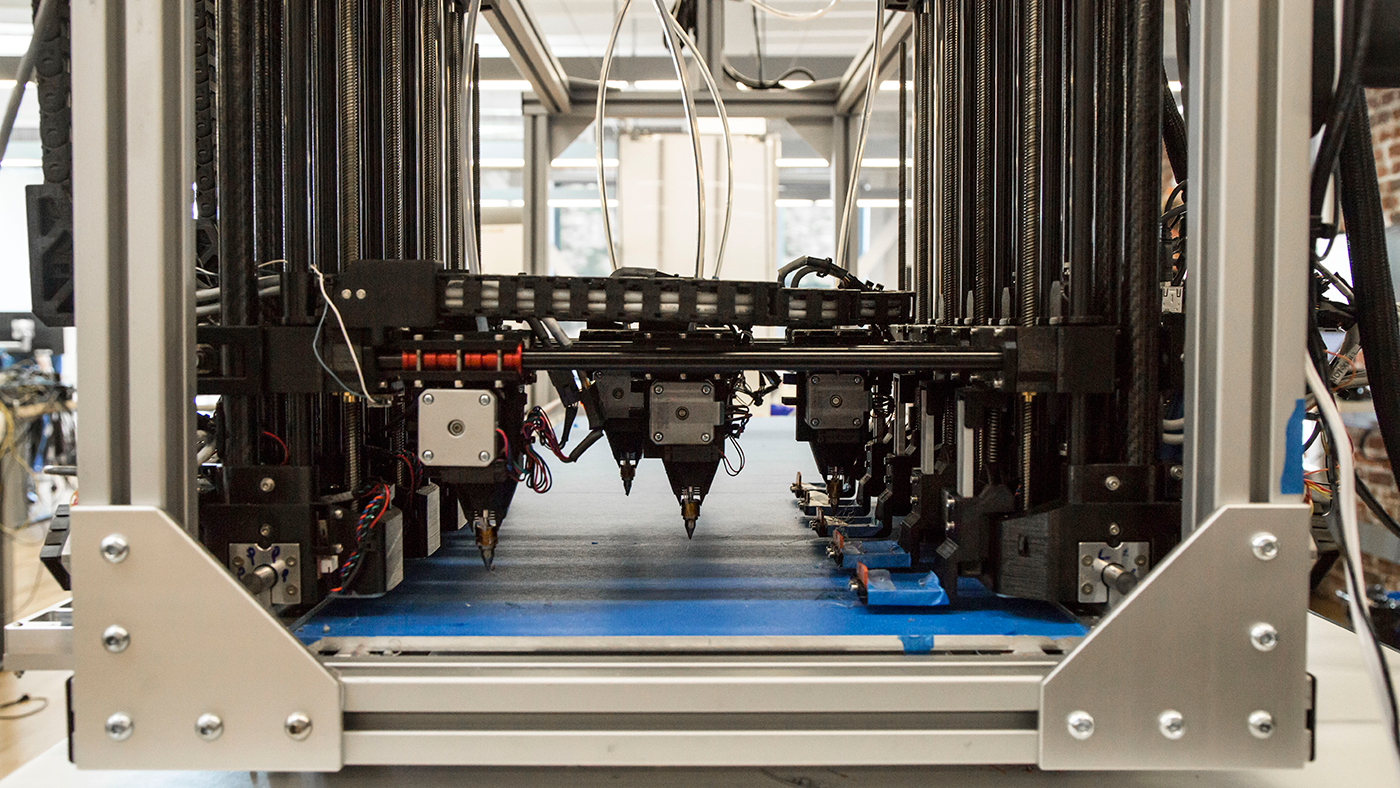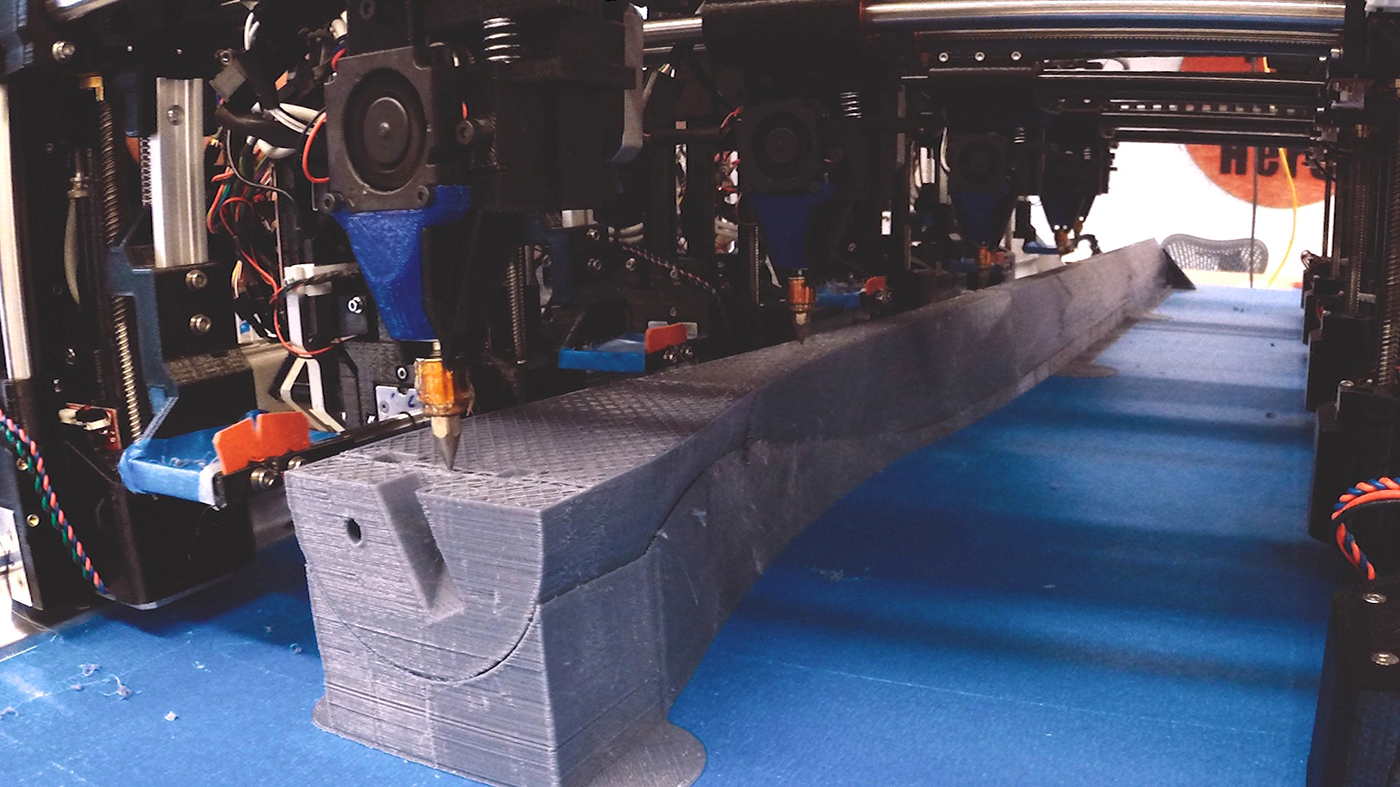 This is one 3D printer that isn't suggested for people who see 3D printing as a hobby. Autodesk is specifically targeting industries that need to 3D print large objects faster. Kimberley Losey, Project Escher's product marketing lead explained, "If you're in aerospace, automotive, or construction, no one has 100 hours to print out just one thing. At that scale, there's just tons of constraints for conventional additive manufacturing. So we thought, how can we solve that problem?"
While the project is a brilliant idea, Project Escher's next step is to actually get companies using it and see how this 3D printing will perform in the real-world manufacturing environment.
[divider]
Article Written by Mila Medonaite for Design Engine for March 30, 2016