The Inevitable Rainy Sunday
Bart usually hopes for rain on race days. He says it's cheaper because rain tires last all day – that is if it does not dry out. Blackhawk is his least favorite track in the rain though. For years, all the Mazda Miata cars have turned upside down dumping oil. Sportbikes do pretty well in the rain, unlike race cars and as racer Christian Memeka explained to Bart many years ago at Road America trackday, "Riding in the rain is a great way to get fast and smooth." Bart tells new track day people interested in racing, "You're going slower in the rain so if you've never crashed before you might as well get it out of the way in the wet." Most of the racers seemed to psyche themselves up for the rain weekend early on. Fear of rain was in the air – even the leaves were turned upside down from the low pressure indicating rain. Jason Farrell, the Pirelli dealer, definitely ran out of rain tires when everyone anticipated the bad weather. Bart had three sets ready, he wasn't going to get caught without rain tires like at Topeka Spring 2013. Bart had an all black vinyl suit that he got from a Farm & Fleet while racing at last summer's Brainard in 2014. Funny, it never actually rained on Sunday at Blackhawk – even after AccuWeather stated 100 percent chance at noon.
ASRA races
Many people were in town for the National Sportbike Racing Association or ASRA events for this weekend. At Blackhawk Farms, the race is 75 laps or two hours, whichever comes first. Bart helped a few East Coast racers get acquainted to the track including Jimmy Fotinopoulos racing from New Jersey. Bart helped by leading them around some in Saturday pre-race practice to show them the race lines. The two in March raced together at Roebling Road in Savannah Georgia.
Dog fights w/ Guns Blazing
Dejan Gakovic who is usually racing, worked with CCS staff this weekend. "As a racer, I was not aware of all the hard work that goes on before, during and after racing is done." He goes on to add, "Thanks to Rick Breuer and all other CCS staff on your hospitality and hard work."
Dejan went on, "Some of the races were full-blown dog fights, machine guns were missing but everything else was there. Congrats to Carl Soltisz, Bart Brejcha, Dan Ortega and Kevin Wiater for splitting the MW races", as if the racers planned for each to take a win in Middleweight races. Friends off track, but once the helmets go on, it's all out war. Tom Girard won all the Unlimited races. Dejan added, "Unlimited classes were great 3-way battles for second place. It was great seeing everyone, can't wait for the next round."
GTU CRASHES and The Nine Bike Pile Up
Bart was in the lead when he crashed out of T6 passing an Amateur. "It was my fault, not the asphalt!" Referencing one of Bart's jokes where that punchline is usually switched. "I got overzealous and couldn't wait 2 seconds to pass on the inside of turn 6B. Dan Ortega calls it '6 Silo'. I just had to pass on the outside of the turn. As we bumped, it pushed me out in the wet grass. Not much traction out there" he says, while laying on that southern accent. Carl Schultz, who had been in hot pursuit, easily gained position and won that race. And Carl did not crash in the oil from that Blown engine.
A blown engine on the bike of an amateur rider dumped oil on the track causing a nine bike pile-up that was a sight to see. After Bart had crashed earlier in that race, it put him back in the standings and as Bart came up on that that rider saw the smoke but didn't get himself off the race line. He was the first to crash due to the spill. That oil reduces traction on pavement just like water on the bathroom floor as you're getting out of the shower. You fall on your head hard and fast!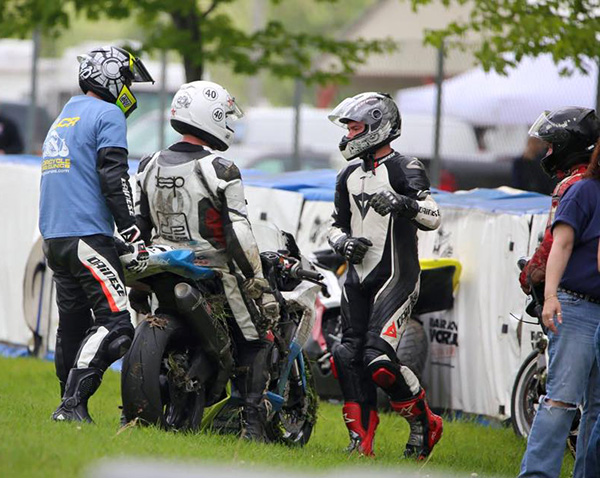 After another racer Eugene Judge (aka Mike) came sliding in after, they gave each other a high five as Bart climbed up on the air fence. He sat back and watched the show almost as if relaxing w/ a beer – "better than a good fight".
He slid right in there like going for home plate and smiling the whole time. He climbed up there on the air fence to get out of the way from other bikes and elevate the knee that seemed to be swelling up. "Best seat in the house!" Bart's girlfriend, Sondra was yelling from the fence to see if Bart was okay but he couldn't hear so well with the helmet on. In a race during a crash situation, it is imperative to leave the helmet on while still on the track. Her mind was finally eased after getting the thumbs up.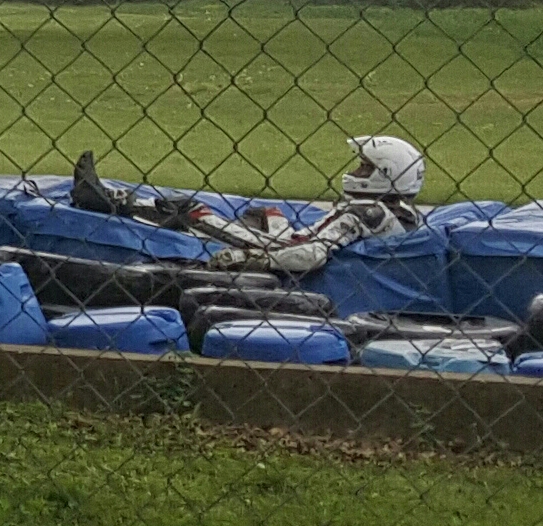 The Aftermath
Getting the bike back together after a crash is part of the battle and fun when racing. There is lots is going on as you can imagine. Brian hammering an exhaust hanger together, then drilling holes in the exhaust pipe that was crushed to relieve pressure. Max unsuccessfully chasing through the whole paddock to locate a new windscreen and Kit just adding clear tape to make the broken one as safe as possible. Everyone hates it when a racer crashes but it's really awesome to see everyone come together to help, especially when it's necessary to not miss a race coming up next. Eugene's bike was not so lucky as he packed up and went home. We suppose there could have been over $20,000 of damage caused by that 9-bike pile-up. We all wondered what the corner workers could have done to help warn the racers. Maybe running out into the grass to wave the flags frantically would have done it? The Design Engine/Faubs Racing team managed to piece the bike back together so Bart could tech the bike just before going out in his next race. It is required by the CCS rule guide to tech the racebike if handle bars touch the ground. However, it's a good thing this rule doesn't apply to scooters. Brian managed to crash one of the DesignEngine Yamaha Zuma scooters slipping in the grass still wet from the night before. Brian just smiles big and does not tell us exactly how that happened.
Mechanic on the Bike
It was time to put the bike in the trailer after draining the MR12 Oxyngen-ated fuel with a pint of Premium unleaded fuel out first. MR12 is toxic and will damage any seals or rubber parts. Someone needs to ride it around for a minute. It was great to hear the sound of the Mark Junge built GSXR open up on the paddock road exiting BHF, knowing Max Umbs was behind the controls. Max came back to the garage with a huge grin. "I seldom get to crank anything up over 8,000 RPM's", he explains. Max is a mechanic for a Ford dealer in Fond Du Lac, WI and loves wrenching at the Track. Brian and Max met during paint ball years ago and found they had more than playing war in common. Now, they have teamed up again to help The #1 Midwest rider stay that way.
Family Tradition
This sport is widely family-oriented, and with that, can come tradition. Bart grew up in a single-family home and realized that his family has a tradition too. His dad would take him to get a chocolate-dipped ice cream cone after his motocross races when he was growing up. Bart likes to make it a point to hit up Dairy Queen after a race.
Special thanks to all that participated in this weekend's races including Trackside Suspension Engineering for refreshing the team's racebike suspension on short notice.
Results
Race 3 GTU 9th place (wasn't last and crashed twice)
Race 6 Expert Supersport Heavyweight 3rd Place
Race 8 Expert Supersport Middleweight 4th Place
Race 11 Expert SuperBike Middleweight 1st Place
Race 15 Expert Grand Prix Middleweight 2nd Place
Race 16 Expert Superbike Heavyweight 1st Place
Social Media Bart Brejcha
Youtube https://www.youtube.com/user/bbrejcha
Instagram https://instagram.com/bartbrejcha/
Facebook https://www.facebook.com/bart.brejcha
Twitter https://twitter.com/bartbrejcha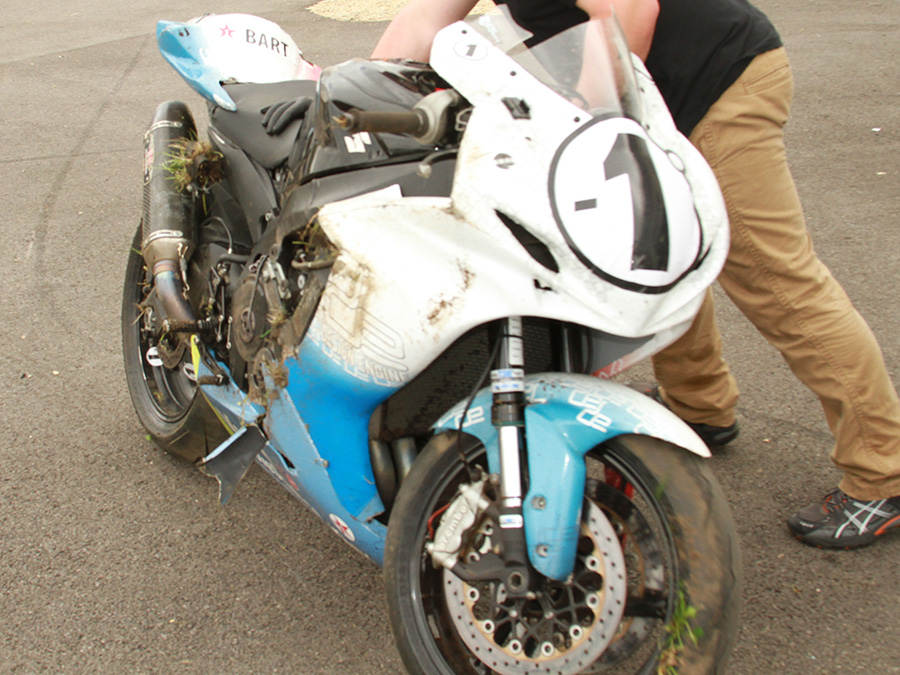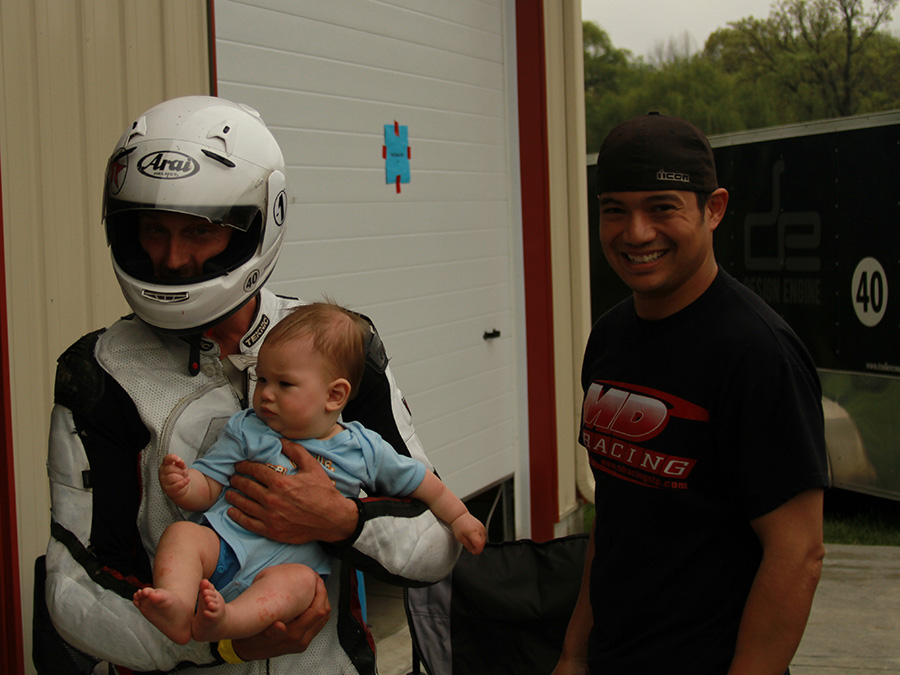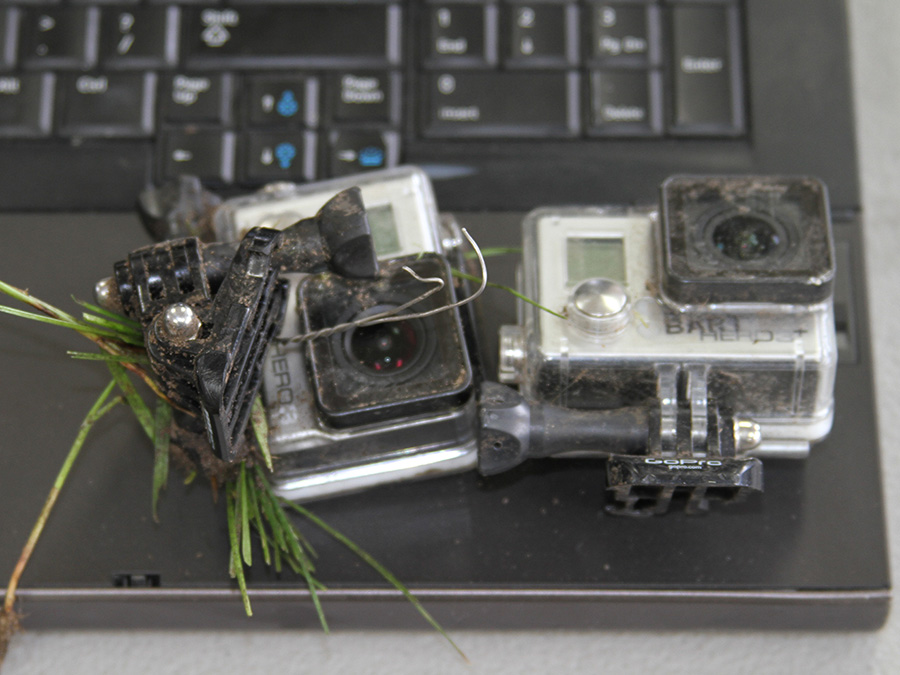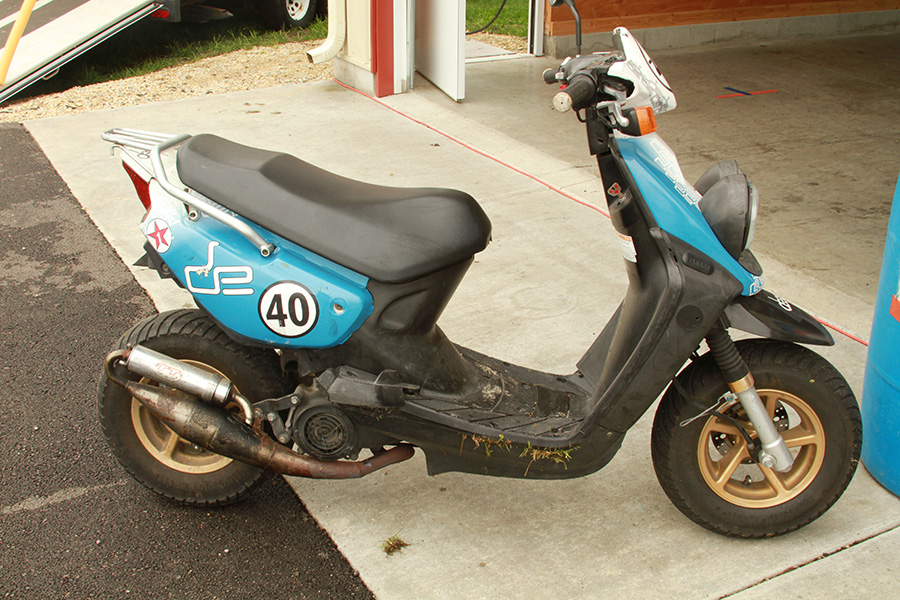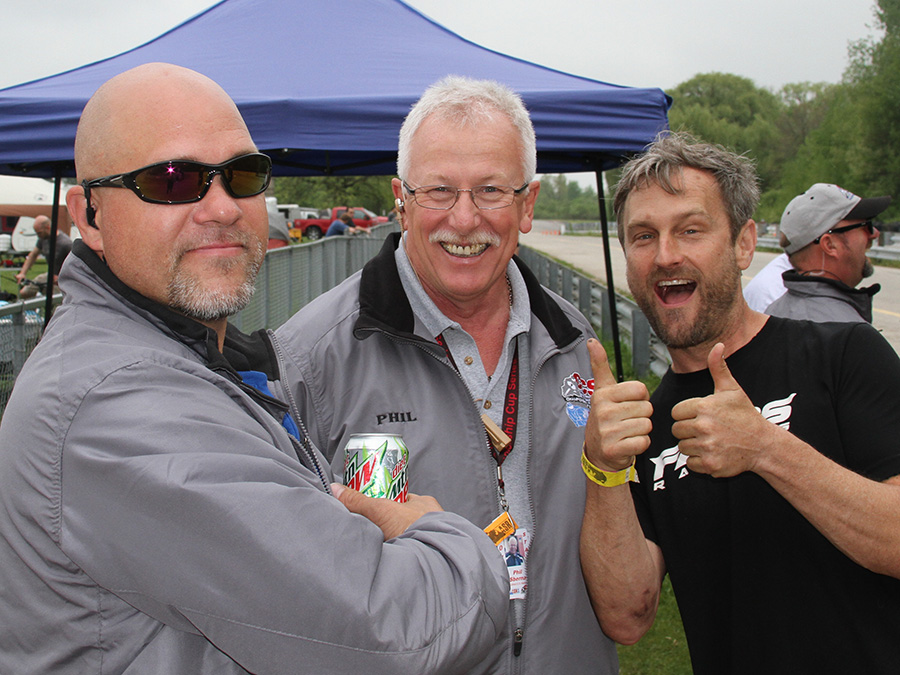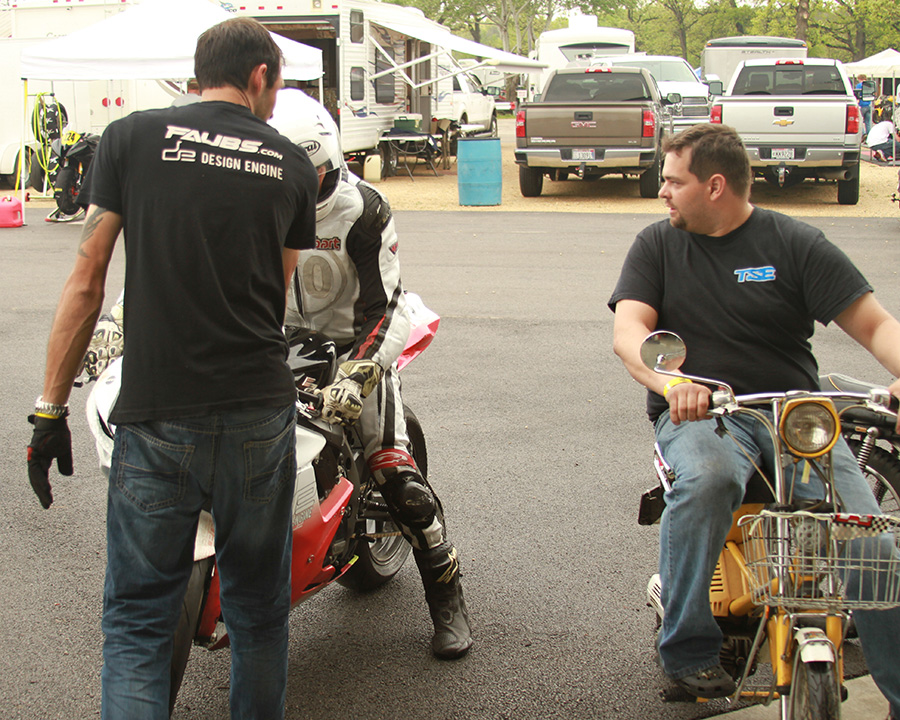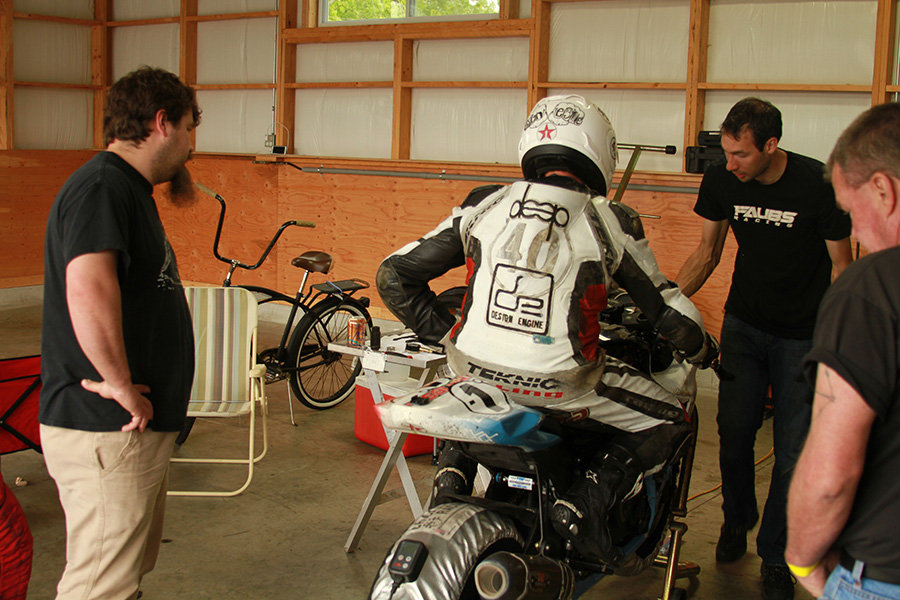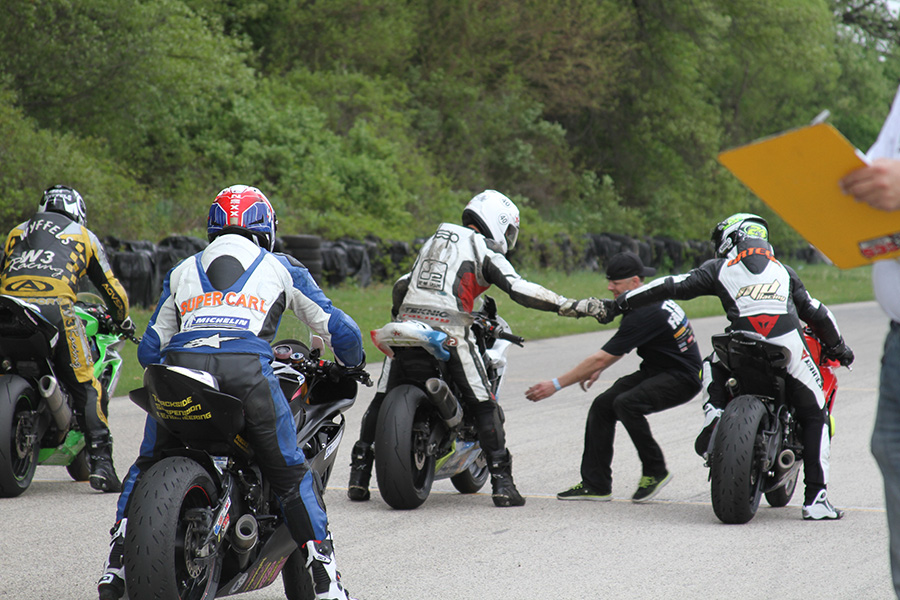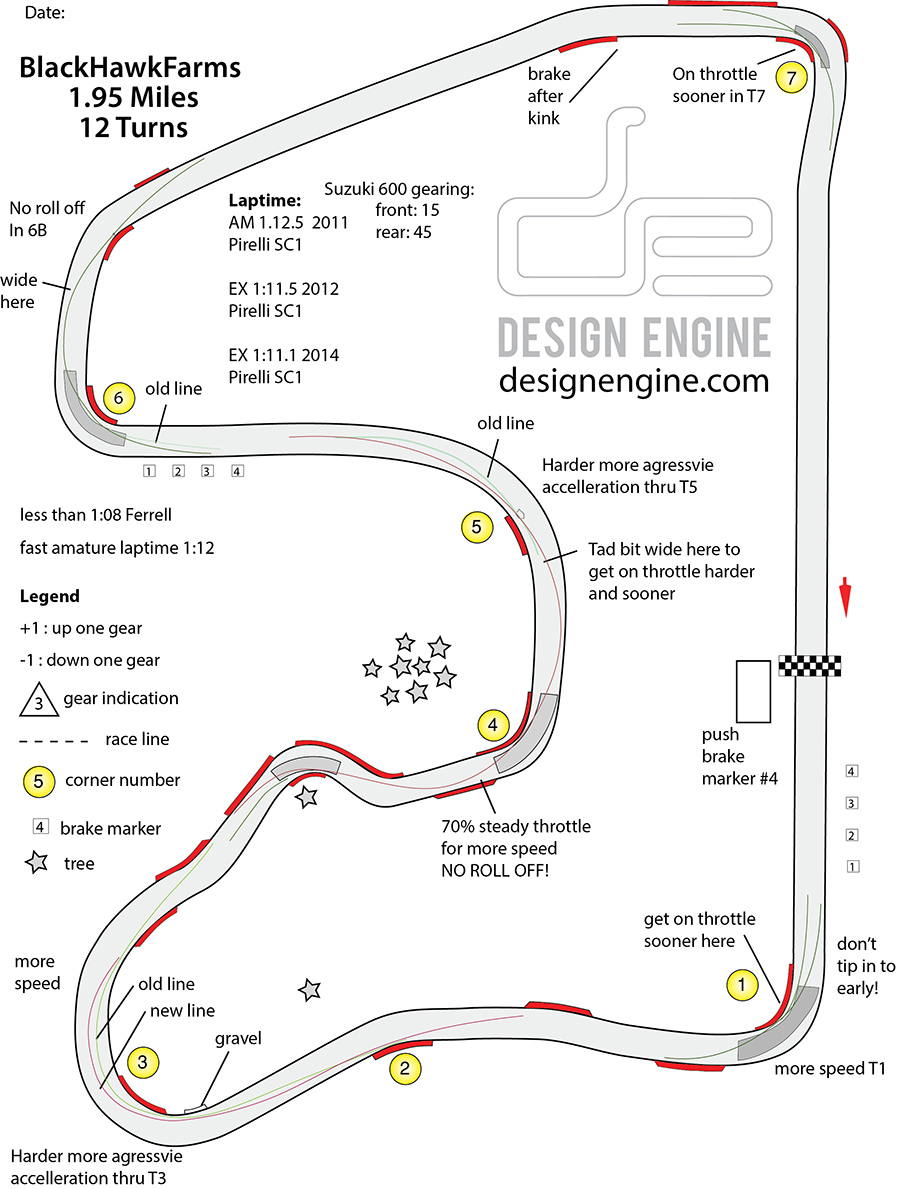 blackhawk06 Blackhawk Trackmap PDF