Online shopping has become more convenient for many people than taking a trip to the mall, but a "magic mirror" might make the whole in-store shopping experience more enjoyable. With online shopping, information about customers' preferences is gathered and makes the whole shopping experience less hectic. So what's a retailer to do? Neiman Marcus is one of the few retailers to offer their customers a "smart mirror," known by name as the MemoryMirror. This new technology plans to bring together the convenience of online shopping while still bringing in customers into stores – it will be able to gather information about the shopper the same way online stores do. Along with Neiman Marcus, Nordstrom and Rebecca Minkoff have already signed up for these smart mirrors to be a supplement to traditional mirrors in their dressing rooms.
Anyone who has ever been in a traditional dressing room knows it's not the most pleasant experience. The lighting is never any good and you usually only get one mirror and cannot really decide how your outfit looks like from every angle or with a different pair of shoes – yes, you're not alone, this is an issue faced by many people. The MemoryMirror is able to capture a 360-degree video of the outfit you are trying on. You can also save the video, try on other outfits and compare all of them when making your purchasing decision – all without having to try the outfits on over and over again. Since the MemoryMirror stores your data, you also have the option to send out the videos to friends, making it an excellent tool for when you need a second opinion on your outfit choice. Designer Rebecca Minkoff has already seen the affect this type of magic mirror can have, as they have been testing it in two store locations in New York and San Francisco. According to CEO Uri Minkoff, this technology is helping them sell clothes two and a half times faster and increasing number of items sold by 30 percent.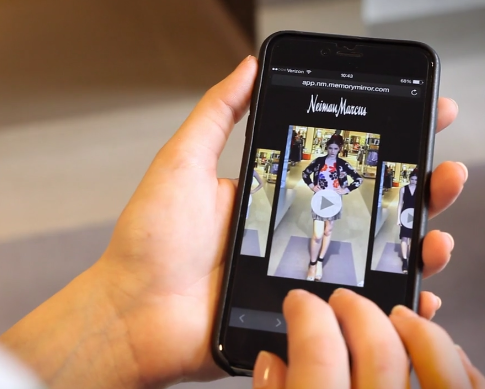 So how does this technology work exactly? The MemoryMirror is patented under a California-based company called MemoMi. The MemoryMirror features motion sensors and uses pixel technology to capture even the smallest details of movement (wrinkle of a dress) when taking the 360-degree videos. But of course, as with any data-keeping technological advancements, we begin to worry about our privacy. Well fear not, according to CBS MoneyWatch, your privacy is protected and all the videos, pictures and outfits you have tried on are password-protected and can only be accessed by you. But then again, we all know data hacks aren't that rare. What do you think, would you be interested in trying out one of these new smart mirrors?
[divider]
Article Written by Mila Medonaite for Design Engine, May 19, 2015