These are uncertain times
We are seeing unprecedented steps taken to ensure that we prevent the further spread of the Coronavirus throughout the world, our country and our community. Twitter went from "strongly suggesting" to mandating its employees around the world to work from home. This is not necessarily an option for temp or contract employees as seen with Google, for example. And what about hourly workers? Amazon is reliant on tens of thousands of delivery drivers and employees to fulfill orders. Bars and restaurants are shutting down for dining. Travel is being restricted. It is unclear how long this pandemic will last; it could be a few weeks or several months. So how can you leverage your time off?
Turn downtime into productive time
Some would relish the opportunity to take time off of work and take a break from the day-to-day grind but a vacation is not exactly an option right now. Many designers and engineers in the most affected areas are working from home and we may see more mandated to do so in the coming weeks. Working remotely may not be a new concept for some, but those not familiar may find it difficult to stay on task, stay motivated and remain productive during this shutdown. How can you look at getting ahead while everyone else may be falling behind? Taking the initiative and being proactive, especially if you are looking to be a leader on your team, can be very attractive to managers and hiring employers. This also be a chance to learn a new skill.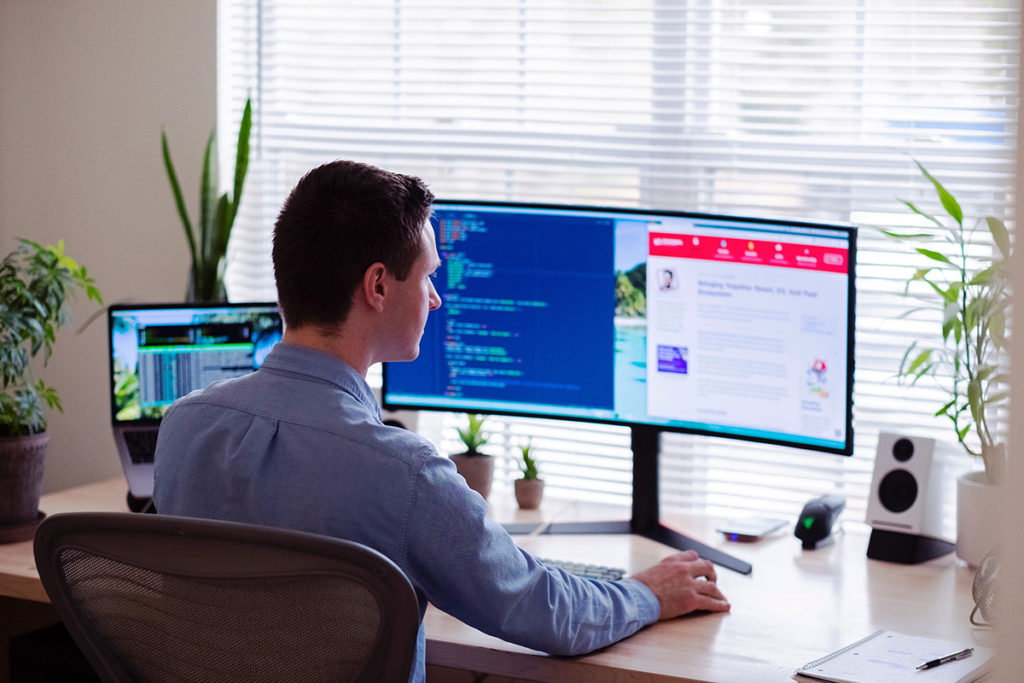 What are you learning this year?
"The beautiful thing about learning is that nobody can take it away from you" – B.B. King. At Design Engine, we continue to educate and better ourselves, and in turn, teach others how they may become an invaluable asset to a team or company. Our instructors try to significantly one-up what they know and not to be complacent. Whether it is a worldwide pandemic or losing jobs to automation, it is important to change with the times. For hourly employees and those living paycheck to paycheck, this may be a challenging time. We can look at this as an opportunity to improve our own economic or career status. Online training is a safe and healthy way to get your CAD design and engineering abilities ready to impact the changing landscape of the world.
Keeping distance, Coming together
Design Engine has always offered online training courses that make it easy for you to develop your CAD design and engineering abilities in the comfort and safety of your home or any virus-free space. Our instructors offer personalized training with thoughtful exercises, professional methodologies, and workflow processes that help one to work smarter, not harder. We want you to think about the software as a communication tool. This can help you picture the entire project from start to finish, how to manage your manager's expectations, and estimate the scope of the project that include making changes to your model. Design Engine classes can each be conducted online using your preferred video conferencing software such as GotoMEETING, Zoom, Skype, WebEX, etc. And because some people may prefer a self-paced learning style, we instituted our video Training Delivery System.
Learning initiatives for 2020
Creo Parametric 7.0 is an exciting new release from PTC coming April 15, 2020. Our instructors are pumped because it features both multi-body and new AI that assists engineers in creating parts with respect to various manufacturing processes. We asked our instructors and industry partners what they were checking out this year to up their game: Additive manufacturing; Solidworks Cable Harness Design; Maya toolkit; sketching by hand and top-down strategies with solid bodies; Adobe Premiere and After Effects; Unreal Engine and Generative Design. We want to hear about something new you are learning while working from home!
Protect Yourself, Respect Others
The World Health Organization and the CDC has advice for the public about proper hygiene to avoid the further spread of this disease. They also suggest social distancing yourself from large groups. This is a relatively new term that will hopefully one day be used in satire, rather than a way to slow down the transmission of a life-threatening illness. It is better to be proactive than reactive. This can apply to training as much as our current situation. Stay safe out there!